Seamless transactions and service at every interaction
Conqueror POS provides your guests maximum convenience through seamless transactions and contactless systems. But, it doesn't stop there. Built for F&B operations both big and small. Orders are routed where they are supposed to go ensuring speedy guest delivery. Dynamic pricing means you are always maximizing profits. While comprehensive reporting lets you generate per-employee or per-shift reports.
Conqueror POS does it all (easily) by making every contact count.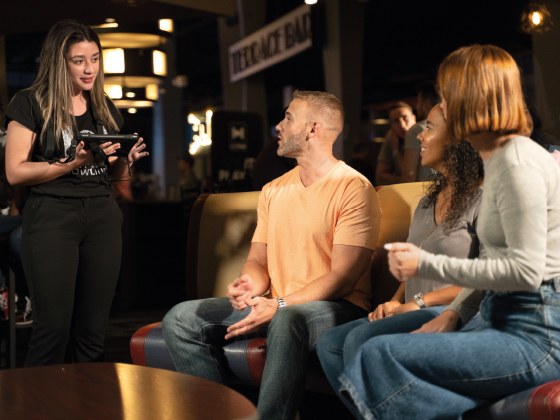 SEAMLESS TRANSACTIONS
One bill. For multiple activities. And for very happy guests. Conqueror POS is designed to compile a single bill at checkout covering all their activities and purchases. You'll both like that. It's one system with one simple interface fully integrated to every module.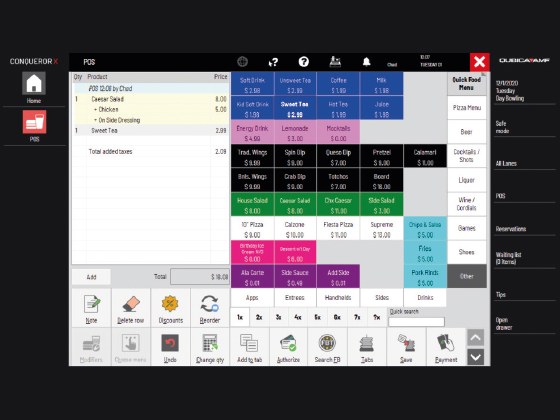 Configurable & Customizable
Speed transactions and improve accuracy. Conqueror POS terminals can be easily customized so that the layout and display of categories—as well as price key buttons—are both accessible and intuitive. Your staff will thank you. And so will your customers.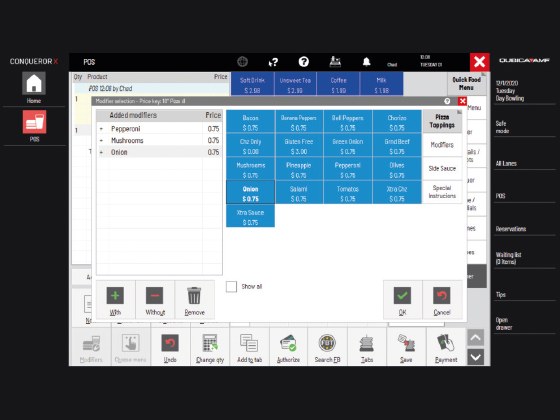 Dynamic Pricing (and Modifiers)
Maximize your profits by adjusting pricing to accommodate dayparts, holidays, time of week and more. Automatically. Comprehensive modifiers allow you to manage complex menus and orders, charged or not. Plus, easily handle mixed packages to combine bowling and any other purchases your guests make.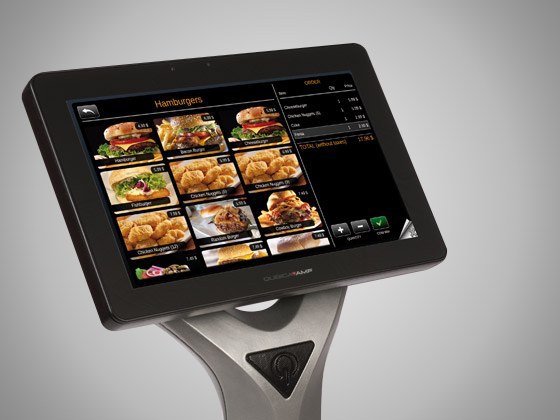 Advanced Order Management Tools
Talk about easy. Conqueror POS speeds your operation and eliminates bottlenecks by taking orders from staff on terminals and mobile QPads, from guests through On-Lane Ordering, and from the Advanced Reservation system for web booking and events. Remote printers and an optional Kitchen Display System put these orders into action expediting readiness for your guests.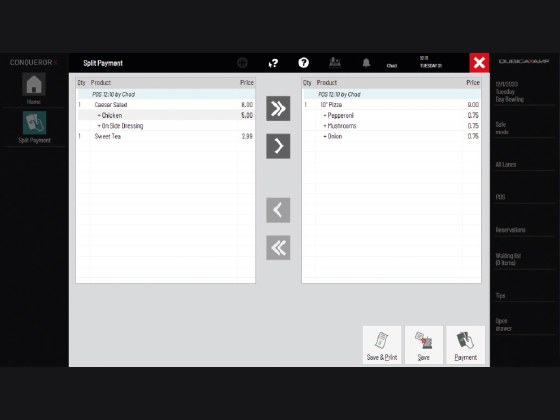 Flexible Tab & Check Management
Keeping tabs is key to being accurate and capturing transactions. Conqueror POS lets you do just that by helping staff create, edit, split tabs, generate bills and receipts and more—for individuals, groups, tables, lanes and events. Simple views and intuitive functionality put your staff in control of service for your guests.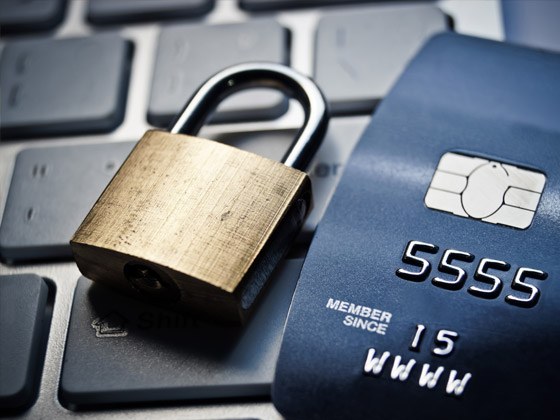 Credit & Contactless Payment
Enabling guests to pay flexibly, securely and safely from pre-authorization to final payment. EMV-and PCI/PA-DSS-compliant, Conqueror POS accepts credit and debit cards plus contactless payments at traditional POS terminals or via wireless terminals anywhere in your center.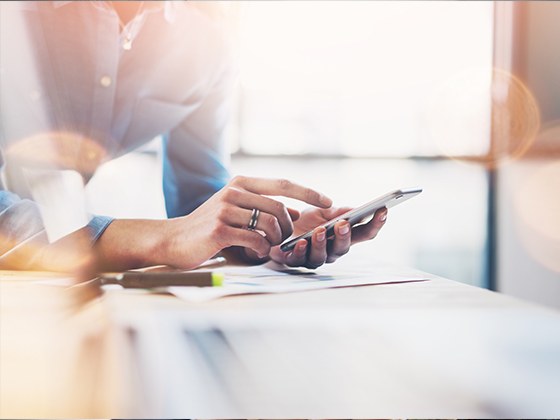 TAX MANAGEMENT
Head off financial issues before they become problems. Conqueror POS supports both added and included taxes, and simplifies handling of tax exemptions and special circumstances. It's also fiscally compliant in a number of markets around the world. You'll save headaches and sleep better at night.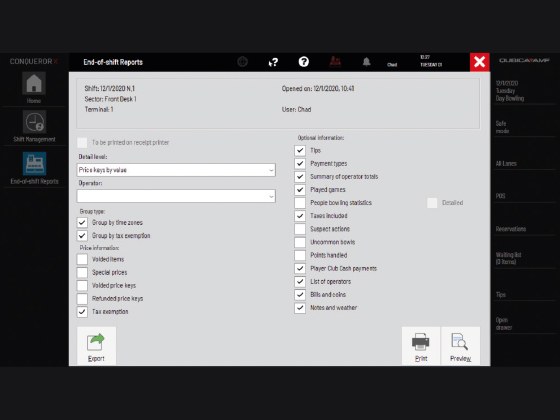 COMPREHENSIVE REPORTING
Produce a variety of reports that drill down to whatever level of detail you need—per-employee, per-shift and see tips, income and more. Review statistics and see hot items at a glance. Monitor results in real time. Automatically generate exports to Quickbooks. And tackle advanced accounting by adding the optional Dassle suite of products.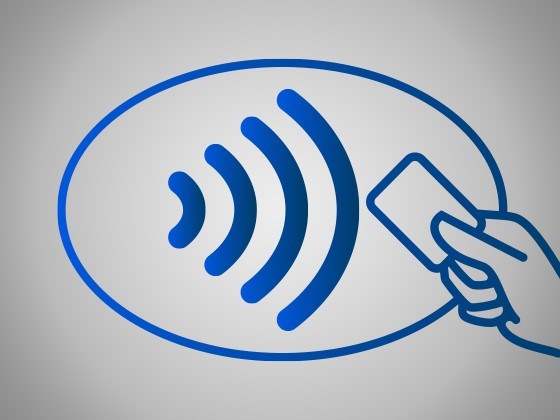 Cashless Systems
Want to use game cards? So do your guests. Conqueror POS makes cashless payments a no-brainer. It interfaces seamlessly with cashless control systems that let you add stored value, or use value for POS purchases and more with Intercard, Embed, Sacoa or Cointech systems.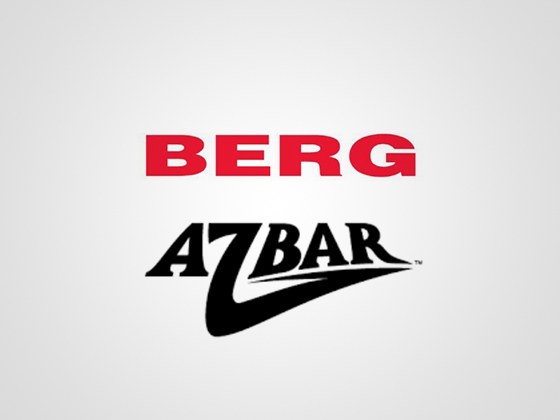 Beverage Control Systems
Regulate costs, improve profitability and staff accountability, and make more informed decisions about this very lucrative part of your business. Conqueror POS interfaces with optional systems by Berg and Azbar to give you the controls you need and want.
Kitchen Display System
When guests order all those delicious add-on items, make sure they arrive at their destination at peak readiness. Combined with flexible remote printers, an optional Kitchen Display System routes orders without the time and legwork of manual systems.
Get in touch
Boost your center with the most experienced partner in the business. A partner who will stand by you and guide you all the way.