News
Nora Turci will be training at least 3 times a week to represent Luxembourg at her best!
"It will be my first time in Mexico. So I researched a little bit about Hermosillo "The City of the Sun". The Cathedral de la Asunción and the Plaza Bicentenario seems to be really nice. And if it's possible, I'd like to see the sea."
Congratulations on your participation in Hermosillo, What training will you now do before November?
Thank you. I'm looking forward to represent my country once again at the Bowling World Cup. During the next months, I will be training at least 3 times a week to improve my physical and my mental game.

Those three days of training, what will that entail?
I will do some running to improve my physical form. On the lanes, I will focus on my release and my footwork.

This is not your first time in the Bowling World Cup, what has been your experience of the tournament?
I was really surprised how many players from different countries all over the World participated at this tournament. And it was great to compete with them together on the lanes.
I was representing my country in Poland and in China and both tournaments were a good but also a hard experience. I wasn't physically and mentally strong enough for such and important tournament. But I think this experience made me stronger.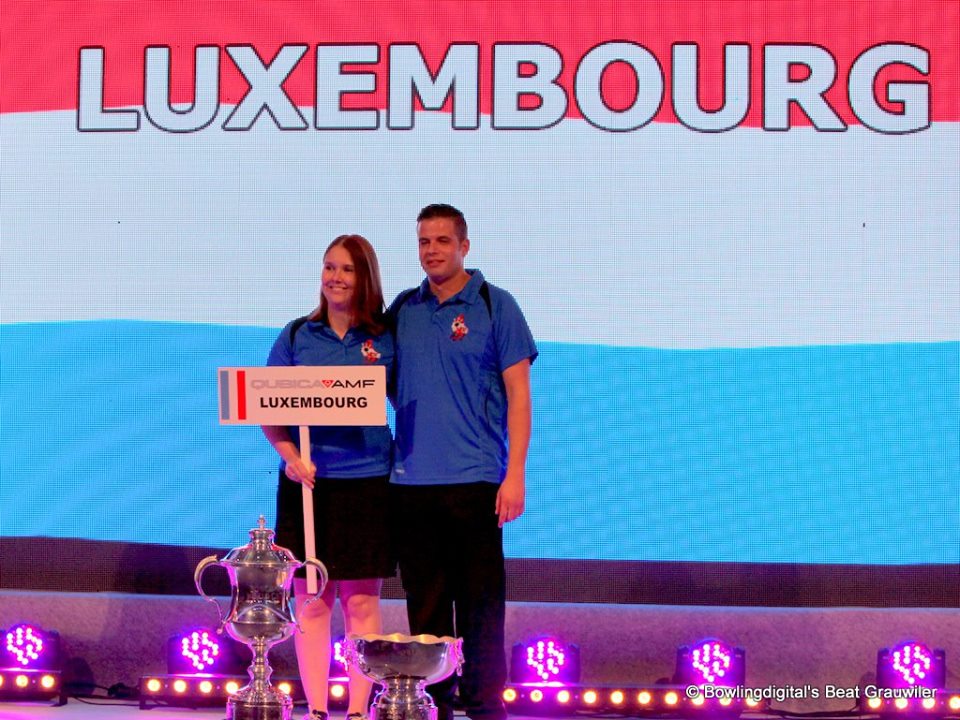 Each time you play the World cup is it easier for you to calm your nerves in such a big tournament?
Yes, it's definitely easier, but I think at the beginning of such a big tournament, I will still be a little bit nervous.

Have you had time to visit the sights of the places you have visited in the World cup and have you researched what Mexico has to offer?
I had the time to visit the cities of Wroclaw and Shanghai. Comparing them to Luxembourg-City, both cities were different, especially Shanghai. It will be my first time in Mexico. So I researched a little bit about Hermosillo "The City of the Sun". The Cathedral de la Asunción and the Plaza Bicentenario seems to be really nice. And if it's possible, I'd like to see the sea.

Many people say the BWC is a friendly tournament and you can meet some very interesting people from all over the globe, are there any players you have enjoyed bowling with and socializing with?
I really enjoyed it. Some of the players like Amandine Jacques, Lauriane Célié and Julien Sermand, I met them at tournaments before the BWC. But I made a few new friends during the BWC's and we are still in touch with each other. Even two of them, Samy-Ana Saba and Richard Marin Tranier came to Luxembourg a few weeks ago.

When and where did bowling start for you?
About 11 years ago, I started bowling in a fun-league on a Tuesday evening in Foetz (Luxembourg)

Have you been self taught or have you had coaching in your bowling career?
During the years of bowling, I have been coached by experienced players. And a few months ago, I started working with a professional coach.
What is it about the sport of bowling that you find makes you want to improve at it?
I like bowling, because it's not only a physical but also a mental sport. You have to stay focused for hours on the lanes and that makes it really challenging for me. The Silver Medal I won with my double partner at the Small Nations Cup shows me that I'm on the right way and maybe I will be able to make it into the top 24 in such a big tournament in the future.

What are your high game and series so far in your career and what are your best highlights?
At the moment, my high game is 287 and my high series is 1215 for six games. I had a few really good moments in my career. One of these highlights was the moment that I realized that my doubles partner and I won the Silver Medal at the Small Nations Cup in March this year. Another one was the moment that I knew that I won my first international tournament in my category in Jumet (Belgium) in 2011

What goals do you have in bowling?
For the moment, my goals are to make it into the top 24 at a BWC and to make it into the top 16 at the European Champions Cup.

Luxembourg is not a big country in terms of land mass, how many bowling centres do you have and how popular is the sport in your country?
We have three bowling centres in Luxembourg, but only two of them are officially approved. Unfortunately, bowling is not very popular in Luxembourg. We only have a few players, but I hope that during the next years, this will change.

When you are not competing, what things do you like to do?
If I'm not competing, I like to go running after work, especially after a stressful day. And in the evening, I like watching TV or reading a book.

Finally Nora, Why should people try bowling?
Bowling makes a lot of fun, you can meet a lot of people from all over the globe and you can share this sport with your family and friends.
Interview by Dom Gall
---
Dominic Gall is a former bowler and founder and content manager for Talktenpin.net since its birth in 2006.
He has reported, Interviewed and Live Streamed many tournaments Worldwide and in 2013 formed the UK
Tenpin Hall of Fame. Collaborating with QubicaAMF on the World Cup since 2015.
"To be a part of the history in a small way is something special."
2017/07/25
ABOUT QUBICAAMF WORLDWIDE
QubicaAMF is the largest and most innovative bowling equipment provider in the world with 600 employees worldwide. We build and modernize more bowling entertainment centers than any other company in the industry and have an installed base of more than 10,000 centers in 90 countries. The company has a sales and distribution network with worldwide reach and maintains the largest R&D team for electro-mechanical products, software, electronics, and entertainment systems in the industry.
QubicaAMF has over 100 years of experience and can provide the perfect combination of bowling equipment, products, and services for new or existing bowling entertainment centers, FECs, Cinemas, or any other facility in the hospitality, retail, or restaurant industry. Our ongoing mission is Making Bowling Amazing. We are convinced that bowling has so much more potential to attract and entertain even more people. With our products, we will help our customers fully unleash that potential.
The company has U.S. headquarters in Richmond, Virginia and European headquarters in Bologna, Italy.