News
Day 3. The third block of six is over.
With just six games to go, it's all hotting up in both sections of the 55th Bowling World Cup in Palembang.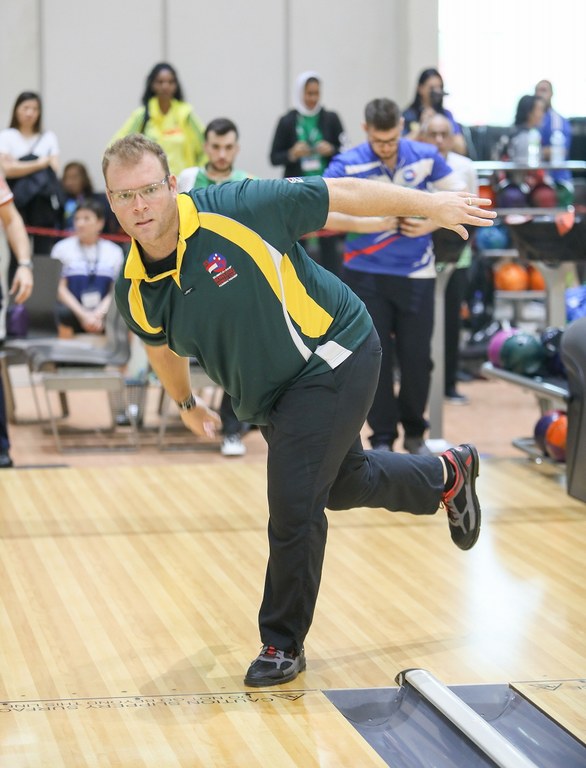 The men were first up today (Wednesday) and Francois Louw continues to dominate proceedings. A 17th game of 172 only served to spur him on and he finished on 1404, leading now by 310 pins. In second is Oliver Morig of Germany who himself shot 1334, while  Niko Oksanen of Finland did not have such a good day (a 1201 set) but he is still in third place overall.
Other 1300+ series came from David Maycock of Bermuda (1344), from Jaroslav Lorenc of the Czech Republic (1314, from Glenn Morten Pedersen of Norway (1304) and from defending champion Sam Cooley of Australia (1309) which brought him up into the top eight, perhaps a springboard to the finals for him.
The crowds were behind Frankie Catanzariti of Canada in game three as he got the first 11 strikes, but then a light touch on the headpin left three pins standing. Even so, Frankie has set a new high game of 297 – but still not enough to get him into the top 24.
Tomorrow will see a fight to the finish with several players massing around that 24th spot. Currently there is a tie for 24th between Mathieu Merwin Tan of Singapore and Vladimir Sverchkov of Russia, both on 3577, a 198.7 average. But Adrian Ang of Malaysia and Philip Gruppetta of Italy are only four and five pins above the cut.
The women found the condition tougher today. The high set was 1245 by Maria Koshel of Russia, with a further eight players shooting over 1200.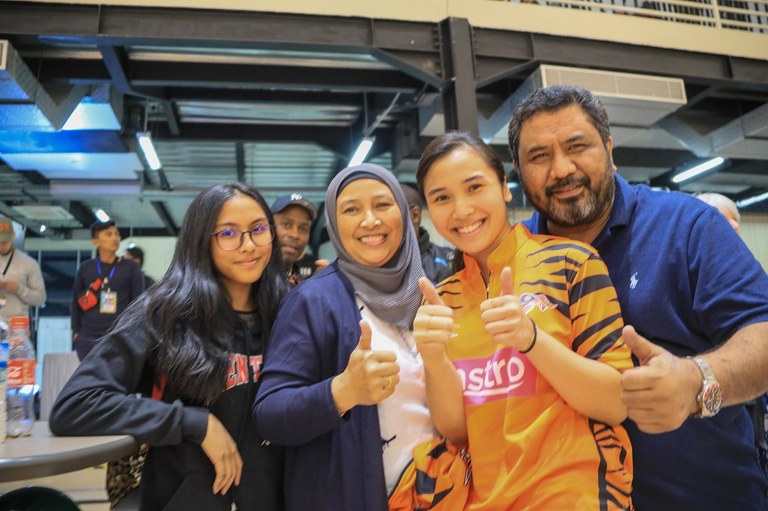 Among them was Natasha Roslan, our leader from day one, who hit 1225, enough to take her back to the top of the leader board on 3768. Natasha looked really happy at the end of her set and the reason was soon clear: her family (father Roslan, mother Anita and younger sister Addila) had arrived from just across the water in Kuala Lumpur. "My greatest supporters are here now and I am so pleased to see them," she commented. "They have been taking me around to bowling tournaments since I was nine years old so I owe them a lot," she added.
"I did find the condition today more difficult. And I may be top now but there are still 12 games to go, then a round robin with 30 bonus pins for winning, so really anything can happen."
Kelly Kulick of the USA has dropped down to second on 3725 with Maria moving up to third on 3710.
High game for the day was 255 from our 2017 champion Krizziah Lyn Tabora.
The 24th spot is still open but currently it is held by Amandine Jacques of France. Tanya Yusuf of Scotland is in 23rd, 28 pins above Amandine.
By Judy Howlett
---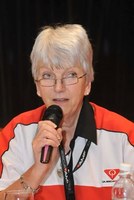 Judy Howlett has represented England and Great Britain several times in her bowling career. She played in the Bowling World Cup twice, coming second in 1985 (Seoul, South Korea). She has been in part of the organising team since 2001.
"I can't believe I am lucky enough still to be involved in the best tournament in the world - the QubicaAMF Bowling World Cup."
2019/11/20
ABOUT QUBICAAMF WORLDWIDE
QubicaAMF is the largest and most innovative bowling equipment provider in the world with 600 employees worldwide. We build and modernize more bowling entertainment centers than any other company in the industry and have an installed base of more than 10,000 centers in 90 countries. The company has a sales and distribution network with worldwide reach and maintains the largest R&D team for electro-mechanical products, software, electronics, and entertainment systems in the industry.
QubicaAMF has over 100 years of experience and can provide the perfect combination of bowling equipment, products, and services for new or existing bowling entertainment centers, FECs, Cinemas, or any other facility in the hospitality, retail, or restaurant industry. Our ongoing mission is Making Bowling Amazing. We are convinced that bowling has so much more potential to attract and entertain even more people. With our products, we will help our customers fully unleash that potential.
The company has U.S. headquarters in Richmond, Virginia and European headquarters in Bologna, Italy.