News
Day2. USA now top of the women's tournament: South Africa still there for the men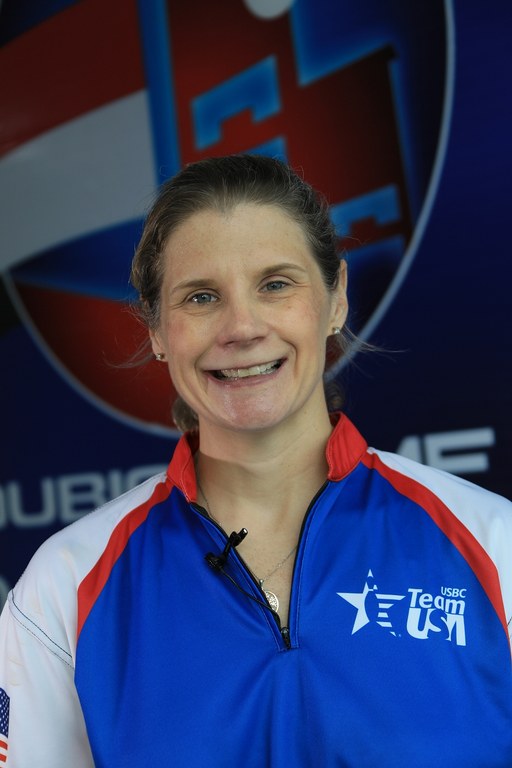 The women were first up on the second day of the 55th QubicaAMF Bowling World Cup in Palembang and the difference in squad time showed as the scores were overall higher than yesterday.
Kelly Kulick of the USA shot 1317 with a high game of 247 to take the lead on 2610 from Natasha Roslan of Malaysia who is now in second on 2543. Our champion from 2010 and 2011, Aumi Guerra of the Dominican Republic also had a good set and moved herself up into third on 2493.
High set of the day went to Nadine Geissler of Germany with 1329 and she is now in sixth. She and Kelly were the only ones to hit 1300+ but a further 11 women shot over 1200.
High game has also reached a new mark  with both Aumi and Nadine shooting 267.
Kelly said afterwards: "I've been on the pro tour for quite a while now and I've been trying so hard to make it to this tournament. I really appreciate the chance to meet people socially from so many countries and I love the fact that we move across the house and share the lanes with all these nations."
Once the men came on, the high scoring continued, headed by Francois Louw of South Africa, our overnight leader, who increased his lead. He hit a six game set of 1461, which included games of 288 and 290, and is now on 2806, a 233.8 average.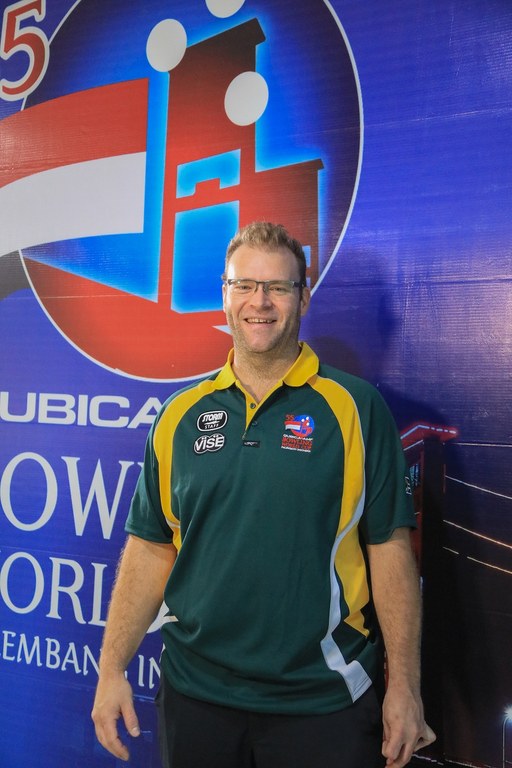 "I got a bit hyped up after a 288 in the first game," said Francois, "and came down to earth with a bang and a 205. But I picked it up again – that 290 was pretty good. By the last game I had to make a major adjustment, moving right over to the left pushing the ball out. It worked though!"
Niko Oksanen of Finland moved into contention with a 1336 set to give him 2606 overall and second place, with Jasem Al-Saqer of Kuwait hitting 1307 (2576 total) now in third. Oliver Morig of Germany also shot a 1300+ set and moved into fourth. One other player hit 1300+ was Chris Thomson-Nairne of Scotland, but he is still outside the top 24.
Ahmed Alawadhi of Bahrain was the second player to hit a 290 game and there were several other high games, perhaps most notably a 279 from Indonesian player, Ryan Leonard Lalisang, and a 278 from Jasem Al-Saqer of Kuwait.
The players are now half way through the qualifying sets and the cut for the top 24 for the women is a 188 average with Edith Quintanilla of El Salvador in 24th spot. John Janawicz of the USA is in 24th for the men.
You can follow the 55th QubicaAMF Bowling World Cup tournament on our Official Live Stream. 
By Judy Howlett
---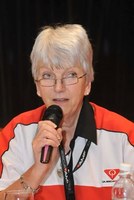 Judy Howlett has represented England and Great Britain several times in her bowling career. She played in the Bowling World Cup twice, coming second in 1985 (Seoul, South Korea). She has been in part of the organising team since 2001.
"I can't believe I am lucky enough still to be involved in the best tournament in the world - the QubicaAMF Bowling World Cup."
2019/11/19
ABOUT QUBICAAMF WORLDWIDE
QubicaAMF is the largest and most innovative bowling equipment provider in the world with 600 employees worldwide. We build and modernize more bowling entertainment centers than any other company in the industry and have an installed base of more than 10,000 centers in 90 countries. The company has a sales and distribution network with worldwide reach and maintains the largest R&D team for electro-mechanical products, software, electronics, and entertainment systems in the industry.
QubicaAMF has over 100 years of experience and can provide the perfect combination of bowling equipment, products, and services for new or existing bowling entertainment centers, FECs, Cinemas, or any other facility in the hospitality, retail, or restaurant industry. Our ongoing mission is Making Bowling Amazing. We are convinced that bowling has so much more potential to attract and entertain even more people. With our products, we will help our customers fully unleash that potential.
The company has U.S. headquarters in Richmond, Virginia and European headquarters in Bologna, Italy.