News
Day 4. We made it to the top 24 cut.
As usual the excitement in the last block of six games came not at the top of the leaderboard but around 24th place. Who would make it? Who would be out?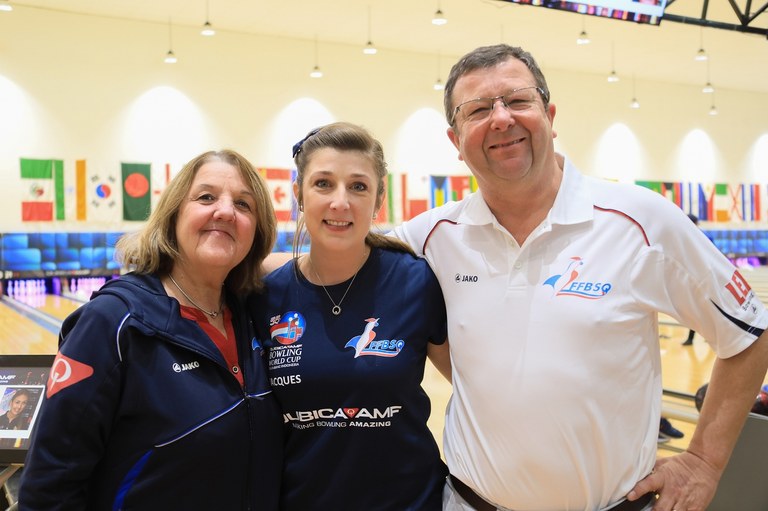 The women were first on the lanes. Initially, it looked fairly clear cut but then Driskell Rolle of the Bahamas started shooting big scores, including a 288, our new high game for the tournament. With one game to go she was in 25th, admittedly 45 pins off the cut but she was bowling so well that Amandine Jacques of France, Yumi Yuzuriha of Peru and Alja Bergauer of Slovenia began to get worried.
Sadly for Driskell, her final game was not high enough and she missed out, even dropping down to leave Heidi Thorstensen of Norway in the dreaded 25th spot.
Amandine bowled steadily and took that final place. Her parents are here with her: indeed, her mother Pepita bowled in the World Cup in 1991! "I made it! C'est fabuleux! It's super," she said. "Now I must aim to be at least 17th – that's where Mum came!"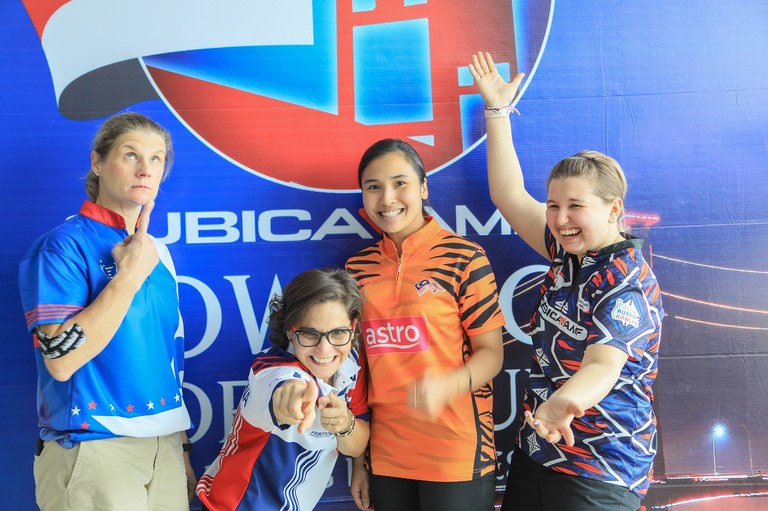 Alja is only 15 years old and is clearly a star of the future "I don't know how to explain in English how I feel," she said. "I had a bad last game and I thought I had missed out, but I'm not even 24th, I'm 23rd! I've been told I am the youngest female player ever to make the top 24. That would be some record!"
One thing is for sure: this is the best result ever for a woman from Slovenia as it is for Yumi and Peru.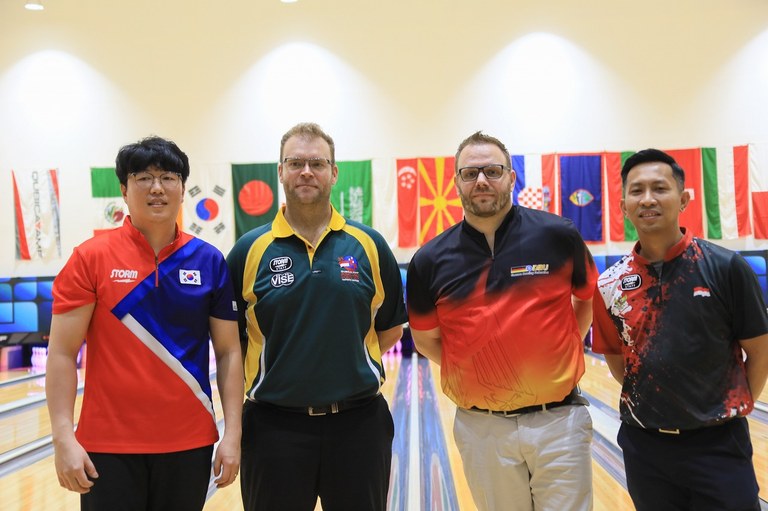 Natasha Roslan of Malaysia is still top on 5016 with Kelly Kulick of the USA in second (4958),and  Maria Koshel of Russia and Aumi Guerra of the Dominican Republic tied for third on 4896. The top four posed for a crazy picture for us!
Over to the men. Francois Louw of South Africa, our leader since day one, looked like he had lost his form but that was an illusion - he hit a 1310 and remains way out in the lead on 5520. There was some high scoring from other players as well, notably from Oliver Morig of Germany who shot a brilliant 1432 including the high game of the day, a 279, consolidating his second place on 5332. Five other players hit 1300+.
Wanhee Lee of Korea is in third on 5135. And much to the delight of a large local crowd, Ryan Lalisang of Indonesia is in fourth. The noise will be something else tomorrow.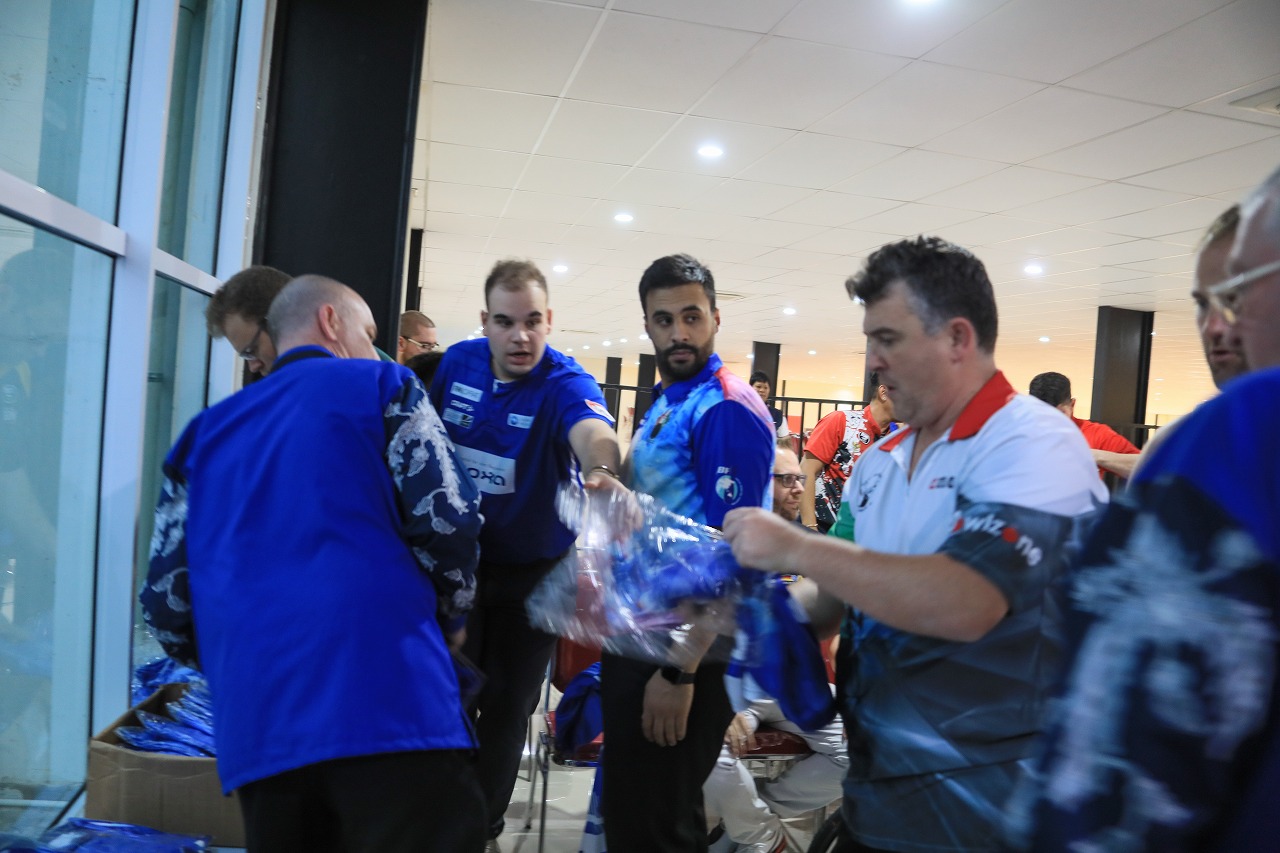 As with the women, the 'fun' was at the other end. With one game to go, John Janewicz of the USA was in 24th place but just one pin ahead of Xavier Milet of Belgium. As luck would have it, they were playing on an adjacent pair of lanes so could watch what each other was doing. Xavier hit 191, John had to spare in the tenth to beat him and did. So it looked as if Xavier was out.
But we had all reckoned without Ildemaro Ruiz of Venezuela, who started that last game in 22nd, shooting his worst game of the whole tournament, a 156, and dropping out of the top 24 altogether by just five pins.
And so Belgium AND the USA both qualified. "Whew!" said Xavier. "That was more than luck. Someone must be looking after me!"
And again, as with the women, some countries can chalk up their best ever World Cup result, even before the next eight games. Jaroslav Lorenc from the Czech Republic is lying in seventh, and the previous best for his country was 28th. Bulgaria's Dian Dinev has made the top 24, beating that country's previous best of 45th. Others may yet record their best: tomorrow will tell.
As usual all the players are given special shorts to wear for the round of 24. 
Top 24 Women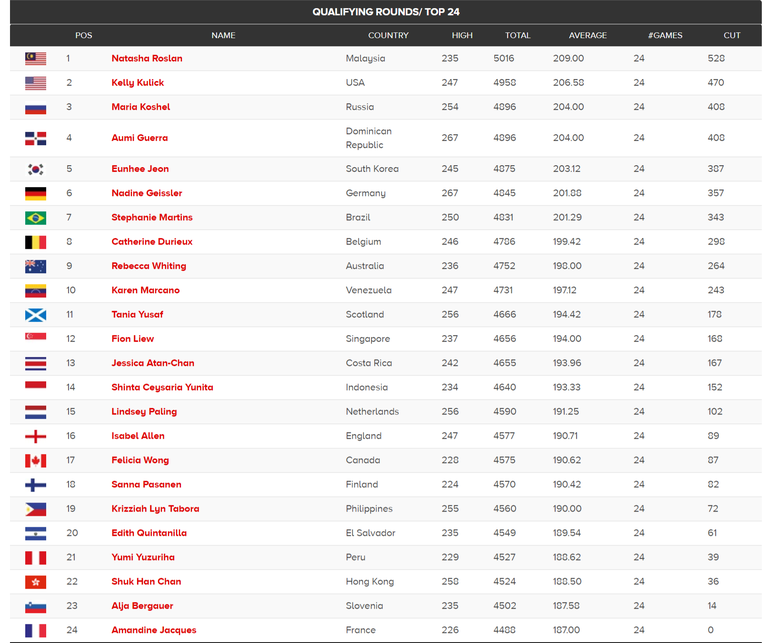 Top 24 Men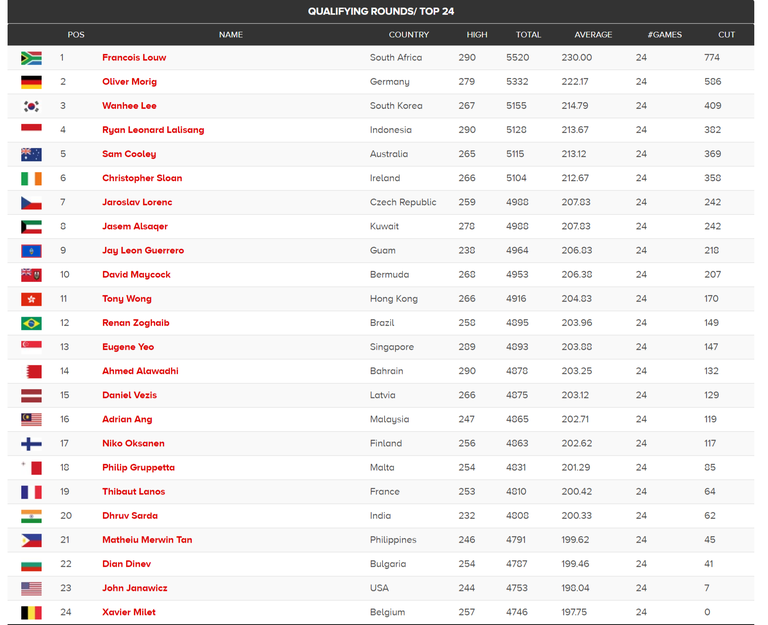 Follow your favorite bowlers on our LIVE STREAM.
By Judy Howlett
---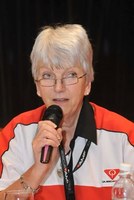 Judy Howlett has represented England and Great Britain several times in her bowling career. She played in the Bowling World Cup twice, coming second in 1985 (Seoul, South Korea). She has been in part of the organising team since 2001.
"I can't believe I am lucky enough still to be involved in the best tournament in the world - the QubicaAMF Bowling World Cup."
2019/11/21
ABOUT QUBICAAMF WORLDWIDE
QubicaAMF is the largest and most innovative bowling equipment provider in the world with 600 employees worldwide. We build and modernize more bowling entertainment centers than any other company in the industry and have an installed base of more than 10,000 centers in 90 countries. The company has a sales and distribution network with worldwide reach and maintains the largest R&D team for electro-mechanical products, software, electronics, and entertainment systems in the industry.
QubicaAMF has over 100 years of experience and can provide the perfect combination of bowling equipment, products, and services for new or existing bowling entertainment centers, FECs, Cinemas, or any other facility in the hospitality, retail, or restaurant industry. Our ongoing mission is Making Bowling Amazing. We are convinced that bowling has so much more potential to attract and entertain even more people. With our products, we will help our customers fully unleash that potential.
The company has U.S. headquarters in Richmond, Virginia and European headquarters in Bologna, Italy.