News
And the big news of day one is...
Day 1 Recap from the 53rd QubicaAMF Bowling World Cup
Arturo Estrada of Mexico is in the lead after the first block of qualifying in the men's section of the 53rd QubicaAMF Bowling World Cup!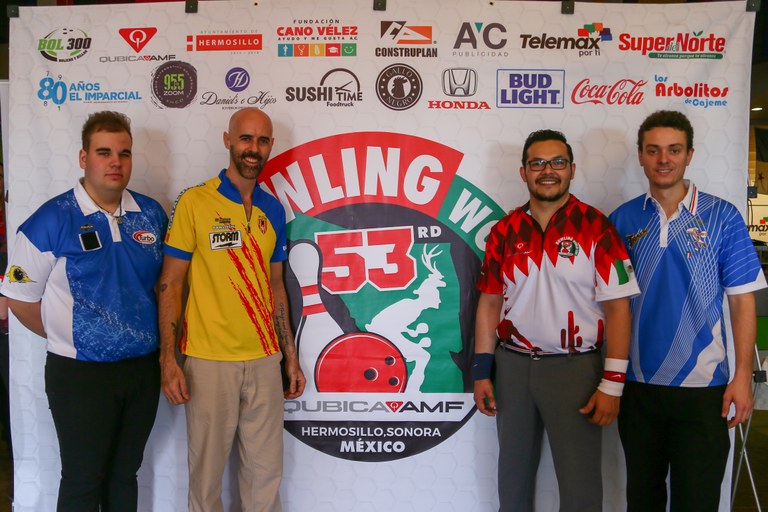 Top Four Men: (Left to Right) Niko Oksanen, Lluis Montfort, Arturo Estrada and Nicola Pongolini.
Arturo, who comes from the small state of Queretaro in north central Mexico, shot 1433 over his six games to lead by 39 from Lluis Montfort of Catalonia. Third spot is taken by Nicola Pongolini of Italy on 1315 and in 4th is Niko Oksanen of Finbland on 1279.
Arturo bowled very steadily, with games of 220, 247, 232, 226, 250 and 258 for a 238 average. "I played really consistently today," he said. "I was quite surprised and very excited but I am still nervous. I know there is a long way to go still but to be in the lead at any stage is fantastic."
There is indeed a distance to go with three more rounds of six games in the qualifying before a cut to the top 24. Currently in 24th place is Nan Feng of China.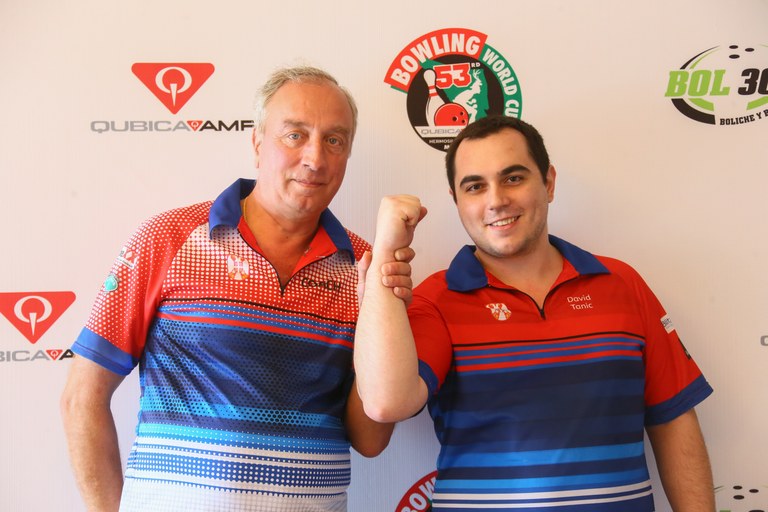 High game Serbian coach Andy Jung with David Tanic
High game for this set went to David Tanic of Serbia who hit the first 11 strikes but then seven with his last ball for a 297 game. He said afterward: "I'm pleased with that game and I hope maybe, maybe it will last for the tournament. You never know!"
But when it comes to high games, the women beat the men this time round. Jenny Wegner, last year's champion, shot a 300 in her second game of qualifying.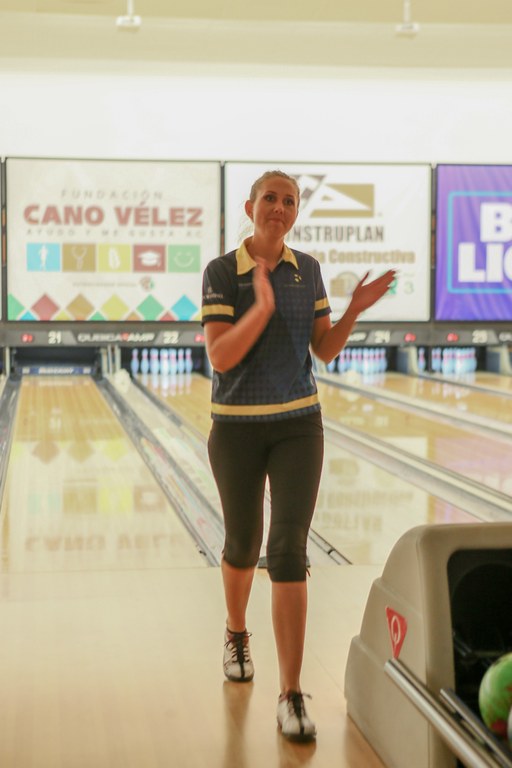 Jenny Wegner after hitting her 12th strike
Not content with taking the high game for the day, she also hit the high series with 1445, beating the men. When told that she said: "Did I? That's cool. That's the best bit!
"I was not happy with my first game. I made three big mistakes and I got mad at myself at the start of the second game and the 300 was the result. I've made a good start but I need to keep it up"
From a Mexican point of view, the other good news is that Maribel Orozco pulled herself up into fourth with a final game of 272 for a 1355 set.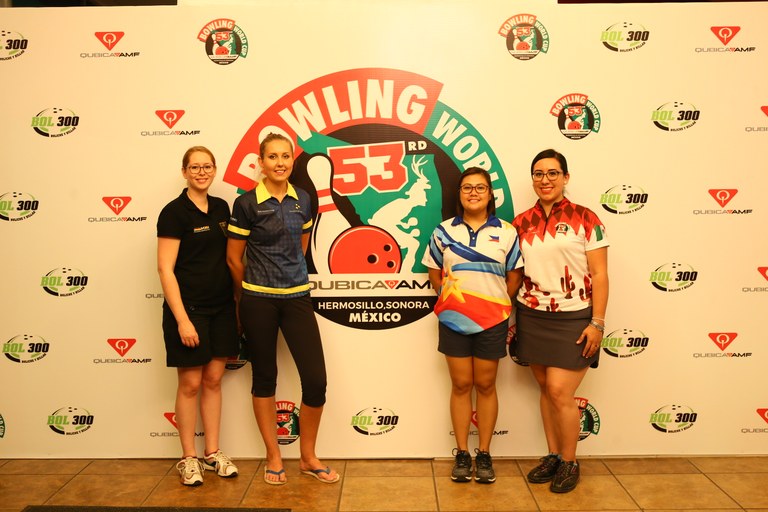 Top four women: (left to right) Vanessa Timiter, Jenney Wegner, Krizziah Lyn Tabora and Maribel Orozco.
Lying in second place is Vanessa Timiter of Germany on 1389 and Krizziah Lyn Tabora of the Philippines is in third on 1364.
As with the men, there are another 18 games to go before the cut to the top 24 which is currently Suzanne Howell of New Zealand on 1144.
Photo credit: Hiroshi Noda
By Judy Howlett
---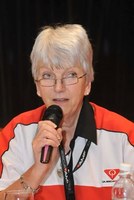 Judy Howlett has represented England and Great Britain several times in her bowling career. She played in the Bowling World Cup twice, coming second in 1985 (Seoul, South Korea). She has been in part of the organising team since 2001.
"I can't believe I am lucky enough still to be involved in the best tournament in the world - the QubicaAMF Bowling World Cup."
2017/11/06
ABOUT QUBICAAMF WORLDWIDE
QubicaAMF is the largest and most innovative bowling equipment provider in the world with 600 employees worldwide. We build and modernize more bowling entertainment centers than any other company in the industry and have an installed base of more than 10,000 centers in 90 countries. The company has a sales and distribution network with worldwide reach and maintains the largest R&D team for electro-mechanical products, software, electronics, and entertainment systems in the industry.
QubicaAMF has over 100 years of experience and can provide the perfect combination of bowling equipment, products, and services for new or existing bowling entertainment centers, FECs, Cinemas, or any other facility in the hospitality, retail, or restaurant industry. Our ongoing mission is Making Bowling Amazing. We are convinced that bowling has so much more potential to attract and entertain even more people. With our products, we will help our customers fully unleash that potential.
The company has U.S. headquarters in Richmond, Virginia and European headquarters in Bologna, Italy.