Video MASQ
Bring your center to life! Today's customers are immersed in a world of feature films, live sporting events and the latest video games. Now you can bring that same exciting experience into your center with the Video MASQ System from QubicaAMF. Superior to standard systems, these high-definition displays enhance image clarity and vividness. Flexible operation lets you deploy only the screens you want. Plus, the system is designed to fully integrate with the MASQ unit and totally exceed your expectations.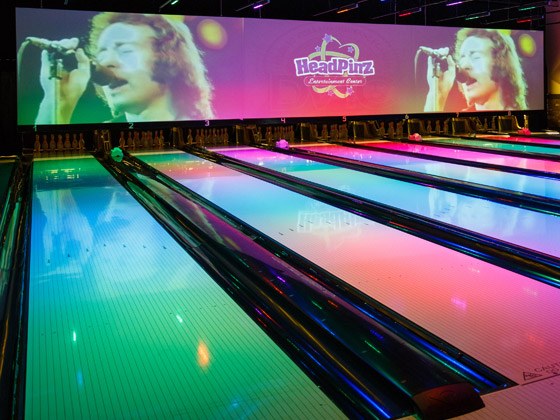 A Streamlined, Fully Integrated Design
The Video MASQ projector screen is custom designed to integrate with the MASQ unit, eliminating complexity and guesswork. Video MASQ screens are motorized and are raised and lowered using a control switch behind the front desk.
16:9 Aspect Ratio
Our Video MASQ screens are 16:9 high-definition format, ideal for watching widescreen HD video without unsightly blank bars above and below the image.
Enhanced Clarity
QubicaAMF Video MASQ screens incorporate a special "high-gain" coating that works with the projector to deliver eye-opening clarity.
Smooth Screen-To-Screen Transition
There's only a minimal 2.75" black border between consecutive Video MASQ screens. So when your customers look from lane to lane, all they'll see is one span of vibrant video
Ceiling Mountable Video MASQ Screens
For those desiring to bring the excitement of video and media to their center without purchasing the complete MASQ unit with video screen integrated, we offer the video MASQ screen in a ceiling mountable version.
Commercial-Grade HD Projectors
We offer several styles of projectors. All are commercial-grade, HD projectors that will provide the kind of high-impact, high-def entertainment your customers demand.
get in touch
Boost your center with the most experienced partner in the business. A partner who will stand by you and guide you all the way.