News
Day 1 Recap: USA and Latvia in the Lead
After 8 games each, Day 1 is complete with USA and Latvia leading the way at the 54th QubicaAMF Bowling World Cup.
The USA in the shape of Kyle Troup, and Diana Zavjalova from Latvia are in the lead after the first day of the 54th QubicaAMF Bowling World Cup in Sam's Town, Las Vegas, USA.
The men played first today and there was some fine scoring, although the highest game was 289 by Nowak Orzemyslaw of Poland. Who knows....a 289 was enough to win the men's high game last time the event came to Las Vegas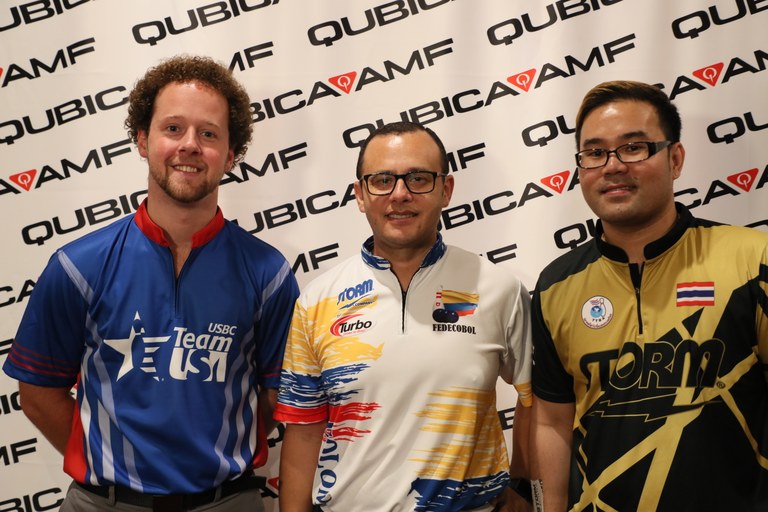 Kyle is in a clear lead over both Yannaphon Larpapharat of Thailand and Andres Gomez of Colombia. Kyle is on 1,963 with both Yannaphon and Andres on 1,882. In fourth place after a fine last game is our champion from 2006, Osku Palermaa of Finland. Both Kyle and Osku favour the two-handed style of play.
Kyle commented: "It was so neat to play against bowlers from so many different countries. I didn't know bowling could be found all round the world like this. I know there is a long way to go so I am aiming to take it one day at a time and hope to come out on top at the end."
The women's section is much closer. Diana Zavjalova of Latvia, a former two-time Queen's champion, is in the lead on 1,749 but by just 17 pins from Li Jane Sin of Malaysia. Nadine Geissler of Germany, who was in the lead for much of the set, is in third, a further 10 pins behind, while Shannon O'Keefe of the USA is in fourth on 1,684.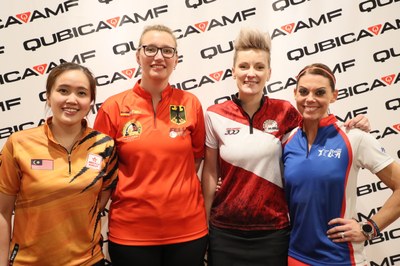 Diana said: "I was quite surprised to be in the lead as I did play some bad shots today. It is such an honour to be representing my country, and I am really pleased to be here. This is my third Bowling World Cup and I made the top eight both times before so I want to improve on that."
Three players hold high game for the women at the moment: Diana, Nadia Nuramalina of Indonesia and Suzanna Howell of New Zealand, all on a 256, but it is likely that that score will be bettered over the next squads.
There will be two further sets of eight games over the next two days before the cut to the top 24. At present the cut for the men is a 204.62 average (Nikita Kuznetsov of Russia) and for the women a 195, currently June Dill of Bermuda.
For full results visit https://www.qubicaamf.com/qubicaamf-bowling-world-cup where you can also follow all the action through live scoring and live streaming.
Photo credit: Hiroshi Noda
Story by Judy Howlett
---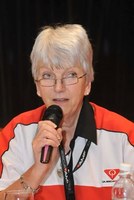 Judy Howlett has represented England and Great Britain several times in her bowling career. She played in the Bowling World Cup twice, coming second in 1985 (Seoul, South Korea). She has been in part of the organising team since 2001.
"I can't believe I am lucky enough still to be involved in the best tournament in the world - the QubicaAMF Bowling World Cup."
2018/11/06
ABOUT QUBICAAMF WORLDWIDE
QubicaAMF is the largest and most innovative bowling equipment provider in the world with 600 employees worldwide. We build and modernize more bowling entertainment centers than any other company in the industry and have an installed base of more than 10,000 centers in 90 countries. The company has a sales and distribution network with worldwide reach and maintains the largest R&D team for electro-mechanical products, software, electronics, and entertainment systems in the industry.
QubicaAMF has over 100 years of experience and can provide the perfect combination of bowling equipment, products, and services for new or existing bowling entertainment centers, FECs, Cinemas, or any other facility in the hospitality, retail, or restaurant industry. Our ongoing mission is Making Bowling Amazing. We are convinced that bowling has so much more potential to attract and entertain even more people. With our products, we will help our customers fully unleash that potential.
The company has U.S. headquarters in Richmond, Virginia and European headquarters in Bologna, Italy.