News
The Return of the Champs
The beauty of the Bowling World Cup is the blend of the past, present and future. We sit down with three past Champions who discuss their current play and their aspirations for winning again!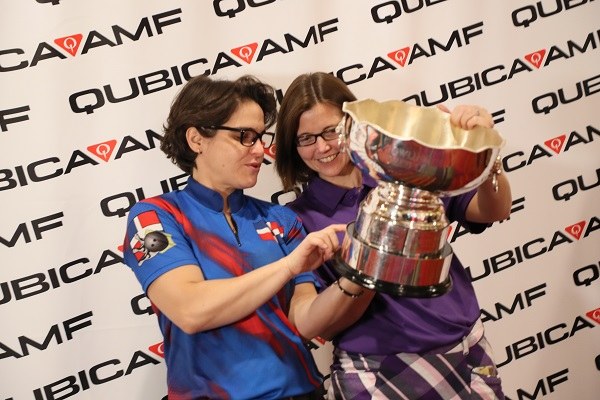 "Here I am again, after all this time!" said Mel Oates of Wales, who as Mel Isaac won the Bowling World Cup in Lisbon in 2000. "Yeah, but I haven't missed a tournament since I won!" countered Aumi Guerra of the Dominican Republic, our champion in 2010 and 2011.
The two women met up for the first time ever in Las Vegas at the 54th QubicaAMF Bowling World Cup and were able to hold the trophy one more time. Both looked for their names on the plinth.
Mel suffered a bad injury to her back in a car accident in 2001 and gave up bowling as the pain was too much. But a few years ago, she felt better and decided she so enjoyed "throwing a ball down a lane", that she would start playing again. "So I joined a league and I play once every two weeks, just three games. I actually played quite well so my brother said I should enter the qualifying for the World Cup." She did and she won it – and her brother is here in Las Vegas.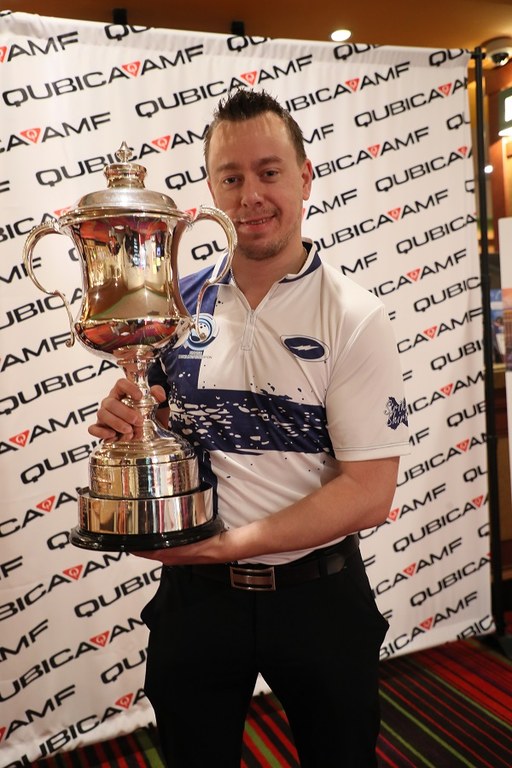 Her aim is to make par and ideally to make the top 24. "You know what's really cool? I used a ball which I have had since 1999 – it's older than the youngest player here! And I bowled two 200s with it!" Mel is clearly enjoying her 2018 World Cup experience.
Aumi has one of the best World Cup records of any woman. Quite apart from winning it twice, one of just three women to win back to back titles, she came second in 2012 and third in 2013. "But I haven't made the top eight since 2013," she said. "That is definitely my aim for this year, and then who knows?
"I love this trophy. When you win it, you don't get to hold it for very long so to come back and be allowed to pick it up is great."
Osku Palermaa of Finland won in 2006 when the tournament was in Venezuela. "I can't believe it was 12 years ago," he said. "It was the start of a great career for me. I have won titles on the pro tour but there is still a big place in my heart for the World Cup."
That's a sentiment which everyone who has ever played in the event would agree with.
Photo credit: Hiroshi Noda
Story by Judy Howlett
---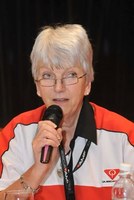 Judy Howlett has represented England and Great Britain several times in her bowling career. She played in the Bowling World Cup twice, coming second in 1985 (Seoul, South Korea). She has been in part of the organising team since 2001.
"I can't believe I am lucky enough still to be involved in the best tournament in the world - the QubicaAMF Bowling World Cup."
2018/11/07
ABOUT QUBICAAMF WORLDWIDE
QubicaAMF is the largest and most innovative bowling equipment provider in the world with 600 employees worldwide. We build and modernize more bowling entertainment centers than any other company in the industry and have an installed base of more than 10,000 centers in 90 countries. The company has a sales and distribution network with worldwide reach and maintains the largest R&D team for electro-mechanical products, software, electronics, and entertainment systems in the industry.
QubicaAMF has over 100 years of experience and can provide the perfect combination of bowling equipment, products, and services for new or existing bowling entertainment centers, FECs, Cinemas, or any other facility in the hospitality, retail, or restaurant industry. Our ongoing mission is Making Bowling Amazing. We are convinced that bowling has so much more potential to attract and entertain even more people. With our products, we will help our customers fully unleash that potential.
The company has U.S. headquarters in Richmond, Virginia and European headquarters in Bologna, Italy.