News
Two time champion Aumi Guerra - Interview
Two players could make it three Bowling World Cup wins. One of course is defending champion Clara Guerrero, the other is the amazing Aumi Guerra from the Dominican Republic.
Aumi has a fantastic record in the tournament and you know when she is in the field she will be dangerous and a contender. To see her bowl is to see a player that shows true passion for her sport. She is one who always gives everything on the lanes and you cannot help but enjoy and share her happiness when she is bowling well. Aumi will be back and is determined to get that important third win after almost making it a hat trick of wins in 2012. Now in training for Shanghai, Aumi chatted with us just before her daily sessions.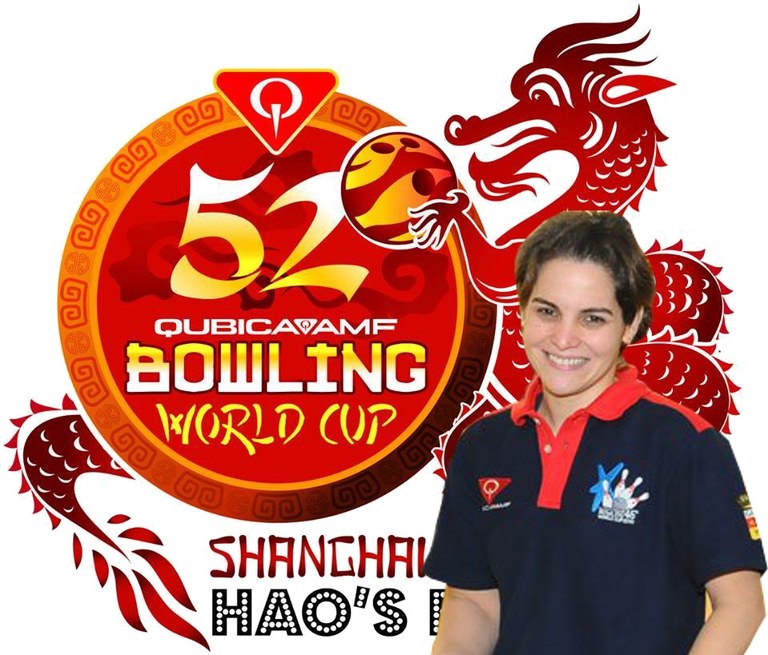 Congratulations Aumi, you will be in Shanghai and looking for your third World Cup win. What makes this event so special to compete in?
I think the QubicaAMF World Cup is the friendliest bowling tournament in the world. The organizers do such a great job of giving every participant super star treatment and exposure while hosting arguably the most prestigious international bowling championship of the year. Representing my country at this event is always an honor. Lifting the cup at the end of the week, surreal to this day. This is my favorite tournament ever.
A back to back winner in 2010 and 2011, you almost made it a historic three in a row but just lost out in the 2012 final. How heart breaking was this at the time?
I bowled really good in Poland on 2012 to qualify 1st to the final. I gave myself the best possible chance to achieve the three-peat when I faced Singapore's Shayna NG, one of the most powerful bowlers I've ever seen. I found myself in big trouble on game 3 (the deciding game) while Shayna could not stop striking. I did cry my eyes out on TV but actually bounced back pretty fast afterwards. You can't do more than your best. I did mine and got beat by really good bowling. That is sport.
You bounced back though with a 3rd place in 2013 and have a good record in the tournament, How will you prepare for Shanghai and a potential 3rd win?
World Cup time is always "crunch time" for me. I put in the practice time (about 15 hours a week) and continue to compete internationally. I will be in Cali, Colombia in a week participating in the PABCON Women's Championships. Hopefully a week of competition will help me get into the right mindset before Shanghai.
Going back now to the beginning Aumi. How and when did bowling come into your life?
I started bowling in 1996 at age 19 when Sebelén Bowling Center opened its doors in my hometown of Santo Domingo, Dominican Republic. My sister took me in for fun and even though I was very uncoordinated, I stayed. I have not stopped practicing since.
How do you explain to people what bowling means to you?
Bowling is my passion. I bowl, I coach, I operate a pro-shop. Its what I do. I enjoy every aspect of the game.
We all as bowlers do some self coaching to improve but who else has helped you become a better player?
I have been working with Coach Craig Woodhouse for over 13 years. He has been the biggest contributor to my development.
In the 2009/10 PBA Women's Series you cashed in 6 out of 7 events, do you have any plans to play on the PWBA tour?
The PWBA Tour is a great test. Those girls are sharp and at the top of their games. I try to make it to at least one event a year. Next year I'll be in Baton Rouge, Louisiana for the Women's Championships and USBC Queens. Attending more than 1 event will require sponsors. I'm always looking!
You have a host of medals from many championships representing your country, which one means the most to you?
At the 2009 Women's PABCON Championships in San Juan, Puerto Rico; Annie Henríquez, Paola Méndez, Aida Sánchez, Paula Vilas and myself earned the Bronze TEAM Medal. A true underdog team. We beat some notably superior ladies for that last podium spot. The best feeling ever. Doing it for the team!
What is currently in your bowling bags, do you have a go to ball to get you out of trouble on the lanes?
I bowl with Brunswick and my perceived arsenal for Shanghai is as follows. DV8 Grudge DV8 Vandal Smash DV8 Diva XOXO Brunswick Melee Jab Brunswick Black Rhino. Go to ball and most predictable, Melee Jab.
When you do get a chance to relax, what things do you enjoy doing?
I like playing the piano, reading and sitting on the beach, enjoying the view.
Has bowling made you quite famous in your country with your amazing wins?
Dominican Republic is a country of 10 million people where baseball is king and bowling is considered a non-traditional activity. It has been awesome to achieve exposure nationally in the company of famous Dominicans of professional sport. My name is weird so people tend to remember it.
You have faced some tough players over the years, As a great bowler yourself, who do you admire?
Liz Johnson is the player that comes to mind. She is such a tough competitor and an outstanding human being. It is always a thrill to compete alongside her.
A chance now Aumi to thank people who have help make you the person and bowler you are, Who gets a mention?
My family. My mom, dad and 3 older sisters formed my character. Manuel Fernández, my original sponsor, launched my career with his unwavering financial support. Friends like Pily Baéz and longtime coach Craig Woodhouse have been with me through it all. 100% supportive.
Had you not been a bowler, what might you have been?
I think I might have ended up teaching. I love young people and having a positive effect in their lives.
Finally Aumi, What is the best advice you have ever been given?
Before he passed away in 2008, my father's wise last words to me were, "Tira Bolas". This loosely translates to "Throw Balls".
Interview by Dom Gall.
2016/09/09
ABOUT QUBICAAMF WORLDWIDE
QubicaAMF is the largest and most innovative bowling equipment provider in the world with 600 employees worldwide. We build and modernize more bowling entertainment centers than any other company in the industry and have an installed base of more than 10,000 centers in 90 countries. The company has a sales and distribution network with worldwide reach and maintains the largest R&D team for electro-mechanical products, software, electronics, and entertainment systems in the industry.
QubicaAMF has over 100 years of experience and can provide the perfect combination of bowling equipment, products, and services for new or existing bowling entertainment centers, FECs, Cinemas, or any other facility in the hospitality, retail, or restaurant industry. Our ongoing mission is Making Bowling Amazing. We are convinced that bowling has so much more potential to attract and entertain even more people. With our products, we will help our customers fully unleash that potential.
The company has U.S. headquarters in Richmond, Virginia and European headquarters in Bologna, Italy.