News
Lisanne Breeschoten from The Netherlands Interview
Lisanne Breeschoten is super fit. She runs over 30 Kilometers a week and before Shanghai, she will run in her first half marathon. On the lanes, she is deadly.
A winner of the EBT masters, English Open and multiple medals of all colours at the European Youth Championships. In her second Bowling World Cup she hopes to bring home the crown for The Netherlands. We caught up with her the day after her win in the Dutch qualifier....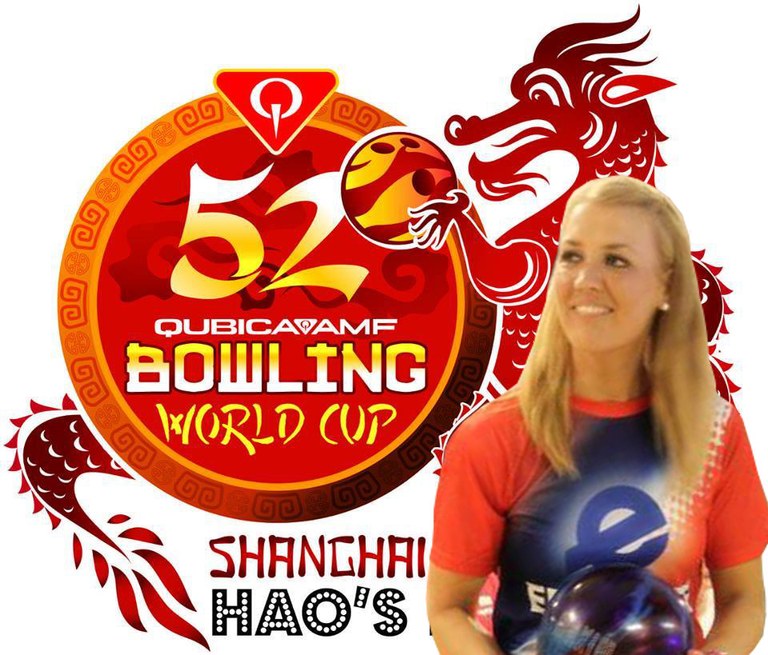 You are Going to China Lisanne, It has only been a day or so but how does it feel to have won the Dutch qualifier?
Yes I won the qualifier yesterday and it feels amazing! I woke up this morning with a smile and that smile is still on my face
This is not your first World cup of course, What is it about the tournament that players agree is so special?
This will be my second participation, I played my first World Cup in Hermosillo, Mexico in 2008. It was a great experience. The tournament is very well organised and it is amazing to be surrounded by the best bowlers in the world. The fact that every country is only sending 2 players makes it easy to connect with all the bowlers.
Not long to go to Shanghai now, what training will you now do to be ready?
I will mainly focus on keeping good form by practicing regularly and making sure that my arsenal is complete and ready for the World Cup. I will play the Chandra Open EBT tournament which is a good preparation. Besides that I will keep visiting the gym and I'm going to run my first half marathon in a couple of weeks!
Running, you actually do a lot, how many miles or kilometres do you do in a week and how do you think it helps your bowling?
I run about 20 miles (30+ kilometers) in a week. It helps to clear my mind and of course it helps me to stay fit. This really benefits during long bowling days like last Saturday when we played the World Cup Qualifier.
Starting at the age of ten and in just four years you made the national team. Did you just pick up the sport easily or are you just generally good at all sports?
Before I started bowling I did swimming and gymnastics. I liked it, but not in the way I liked bowling! I think that the fact that I picked up bowling easily helped with that
Where did you start and who helped you get good so quickly?
I started at the bowling alley in my hometown, Oosterhout. It is a small center with 8 lanes. My first trainer was Gerben Snijders, he taught me the basics and the foundation of my game. I am still very thankful for that!
So, not only did you make the Dutch team at 14, you walked away from EYC's in 2006-2008 with three Gold, a silver and bronze. How different is bowling for your country compared to bowling for yourself?
It feels amazing to wear the National Team jersey during big events. The biggest difference is that you fight together with your teammates and coach(es) for those medals and that is an experience I will never forget.
Some players win more for their country than themselves and vice versa, Your singles career is impressive though with an English Open win, becoming the first ever female winner of the event. Will we see you back in England this year for the tournament?
Winning the English Open was a dream come true! It is one of my favourite tournaments and I would love to come back and participate again! This year it won't fit in my schedule but I'm looking forward to be in London again and play this tournament.
Other wins include a big one and the 2013 EBT masters title, When you won this did you start to believe more that you actually had the game to compete with the best in Europe?
Right before I won the EBT Masters I made the masters event during the World Championships in Las Vegas. I think this helped and gave my confidence a boost during the EBT masters.
What goals do you have in the sport in the future?
Bowling will Always be my passion and I hope I can compete on the highest level as long as possible, although it is not easy to combine it with a fulltime job
When you get some downtime from work, training and bowling, how do you relax?
I like to go shopping or drink coffee/have dinner with friends or family. I can also enjoy a lazy day on the couch and watch TV or go for a walk in the woods.
You have been part of a great era for female bowling in The Netherlands, Which Dutch players did you look up to as you improved?
I always looked up to the adult Dutch National team members, like Wendy Kok, Priscilla Maaswinkel, Marieke de Jong, Ghislaine van der Tol etc. When I was 18 I bowled my first World Championships in Monterrey, Mexico with a couple of these girls. That was an amazing experience and I learned a lot from them.
What's currently in your arsenal and what is your go to ball at the moment?
I am on Columbia300 staff and at the moment the Severe Delirium and the Delirium are my favourite balls to use. They are smooth but really strong in the pins. The delirium was a great choice to use during the AMF World Cup Qualifier
A chance now Lisanne to thank people who have helped you on your road through the bowling World, Who gets mention?
First I want to thank my parents for being so supportive for many years. I would not have been where I am right now without them!
I also want to thank Chandra bowling & Dolfijn Bowling for the practice facilities. They are like my second home.
The brands of Ebonite and Bowltech have been supportive for a lot of years now and I am proud to be a staff member and be able to use those great bowling balls. Last but not least, my personal training group Fitmasters who are helping to work on my bowling skills in the gym with specific exercises.
A simple question to end with, Why should people bowl?
Bowling is a great sport for everyone. If you just want to bowl a weekly league or want to compete on the highest level, everything is possible. The bowling community is like a big family and that makes the sport even greater.
Interview by Dom Gall
2016/09/07
ABOUT QUBICAAMF WORLDWIDE
QubicaAMF is the largest and most innovative bowling equipment provider in the world with 600 employees worldwide. We build and modernize more bowling entertainment centers than any other company in the industry and have an installed base of more than 10,000 centers in 90 countries. The company has a sales and distribution network with worldwide reach and maintains the largest R&D team for electro-mechanical products, software, electronics, and entertainment systems in the industry.
QubicaAMF has over 100 years of experience and can provide the perfect combination of bowling equipment, products, and services for new or existing bowling entertainment centers, FECs, Cinemas, or any other facility in the hospitality, retail, or restaurant industry. Our ongoing mission is Making Bowling Amazing. We are convinced that bowling has so much more potential to attract and entertain even more people. With our products, we will help our customers fully unleash that potential.
The company has U.S. headquarters in Richmond, Virginia and European headquarters in Bologna, Italy.