News
Top 24 decided
After four days of competition and 24 games, we now know the top 24 who will go through to round two and a further eight games.
The cut for the women fell at 4604, a 191.83 average, and the player who made it was Shuk Han Chan of Hong Kong. The unlucky player in 25th spot was Carina Hugin of Switzerland, just 16 pins off the pace.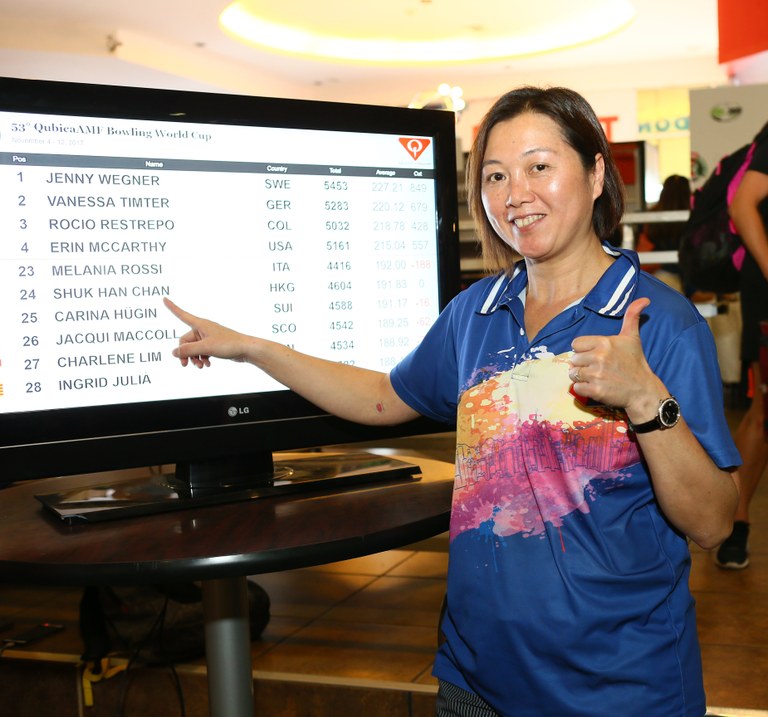 Jenny Wegner of Sweden remains in top spot, on 5453, 227.21 average. Vanessa Timter of Germany is in second, with Rocio Restrepo of Colombia in third and Erin McCarthy of the USA in fourth. There are however several players within striking distance of the top four.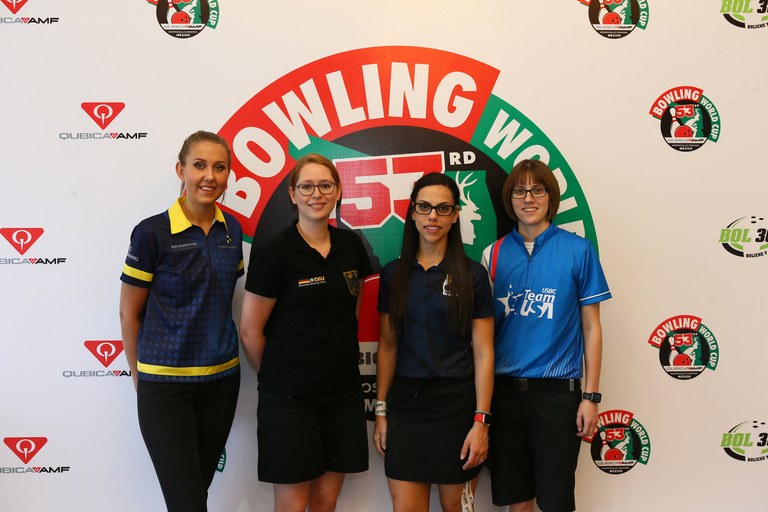 Of note also is the result for Adile Sevgi Michajlow of Turkey in 20th place. "This is the best ever result for Turkey," she said. "I was 31st last time I played in 2012, and I was so determined to make the top 24 this time. I am really delighted and I just hope I can do even better tomorrow."
High game for the set was from Edith Quintanilla of El Salvador. Edith hit the first 10 strikes but then left a single pin and finished on 289.
Six players hit over 1300 – the top four all did (Jenny 1357, Vanessa 1341, Rocio 1331, Erin 1314) as did Miranda Panas of Canada 1304 which brought her up into 11th place, and Lorna Scott of England with a 1302 to finish this stage of the tournament in 15th.
The overall average for all 54 women players was 188.58.
The lead changed this time for the men. Ahmad Muaz Mohd Fishol of Malaysia hit 1487, the high set of the tournament so far, to jump up into the lead. Yesterday's leader, Ray Teece of England, had a bad set and dropped down the listing, while Mats Maggi of Belgium climbed up into the top four with a 1388 set. All the while, the USA's Jakob Butturff and Colombia's Oscar Rodriguez just kept bowling steadily with 1348 and 1301 respectively and enhanced their positions in the top four.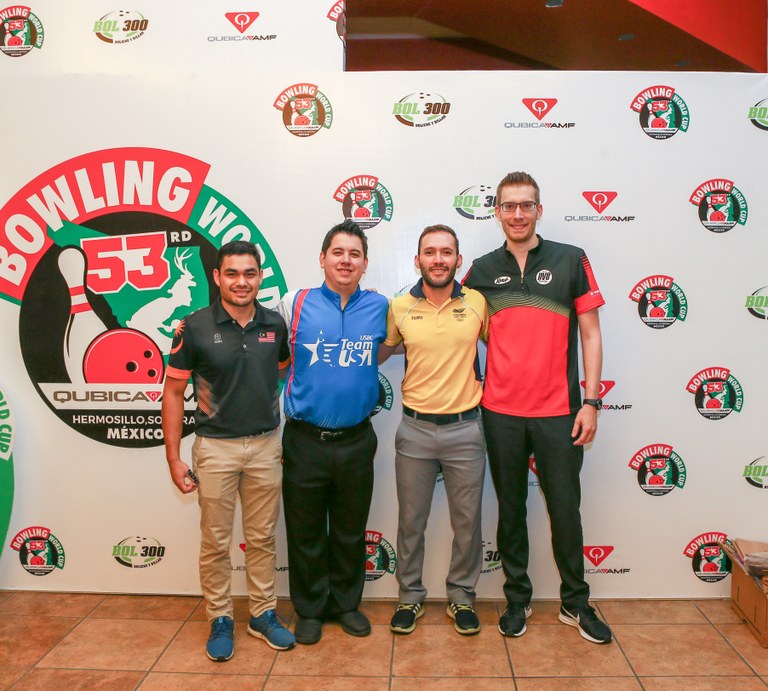 The last spot in the top 24 went to the United Arab Emirates in the shape of Mahmood Al Attar on 4882, 26 pins ahead of Leonardo Davies of the Bahamas who was the unlucky player not to make it.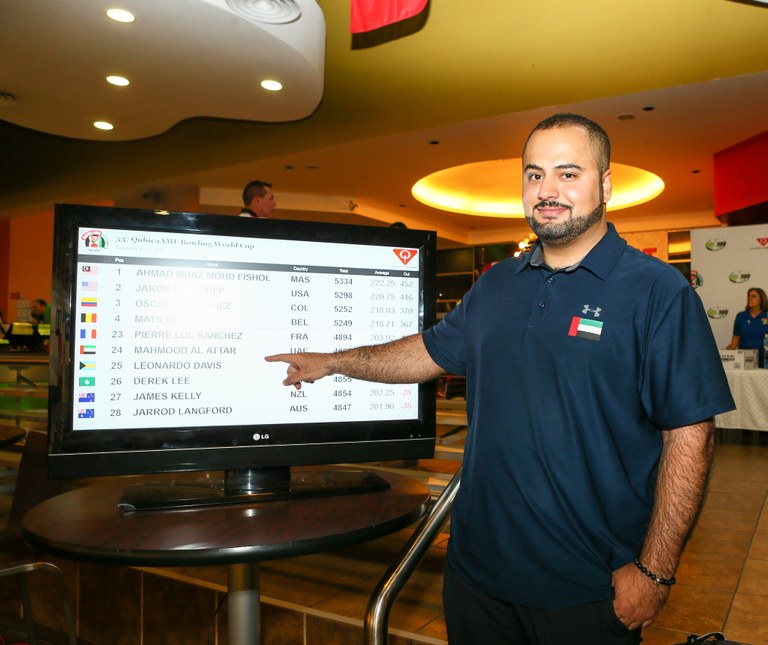 Raul Felipe Ayala Salazar has made history for Ecuador by finishing in the top 24. The best previous performance by a male player from his country was 42nd.
High game for this set was from Ildemaro Ruiz of Venezuela with a 290, part of a 1338 series. Ildemaro hit a perfect game in 2007 in St Petersburg to win the high game trophy that year.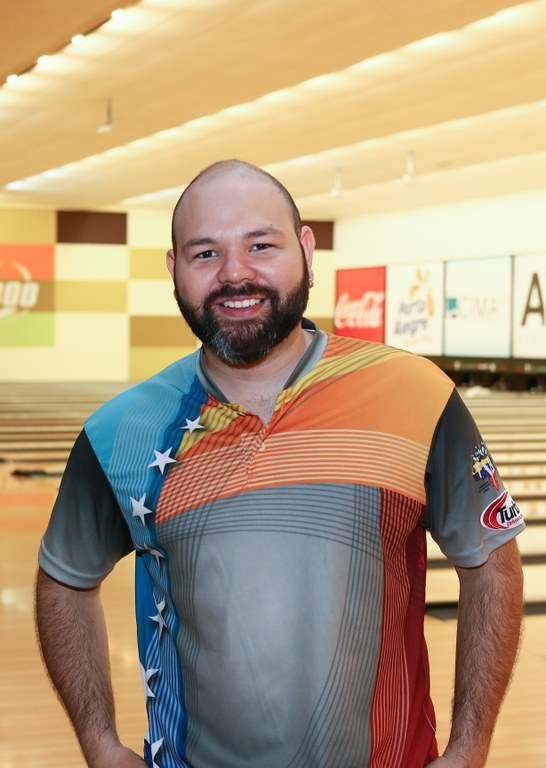 Apart from Ahmad, Dan Ostergaard Poulson of Denmark also hit 1400, exactly. Apart from Mats, Jakob, Oskar and Ildemaro, a further six players hit 1300+ series: Nicola Pongolini (Italy 1317), Tor Inge Jansen (Norway, 1362), Ryan Reid (Canada, 1332), Steven Gill (Scotland 1319), Pierre Luc Sanchez (France 1306) and Marco Moretti (Costa Rica, 1335).
And the overall average for the men was 195.7
Photo credit: Hiroshi Noda
By Judy Howlett
---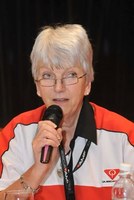 Judy Howlett has represented England and Great Britain several times in her bowling career. She played in the Bowling World Cup twice, coming second in 1985 (Seoul, South Korea). She has been in part of the organising team since 2001.
"I can't believe I am lucky enough still to be involved in the best tournament in the world - the QubicaAMF Bowling World Cup."
2017/11/09
ABOUT QUBICAAMF WORLDWIDE
QubicaAMF is the largest and most innovative bowling equipment provider in the world with 600 employees worldwide. We build and modernize more bowling entertainment centers than any other company in the industry and have an installed base of more than 10,000 centers in 90 countries. The company has a sales and distribution network with worldwide reach and maintains the largest R&D team for electro-mechanical products, software, electronics, and entertainment systems in the industry.
QubicaAMF has over 100 years of experience and can provide the perfect combination of bowling equipment, products, and services for new or existing bowling entertainment centers, FECs, Cinemas, or any other facility in the hospitality, retail, or restaurant industry. Our ongoing mission is Making Bowling Amazing. We are convinced that bowling has so much more potential to attract and entertain even more people. With our products, we will help our customers fully unleash that potential.
The company has U.S. headquarters in Richmond, Virginia and European headquarters in Bologna, Italy.