News
The pressure of defending your title
With four former champions in our tournament, we look at the pressure that it is involved with being a past champion and trying to get back to the top.
Aumi Guerra of the Dominican Republic is playing here in the 53rd QubicaAMF Bowling World Cup, having been our champion in 2010 and 2011. Jenny Wegner of Sweden is here defending the title she won last year in Shanghai.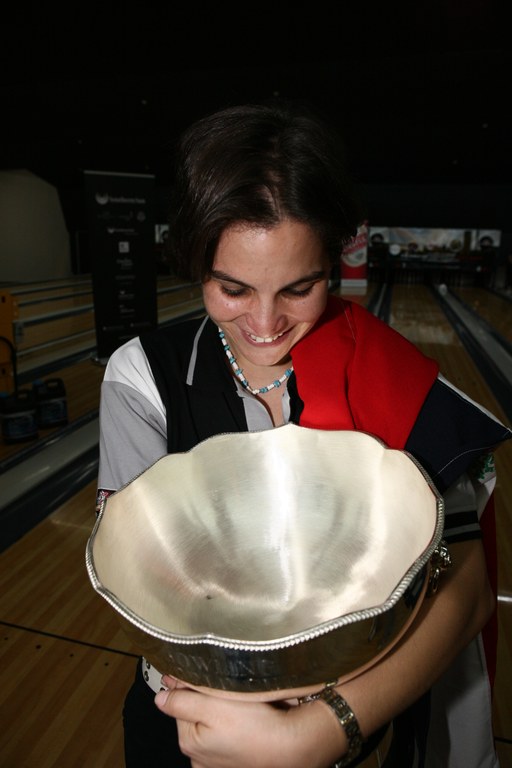 So what is it like to come back to defend? The two girls have very different attitudes.
Aumi said: "For me, winning in Toulon in 2010 was the highlight of my life. Then I got to come back in 2011 in Johannesburg and I felt I had to prove 2010 was not a fluke. I bowled phenomenally. I was 350 ahead of second place. The final was not fun with the pressure. And then I came back again in 2012, going for the record. That was real pressure. And it was worse because my Dad, who died in 2008, was quite a socialist and the great Lech Walesa was watching the final. It was a roller coaster and when I got a couple of splits in the final game, all the emotion came out. I feel for Jenny!"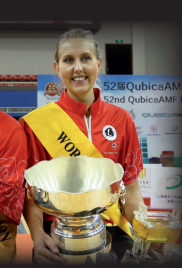 But Jenny takes a different view. "I don't feel the pressure, at least not at the moment, as I look on every tournament as a new start and I don't hold on to the past. So although I am defending my title, I feel as if I am just starting out from the beginning. If I get to the final, then I might feel it. I'm not nervous, just excited – and I want to win!"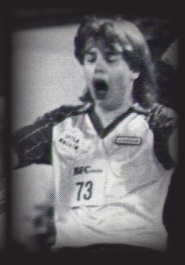 As coach of the Swedish team, Peter Ljung has a different sort of challenge. Peter won the title in Copenhagen in 1986, which was incidentally the only year the same country has won both the men's and women's World Cup as Peter's compatriot, Annette Hagre, won for the women. "Once on the lanes, we do what we do," he said. "I really enjoy helping to make a difference. When the players execute what they need to do, it is so fulfilling." Peter hopes to become the first person to win as a player and as a coach. "I wasn't in Shanghai last year," he explained. "It would be such an honour to be the coach if either James or Jenny should win. Or maybe both!"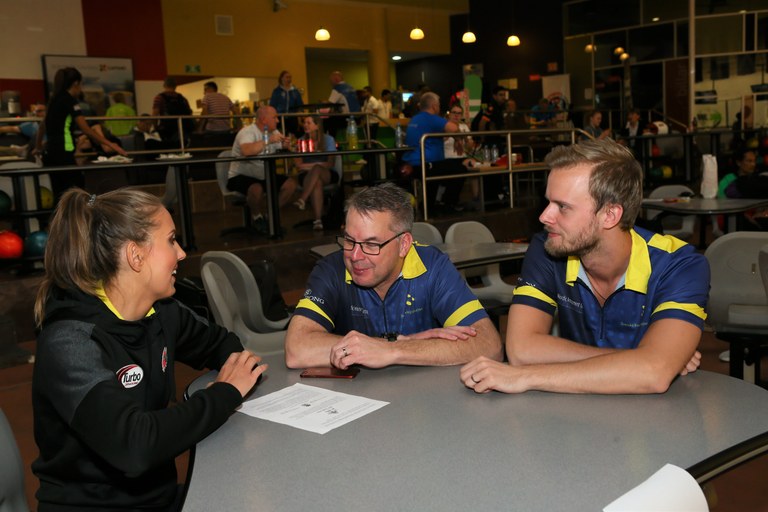 Is James daunted by the hopes put upon him? Not at all. "This is my second World Cup," he said. "Last time was 2012 in Poland and I got a bit ahead of myself. I played well at the beginning and starting thinking ahead. Now I just try to take it one frame at a time and to stay in the moment. And if it all works out – great."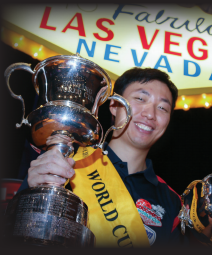 There is one other former champion here: Siu Hong Wu, who won in 2015 in Las Vegas. Hong was overjoyed to have won two years ago. How does he feel now? "I feel a bit more pressure," he said, "because my expectations are different. I want to win again, to hold the trophy up again, and I am getting more nervous than before. Last year I missed out on the qualification in Hong Kong, and I was pleased to win our championship again so I could come to Hermosillo and experience this great tournament for a second time."
Photo credit: Hiroshi Noda
By Judy Howlett
---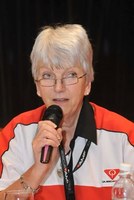 Judy Howlett has represented England and Great Britain several times in her bowling career. She played in the Bowling World Cup twice, coming second in 1985 (Seoul, South Korea). She has been in part of the organising team since 2001.
"I can't believe I am lucky enough still to be involved in the best tournament in the world - the QubicaAMF Bowling World Cup."
2017/11/10
ABOUT QUBICAAMF WORLDWIDE
QubicaAMF is the largest and most innovative bowling equipment provider in the world with 600 employees worldwide. We build and modernize more bowling entertainment centers than any other company in the industry and have an installed base of more than 10,000 centers in 90 countries. The company has a sales and distribution network with worldwide reach and maintains the largest R&D team for electro-mechanical products, software, electronics, and entertainment systems in the industry.
QubicaAMF has over 100 years of experience and can provide the perfect combination of bowling equipment, products, and services for new or existing bowling entertainment centers, FECs, Cinemas, or any other facility in the hospitality, retail, or restaurant industry. Our ongoing mission is Making Bowling Amazing. We are convinced that bowling has so much more potential to attract and entertain even more people. With our products, we will help our customers fully unleash that potential.
The company has U.S. headquarters in Richmond, Virginia and European headquarters in Bologna, Italy.