News
Day 2 Recap: Malaysia and USA hold the top spots
After Day 2 of the 54th QubicaAMF Bowling World Cup, Malaysia moves to the lead for the women while USA holds on to the lead for the men.
Li Jane Sin of Malaysia took over the lead in the women's section of the 54th QubicaAMF Bowling World Cup in Las Vegas today, while Kyle Troup of the USA continued to lead in the men's section on 3760, 104 pins ahead of Osku Palermaa of Fnland in second place.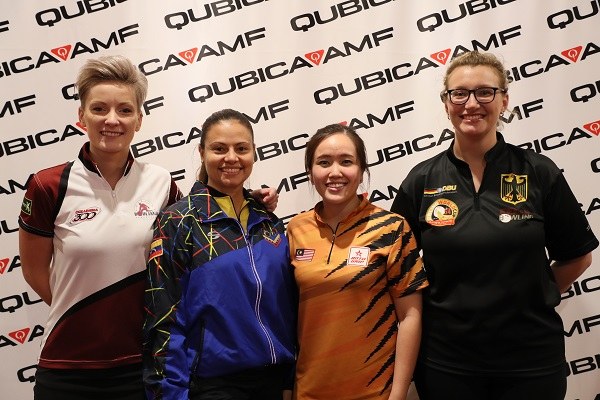 The women were first up today and Li Jane bowled as steadily as yesterday with 1,709 over her eight games to go with the 1,732 from yesterday, giving her a total of 3,441. "I felt I played as steadily as yesterday," she said, "and I just had to accept the couple of poor games, knowing I would improve."
High set for the day however went to Ghislaine Stigter van der Tol of the Netherlands with a 1,724 which pulled her right up from 33rd overnight to 11th today.
Karen Marcano of Venezuela also hit over 1,700 with a 1,720, putting herself into second spot. Other scores over 1700 came from Daphne Tan of Singapore (1,716) who like Ghislaine improved dramatically and is now in 12th, up from 31st yesterday, and from Nadia Pramanik Nuramalina of Indonesia (1,711). Diana Zavjalova of Latvia, our overnight leader, is now in third with Nadine Geissler of Germany in fourth.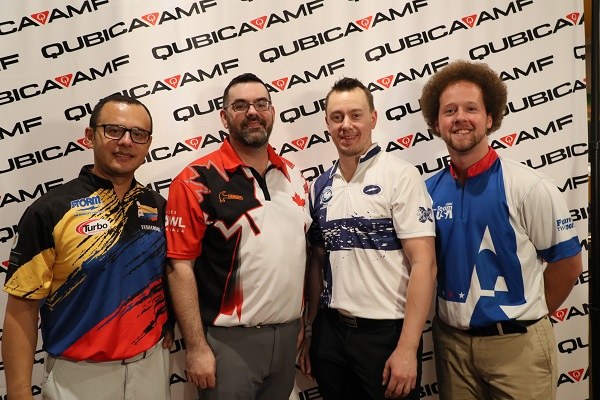 The men came on in the afternoon and the highlight arrived in the very last game when Ryan Reid of Canada shot a perfect game, moving himself into third place with a set of 1,807. Even so, that was not the high set for the day: that honour goes to Marcelo Swartz of Brazil with 1,830 while Osku shot 1,819.
Barry Foley of Ireland had 1,751 and rose from 49th overnight to 22nd place, while Omer Nechustan of Israel was another player to leap up the standings as his 1,735 pulled him up to 22nd place.
Several members of Ryan's family are here in Las Vegas with him, notably his wife, Lara, five-month-old son Emmett and his mother Miriam. "I don't think Emmett took much notice of the game," said Ryan, "but he'll hear about it when he's older!" Miriam was very proud especially as she herself represented Canada in the World Cup in Bogota, Colombia, in 1978, exactly 40 years ago.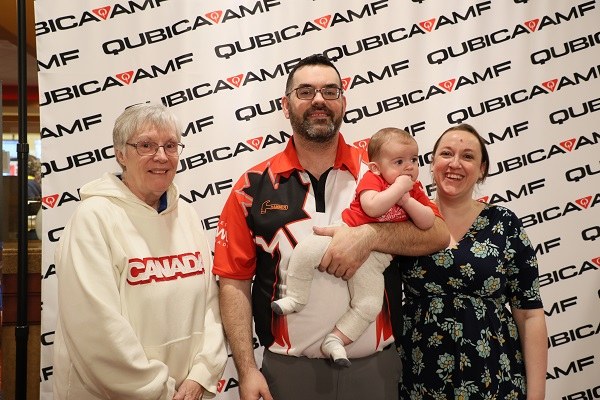 High game for the tournament so far for the women is 258 by Diana Zavjalova.
There will be one more set of eight games before the cut to the top 24 and currently 24th spot for the women is held by Tanya Cuva of Switzerland on 3,138, a 196.12 average. Viviana Delgado Cruz of Costa Rica is just seven pins behind. For the men the cut is 3,292, Hassan Abdullah Alshalekh, of Saudi Arabia, just five pins ahead of Rogelio Felice Jr of Venezuela.
Full results can be accessed on https://www.qubicaamf.com/qubicaamf-bowling-world-cup
Photo credit: Hiroshi Noda
Story by Judy Howlett
---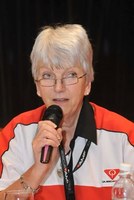 Judy Howlett has represented England and Great Britain several times in her bowling career. She played in the Bowling World Cup twice, coming second in 1985 (Seoul, South Korea). She has been in part of the organising team since 2001.
"I can't believe I am lucky enough still to be involved in the best tournament in the world - the QubicaAMF Bowling World Cup."
2018/11/07
ABOUT QUBICAAMF WORLDWIDE
QubicaAMF is the largest and most innovative bowling equipment provider in the world with 600 employees worldwide. We build and modernize more bowling entertainment centers than any other company in the industry and have an installed base of more than 10,000 centers in 90 countries. The company has a sales and distribution network with worldwide reach and maintains the largest R&D team for electro-mechanical products, software, electronics, and entertainment systems in the industry.
QubicaAMF has over 100 years of experience and can provide the perfect combination of bowling equipment, products, and services for new or existing bowling entertainment centers, FECs, Cinemas, or any other facility in the hospitality, retail, or restaurant industry. Our ongoing mission is Making Bowling Amazing. We are convinced that bowling has so much more potential to attract and entertain even more people. With our products, we will help our customers fully unleash that potential.
The company has U.S. headquarters in Richmond, Virginia and European headquarters in Bologna, Italy.