News
Sweden's Jenny Wegner Interview
"To be a bowler you have to work really hard when it comes to your technical game and make sure that you feel confident in your physical ability before you step onto the lanes."
Jenny Wegner is yet another young and uber talented female bowler to come out of Sweden. She already has five European Bowling Tour titles plus multiple Gold, silver and bronze medals from her youth days. Shanghai already has many "Ones to watch" in the 52nd edition but you can add Jenny to that list. She will be in China with male representative Martin Larsen giving Sweden an amazing chance at a double win. Here is what we found out about Jenny during a busy schedule for her on the lanes.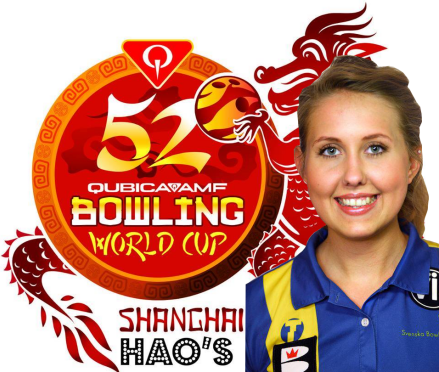 The World cup is such a big event, how excited are you to be representing Sweden in China?
I'm very honoured and excited to represent my country at the World Cup in China. I have never played this event before and it's a medal I would really like to win.
What training and lane work will you do in preparation for Shanghai?
It's a lot of hard training that's on my schedule up until World Cup. I'm trying to go to as many tournaments as possible as it really helps me to get that fighter instinct.
It has not been hard to notice your progression over the last few years, In that time you have already picked up five EBT titles since 2012. How has your game changed since coming out of Youth bowling?
My game has changed a lot since I played on the youth team. All the tournaments and championships over the past few years have made me more consistent and believe much more in myself and my ability in comparison to a few years ago.
What a career you had in Youth bowling, five EYC Gold's, three silver and two bronze, What is it about Swedish bowling that make the teams so strong?
I think the reason we are really strong as a team is because our national system here in Sweden is really good. We have some great coaches who help us out a lot. There is also the National league where we bowl against each other every other weekend which is extremely competitive.
Where did bowling start for you? Did you do other sports too when younger?
My dad has always owned a bowling alley, so naturally I started to bowl very young. With the help of my dad and a lot of practice from an early age this allowed me to become a member of the Swedish team eventually.
When the family own a bowl it can be an advantage but does not mean success is certain. Just how many hours practice did you put into your bowling growing up?
I don't really know how many hours I was in the bowl when I was younger but from what I can remember I probably spent every day there.
Living in Sweden means you grew up with many great bowlers who have put the country on the World map, which players did you look up to as you learned?
Yes there was a lot of good bowlers and some big names to look up to, I always watched the guys bowl because I felt that they had such powerful styles in comparison to the girls. I never really wanted to bowl like anyone in particular though as I was always thought that everyone's technique are different and that I would never be able to bowl exactly like any one else.
At the moment you are fast becoming a bowler to watch in events, what goals do you have in the sport?
I have a lot different goals within the sport. Individually I want to go as far as I can, win as many big tournaments and championships as possible. In team I have as a goal to always improve and be in the top countries not only in EWC but also WWC. As a sport I really really hope we can make the Olympics.
What is currently in your bag and which are your go to bowling balls in tournaments?
I'm a staff player for a company called VBS, VBS is the distributer for Brunswick,DV8 and Radical bowling balls here in Sweden. Three balls that are always in my bag are Mastermind Einstein, Brute Strength and Ultimate Nirvana.
How much time do you put into gym work, What tips can you give other bowlers when exercising?
I spend most of my time on the lanes, that's my passion . I don't get to go to the gym as much as I should because of work at the moment.
As for advice, make sure that you know what your doing when you exercise and that you do all the exercise the right way.
You mention work there Jenny, What is that work and what is your dream job?
I work with kids at a kindergarten. I'm soon going down from full time to part time. I'll have more time to practice and workout then. I really love the job I have now, and I really like being able to work part time and then have bowling as a part time job as well.
Who has helped you over the years to get to where you are now? Here is a chance to thank the important people in your life.
The most important person within my bowling is my dad. He's the one who shaped my technique and sees every single small detail. I'm forever thankful to him. And then I have my mom that has always been there for me and given me her full support.
Peter Ljung and Robert Andersson are also two very important people when it comes to my bowling, they are great coaches and they've followed me during my whole career I have also been staff for VBS bowling for five years now and their balls have definitely helped me to win championships and tournament during the years.
I also have my boyfriend Christopher that's helping me to get more confident on the lanes, I'm forever thankful for all the amazing people around me that support my career and truly wants the best for me.
When things are not going so well on the lanes, how do you deal with the feeling of disappointment?
I don't think about it too much, I know that I will fail many times in my career and that it will always come down to myself. There's always things that you can improve on but as long as I know that I've made the best shot I can at that moment I am happy.
If in the future we saw an all female USA vs Europe, who would you want in your European team?
That would be really cool and I'd love to see it happen. I'd have to look into it more, see who is bowling the best around the time of the event because there are so many good women to choose from.
Where do your musical and movie tastes lie, when you get a chance to relax?
I always listen to very relaxing music, nothing too up beat. When it comes to movies I watch all genres. I travel so much so I have a lot of time to watch movies and TV series. I'm gonna have to say that the show Full House is a big favourite of mine as of late.
Finally Jenny, Why should people bowl?
To be a bowler you have to work really hard when it comes to your technical game and make sure that you feel confident in your physical ability before you step onto the lanes. You have to use your head every single shot whether it's practice or competition and are constantly thinking, it can be very competitive at times or it can be something you can do while having some fun with friends.
Interview by Dom Gall.
2016/08/30
ABOUT QUBICAAMF WORLDWIDE
QubicaAMF is the largest and most innovative bowling equipment provider in the world with 600 employees worldwide. We build and modernize more bowling entertainment centers than any other company in the industry and have an installed base of more than 10,000 centers in 90 countries. The company has a sales and distribution network with worldwide reach and maintains the largest R&D team for electro-mechanical products, software, electronics, and entertainment systems in the industry.
QubicaAMF has over 100 years of experience and can provide the perfect combination of bowling equipment, products, and services for new or existing bowling entertainment centers, FECs, Cinemas, or any other facility in the hospitality, retail, or restaurant industry. Our ongoing mission is Making Bowling Amazing. We are convinced that bowling has so much more potential to attract and entertain even more people. With our products, we will help our customers fully unleash that potential.
The company has U.S. headquarters in Richmond, Virginia and European headquarters in Bologna, Italy.