News
Pakistan's Ijaz Rehman interview
Ijaz Rehman from Pakistan loves bowling, he loves to play it and he loves to support it. Part of the Pakistan Federation Ijaz works tirelessly trying to promote the sport in his country.
Somewhat of a regular at the event he has played many times and will be in shanghai this year for the 52nd edition, It was a pleasure to interview a great supporter of the event despite English not being his first language.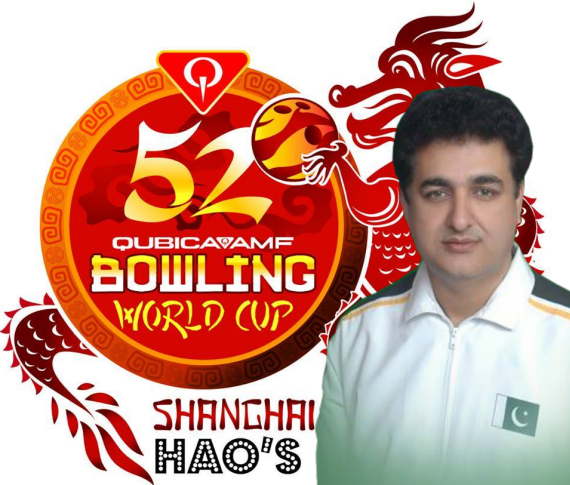 Shanghai will not be your first World Cup Ijaz, What makes it such a good event?
 I have played many but my favorite one is simply all of them. The QubicaAMF Bowling World Cup is the largest in bowling in terms of number of participating countries.
Will you do any extra training for China this year?
Yes definitely I am training, I participated in our National championships the Islamabad Premier league, Ramzan Tenpin Bowling Championship, Azadi Cup Tenpin Bowling Championship and I am doing practice on a daily basis and adopted a new technique which is beneficial for my Bowling.
When and where did you start bowling? 
When I was on study in Russia I started bowling and with the passage of time I liked it more. Then bowling became my passion and I decided that I will continue bowling till the end because bowling is in my veins.
Bowling in Pakistan is beginning to grow and you have been instrumental in that process, What are your goals for the sport in your country?
Yes there is no doubt that bowling is now growing in Pakistan and also become one of the popular games in Pakistan and I wish to see bowling on top in my country and for this purpose I am doing a lot of work on it.
Due to hard work the Pakistan Tenpin bowling Federation now partners Pakistan Sports Board and I am trying very hard with cooperation of the Pakistan Sports Board.
If we build an international level Bowling Club in which we may able to organize an international event that is my dream I have been introducing women towards bowling and I have organized many women championships.
When you are not bowling what do you enjoy doing to relax and rest?
When I am not playing bowling I do some other activities like gym, jogging, watching TV and mostly I like to sit in friends gathering if there is any problem to someone else I love to solve that and try to find best solution.
What bowling balls do you currently bowl with?
Well, there are many types of balls having different weights but I bowl with a Storm Lock and Brunswick Nexxus both 16lb.
What is it about bowling as a sport that you enjoy?
I like and enjoy bowling because everyone can enjoy the sport with no previous experience required, regardless of age, everyone at your function will soon be hitting the pins and sharing a lot of laughs and good times together. I think Tenpin Bowling is perfect for work social groups, school and youth groups, sports groups awards nights, fundraising and end of year parties.
When you started bowling, did you have someone to teach you?
No I did not and still don't have any coach I just saw a bowling videos when I started bowling in 1999.
You have travelled many times for bowling, which are your favorite places in the World?
Well the world is very beautiful and every one will choose his own country and I am one of those I love my own country and other than my country I like Russia because I spent more time there.
Which bowlers do you like to watch or learn from?
Well all international bowlers I have met are awesome but I am just happy when my juniors play well and I have learned mostly from bowling videos. I think it's the best if you are just keen to learn.
What are your personal goals in bowling Ijaz for your country and for you?
My personal goals are very clear I want to built an international level bowling club in Pakistan in which I organize international level championships through which our players will learn more and more and also it will provide an opportunity for our bowlers to play with internationals players, their morale will be increase and for me I will become happy when my bowlers have won an international title.
Finally, Why should people try bowling?
The sport of bowling is played by 100 million people in more than 90 countries worldwide (including 70 million in the United States) and continues to grow through entertainment media such as video games for home consoles and handheld devices And most important in bowling there are no limitations of age.
Interview by Dom Gall.
2016/08/19
ABOUT QUBICAAMF WORLDWIDE
QubicaAMF is the largest and most innovative bowling equipment provider in the world with 600 employees worldwide. We build and modernize more bowling entertainment centers than any other company in the industry and have an installed base of more than 10,000 centers in 90 countries. The company has a sales and distribution network with worldwide reach and maintains the largest R&D team for electro-mechanical products, software, electronics, and entertainment systems in the industry.
QubicaAMF has over 100 years of experience and can provide the perfect combination of bowling equipment, products, and services for new or existing bowling entertainment centers, FECs, Cinemas, or any other facility in the hospitality, retail, or restaurant industry. Our ongoing mission is Making Bowling Amazing. We are convinced that bowling has so much more potential to attract and entertain even more people. With our products, we will help our customers fully unleash that potential.
The company has U.S. headquarters in Richmond, Virginia and European headquarters in Bologna, Italy.