News
Slovenia's Anze Grabrijan interview
Preparations for the World cup are underway, most of the time I spend it in bowling alley, one of the most important things will also be my physical condition so I'm working hard on that as well. I will try to play few tournaments up until the World cup just to stay competitive and sharp.
"Ignore the noise, do your job", that is something that has always stuck with Slovenian star Anže Grabrijan. Another bowler who started a little later than some but wow did he make up that time. The first and only player to win an EBT for Slovenia defeating multiple PBA champion Jesper Svensson in the Wroclaw Open in Poland in 2013. Add to that a Euro record 1648 over six games in the Czech Open. If that was not enough, he is a Navigator, part of an amazing Mediterranean collective of talented bowlers. Shanghai already had a strong field made stronger now with Anže in the mix.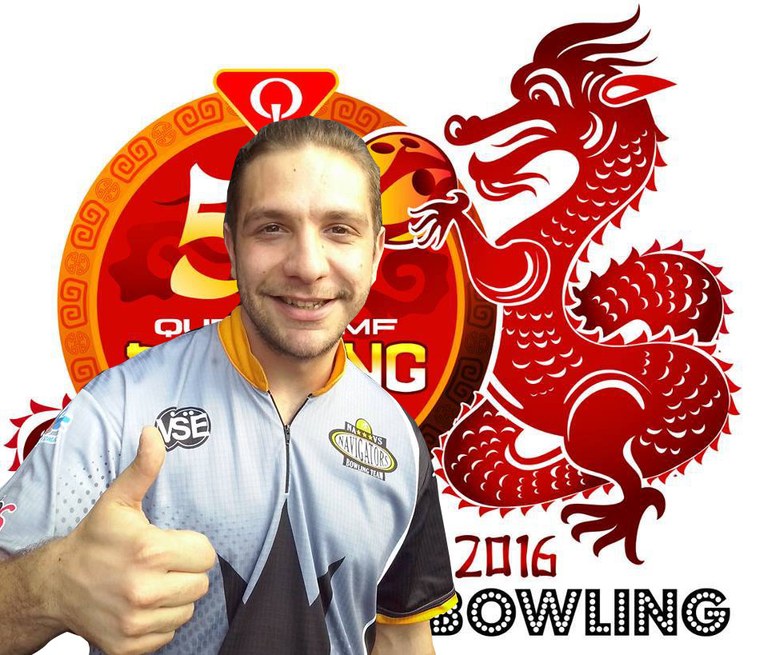 Shanghai is a massive event for any bowler, what preparations will you now make for China?
Preparations for the World cup are underway, most of the time I spend it in bowling alley, one of the most important things will also be my physical condition so I'm working hard on that as well. I will try to play few tournaments up until the World cup just to stay competitive and sharp.
As an improving player around Euro events you really made your mark by defeating Jesper Svensson in the final of the Wroclaw Open in Poland in 2013 to claim your first EBT title and first for your country...EVER. How special a moment was this?
This was a really special moment for me, I think it will stay in my memory till the end of my life. After the 1st game in the final match, I think I was behind by around 50 pins, but I never give up and I started the second game with a 5 or 6 bagger and Jesper was starting to struggle with carry on one lane. So I had chance to shut out in 10th but I left a 10 pin and Jesper needs two strikes and 3 pins. He made the first one, second shot he missed pocket and left 1-3-6 but one pin came from behind and made a domino effect. I was like nooooo you gotta be kidding me and when he came back he grabbed his spare ball and he threw it straight but unfortunately he made foul .
For people in the World that will learn more about you from this interview, what are your career highlights so far?
Definitely my EBT title in Poland, also ETBF record over 6 games in Czech Open 1648,that was an insane block including two 300 games. Top 8 at the ECC in Slovakia and 14 medals from Mediterranean championships.
Yes, the 1648 was amazing, at what point in this block did you think to yourself, This is going to be massive?
I think after 2nd 300 in 4th game, when we finished the 5th game and I saw I had 1390 I thought for a second that we finished with block haha, that was really my day.
Taking you back now Anže, where and when did bowling start for you and why did you go back for more?
I started playing bowling quite late, I think I drilled my first ball at the age of 14.  My dad was and he's still playing so that's how I started.
t the beginning it was only for a hobby and fun. I was playing for a second team in the second league and than we were promoted to first league and my bowling was getting better and better. In 2010 I started work with Erno Aholammi from Finland and then everything started with first top 8 on EBT in  Slovakia 2011, where I lost against Brian Voss, I realized I can compete with players who I was watching on Youtube so from that tournament everything stepped up.
Who else has helped you over your career so far and what is the best advice you have been given?
Definitely my father, he is my idol in all aspects, also Erno Aholammi because he taught me how to bowl and how to be competitive. I can't remember from who but it goes: Ignore the noise, do your job.
You also bowl of course for The Navigators, a collection of talented bowlers from Cyprus, Greece and other nations. What does it mean to be a Navigator under their leader Loucas Evripidou?
Yes I joined Navigators in 2013, I'm very honoured to be part of team Navigators, we always have great time when we travel together. I'm very thankful to Loucas to let me play in a navigators jersey and what he does for the team, he is very passionate and he always supports us, a true gentleman.
What is currently in your bag and do you already know what you will take with you to China?
New Mastermind Strategy, Absolute Nirvana, Fanatic, Fanatic BTU,Rhino, Ultimate Nirvana, Brute Strength and two new releases which will be announced soon. Definitely new Fanatics releases I fell in love with these balls.
As a player who can obviously bowl very well, how do you make it to that next level in big international events?
Defiantly you have to play tournaments around Europe or in the World game as much as you can, of course also good practice, practice makes you perfect. When you play a tournament ,every time you get a new experience, you learn something new and that's how you grow up.
When you are not around bowling, what things do you enjoy doing?
In my free time, I like to spend time with my friends, I also like cooking it reminds me of being in the lab haha, also I like to get out and clear my mind.
You have a chance now to thank people for their help so far in your career, who gets a shout out?
I'm very thankful to Brunswick for putting me on staff, also special thanks goes to Riccardo Piunti and Goran Malenic, their support means a lot to me, there is also the president of my club in Slovenia, Edo Progar who is supporting me where ever I go.
You have some bowled against some great players Anže, which have impressed you in terms of talent or the way they conduct themselves?
As a lefty I was watching lefties most of the time, biggest impression when I saw him first was Parker Bohn III. When I was younger I was watching him on TV and Youtube and when I met him first time I couldn't believe it how open a person he is and we were talking like we were old friends of many years haha. He is my bowling idol in all aspects.
What goals and dreams do you have in bowling?
Everyone who competes should have their own goals. Before anything, you need to think in terms of short and long term, my short goals right now are about my own technique, specially timing which is so important in our sport. Long term goals are connected with success in tournaments and championships.
How popular is bowling becoming in your country and have your achievements made the press and media?
Bowling in my country had a big boom a few years ago, bowling alleys were built one after another. It was really cool when I saw more and more players coming and playing bowling. The previous board was really active with school kids and they were organizing local school tournaments and they were quite successful. After an economic crisis a lot of players stopped bowling and at one point we had more lanes than players. We have now new board and new president and they are very ambitious, but I think it's very difficult they are working really hard to promote bowling.
In Slovenia it's very difficult to get press because we have so many good athletes with awesome results in many sports which are way more popular than bowling. When our youth team this year won a gold medal in European youth championship, I read only one small article in a newspaper about that success and it's really sad.
Finally Anže. Good luck in Shanghai and please tell us. Why should people try bowling?
Thank you Dominic, people should try because at the same time it can be competitive at the highest level, or just a hobby or playing with friends. Bowling is one of the most difficult sports because a lot of things effect on game and it's very challenging. That's what I like it most.
Interview by Dom Gall
2016/10/01
ABOUT QUBICAAMF WORLDWIDE
QubicaAMF is the largest and most innovative bowling equipment provider in the world with 600 employees worldwide. We build and modernize more bowling entertainment centers than any other company in the industry and have an installed base of more than 10,000 centers in 90 countries. The company has a sales and distribution network with worldwide reach and maintains the largest R&D team for electro-mechanical products, software, electronics, and entertainment systems in the industry.
QubicaAMF has over 100 years of experience and can provide the perfect combination of bowling equipment, products, and services for new or existing bowling entertainment centers, FECs, Cinemas, or any other facility in the hospitality, retail, or restaurant industry. Our ongoing mission is Making Bowling Amazing. We are convinced that bowling has so much more potential to attract and entertain even more people. With our products, we will help our customers fully unleash that potential.
The company has U.S. headquarters in Richmond, Virginia and European headquarters in Bologna, Italy.