News
Iraq's Shant Panos Tomassian - interview
"In World Cup 50 in Poland I felt like a very awesome person on the final night in the tournament. When I got my reward for sportsman of the year I was fooled at that moment while I was taking photos on the stage near by to the champ Chris Barnes and Clara Guerrero and suddenly I heard my name."
It is great winning a World Cup and standing there in front of everyone as champion. It is also a great honour and feeling to stand there as Sportsman of the tournament. Shant Panos Tomassian from Iraq knows that feeling. A veteran competitor with a decade of appearances under his belt, Shant is one of the most likeable and funny people you will ever meet. He loves the World cup and the World cup loves him. It was a pleasure to find out a little more about this special man.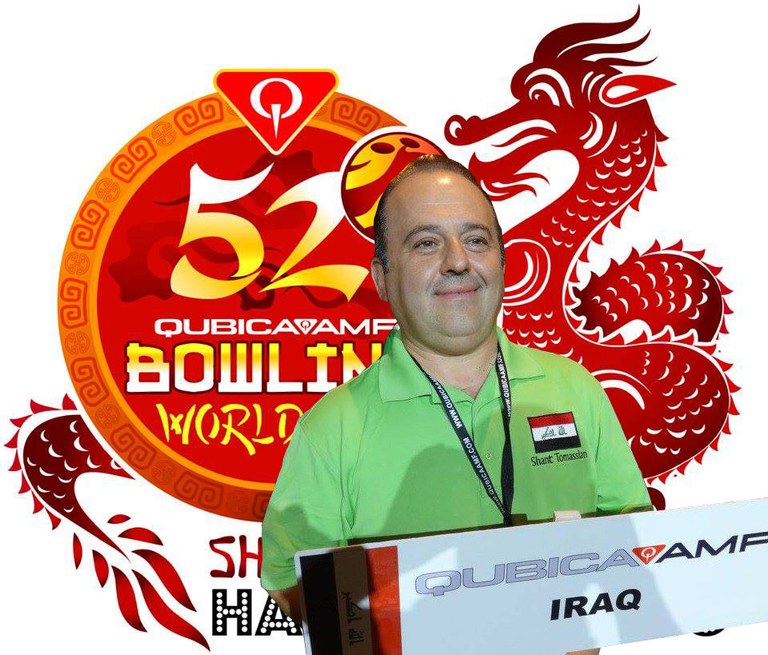 You have played the World Cup many times Shant, How many is it and which one so far has been your favourite?
Ii have been in 10 world cups now and my favourite one was number 50 in Poland, that one i became the sports man of the year.
Let's talk about that Sportsman of the year in Poland, How did you feel to get this award?
In World Cup 50 in Poland I felt like a very awesome person on the final night in the tournament. When I got my reward for sportsman of the year I was fooled at that moment while I was taking photos on the stage near by to the champ Chris Barnes and Clara Guerrero and suddenly I heard my name.
What is it about the tournament that you enjoy the most?
I loved the bowling World cup from the first game,in the tournament the thing I like most is the is the Challenge. Meeting new friends and trying to bowl good and get high scores and keep my country name in a high place.
What does it mean to you to represent your country Iraq?
It means everything to my life. First of all I was born there and I grew up and learned bowling there. I have to show all my friends around the world my good representative under my country name.
Where exactly did bowling start for you in Iraq and what was it that made you want to bowl more?
I started bowling in 1981 in Al Rashed hotel in Baghdad. I loved bowling from the very first game. I was going in that time with my friend to the bowling center and I loved it so much and kept me bowling more and more .
How did you learn, did you have some coaching or did you teach yourself?
I taught myself until 2009 when I moved to the United States in California then I started to go and get coaching went to and camps with Mark Baker and Chris Barnes to improved my game and thanks to God I jumped to 200-210 for my Average per games.
What training will you now do for Shanghai?
I will do my bowling training with the gym every 3 days in a week for Shanghai.
With so many bowling balls on the market to choose from, what is currently in your bowling bags?
My arsenal bag is ready for Shanghai with the new snap lock from storm and the new No rules from Roto grip and the bad Intensions & the Scandal from hammer and my plastic ball.
When not bowling, what things do you enjoy doing?
I enjoy to go to the beach and go to the gym when I don't bowl.
For a player like yourself who has played 10 years on World Cups, does the event become a little like a family reunion to you?
Yes it is and I love that. and to meet my all friends around the world every year. I does feel like they are family reunion.
Of all the players you have met on the lanes over the years, which bowlers impressed you the most?
Easy, Chris Barnes
You obviously have a real passion for bowling, What goals and aims do you still have in the sport?
Be more consistent and quicker to adjust to the lanes to get more good and better results.
After so many years playing in the World Cup, do you still get nervous before you start you squads?
No, never
Finally Shant, Why should people try bowling?
Because it's fun and a challenge.
Interview by Dom Gall
2016/10/04
ABOUT QUBICAAMF WORLDWIDE
QubicaAMF is the largest and most innovative bowling equipment provider in the world with 600 employees worldwide. We build and modernize more bowling entertainment centers than any other company in the industry and have an installed base of more than 10,000 centers in 90 countries. The company has a sales and distribution network with worldwide reach and maintains the largest R&D team for electro-mechanical products, software, electronics, and entertainment systems in the industry.
QubicaAMF has over 100 years of experience and can provide the perfect combination of bowling equipment, products, and services for new or existing bowling entertainment centers, FECs, Cinemas, or any other facility in the hospitality, retail, or restaurant industry. Our ongoing mission is Making Bowling Amazing. We are convinced that bowling has so much more potential to attract and entertain even more people. With our products, we will help our customers fully unleash that potential.
The company has U.S. headquarters in Richmond, Virginia and European headquarters in Bologna, Italy.