News
Bulgaria's Marina Stefanova Interview
"I loved bowling from the very first game. I started in September 2001. Bowling has become my Lifestyle . I did not see my daughter for many years, Bowling helped me to survived all the time without her , bowling gave me purpose for existence."
Not all players start young, some like Bulgaria's Marina Stefanova start a little later but have the same passion as players half their age. They strive to improve and compete at the highest levels. Marina never gives up, in life or on the lanes, she is now looking forward to China in October and her first visit to Asia.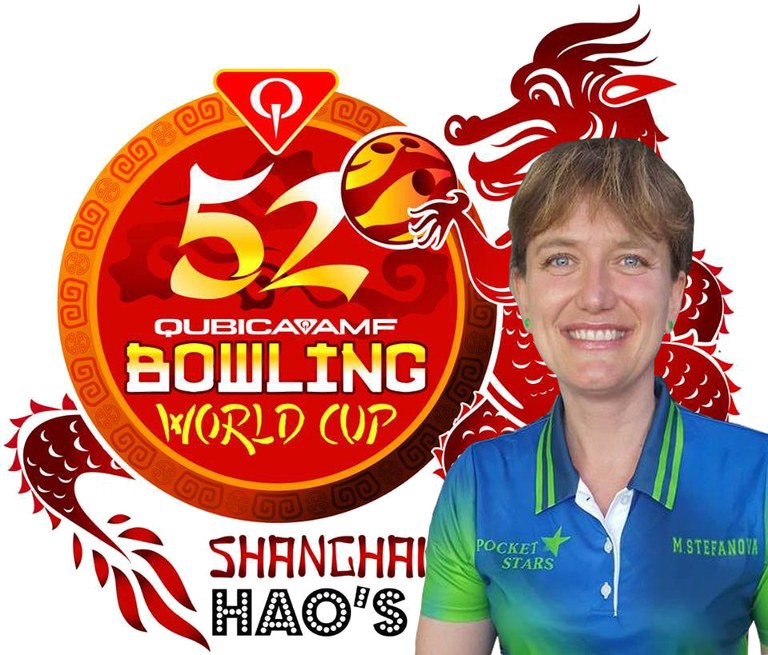 Congratulations Marina on your participation in Shanghai for Bulgaria, Are you excited to be going to China?
I'm really happy that I won the qualification for World Cup for the 3rd time this year and that again I'll represent my country. This is the great honour for me. I'll visit Asia for the 1st time and I'm really excited to go to China. Because of the bowling I visit many of the European countries and twice USA, Las Vegas, but never Asia.
As you say, this is not your first Bowling World Cup, what is it about the event do you enjoy the most?
I loved this championship for many years before I first participated there. I like the idea of the Bowling World Cup: qualifications in each country are really difficult and best bowlers are chosen to represent their nations. Always event is very well organized and always I made many new friendships with people all around the World. Interesting fact is that I played 6-7 years in qualification before I won my first one in 2012 for Wroclaw, Poland….I never gave up. I really want to participate in Bowling World Cup.
Vegas in 2015 you had the highest placing for a Bulgarian, How did that feel to have played so well?
Truth is that in Las Vegas 2015 I was 2 months after surgery. I didn't feel physical well and I knew this. I compensated this with huge concentration and my coach help me a lot with mental work during the competition even he wasn't there. We work with video analyses . Sid Allen is the best coach for me. I was so happy to have made the highest placing for a Bulgarian in World Cup.
I visited Los Angeles for a week immediately after the championship and the Bulgarian society there invited me one evening for an open lesson and party in a bowling center because of my success – it really touched my heart. After I came back in Bulgaria I had few TV and electronic media interviews and I really start to realized what I'd done and I feel like a star.
Starting bowling in 2001, you have national championship titles for the last 13 years, Who helped you improve over those years?
Many people have helped me during my bowling career. Unfortunately some of them are not with us anymore: like Roni Ashkenazi who made the first ETBF bowling clinic in my country in 2003, Dimitris Karetsos who first explained to me about bowling equipment and drilling.
In Bulgaria we don't have coaches so I go to clinic's with every coach who visits my country: Andy Penny, Peter Somoff, Juha Maja, Brian Voss, Joe Slowinski….I learnt something from each of them, but after my worst championship results in ECC Reykjavik, Iceland 2014 - Sid Allen saw me on live stream how I suffered and offered to help me through video analysis. I didn't wait even a second before I said YES… After this I really improved my technique …there's many things which we still need to work on, but at least now I know that I move in the right direction with the right person and I'm thankful for this support.
What things has Sid Allen identified in your game for you to work on?
Cadence, which is the speed of my footwork. Before I would run a lot on the approach. The position of my non bowling arm - I think that he must be happy with it finally. And when it needs to get to 90 degrees - upper body weight transfer getting lower.
What is it about bowling you enjoy the most?
I loved bowling from the very first game.  I started in September 2001. Bowling has become my Lifestyle. I did not see my daughter for many years, Bowling helped me to survived all the time without her, bowling gave me purpose for existence. I always thought that if I met her someday I would want her to be proud with me. And it happened - I found her in August 2015, we met and she already knew from the internet that I'm a bowler, that I'm a National Team member and she was really proud of me. My daughter and my mother are my biggest fans and supporters. Bowling is a sport and I enjoy every single shot in the lanes.
How much training will you now do before Shanghai?
I will try to train a lot before Shanghai. 3-4 times a week and also jogging, but it's very difficult financially for me. I worked 15 years in bank and in December 2014 they cut my position and I was around 2 years unemployed. Thank God my mother is crazy about bowling too and she help me to not stop practicing in this period.
What bowling balls do you currently bowl with and do you have a favourite?
I was great fan of Storm before – my favourites were Anarchy and Sync But now, the Track Paradox with which I made my best for Bowling World Cup 2015, From this year I was chosen for Brunswick amateur staff and right now my favourite ball is DV8 Grudge – with this ball I made the best placing for a Bulgarian in EWC in Vienna this June and in same month best Bulgarian female player in Balkans Euro Challenge. Definitely now Grudge is my favourite ball.
I use to play with 14lb because my right wrist was broken twice, but I met Lucy Sandelin – senior USA Queen when I was invited from Bruno Bidone to bowl in the QubicaAMF Bowling Promotional Cup in 2015 in France. She gave me great advice what kind of wrist band to choose and it was there for me in Vegas. Since then I play with wrist band and I went to balls 15 lb. I'm really thankful that she also proposed I use a Track Paradox for BWC in Vegas. Hope that Brunswick will surprise me with some new ball for Shanghai.
You mentioned so far some fantastic players and coaches, What has been the best advice you have ever been given?
I received so much wonderful advice from players and coaches, from my coach Sid Allen… I really can't count them. But I'm always happy that when I reached some good results or when I won some tournament Sid would say: " We just made 1st, 2nd or 3rd step, Marina… we still have long way to go…" He helps me to never stop…he always gives me new goals… That's why I always look for something new in the future… we build this Future now with my coach… every day on the lanes.
Being much travelled, which are your favourite bowling centres around the World?
OMG I have visited so many countries, so many bowling centers, but I can't lie that my favourite one is Joy Station, Bulgaria – AMF home lanes – great bowling center with many international events like Balkans Euro Challenge and Sofia International Open.
I also like Time Out bowling center in Istanbul, Turkey – pity that Istanbul Open was cancelled in last few years. In Angers, France – Silver Bowling is really modern and nice one. Biggest I've visited till now is 60 specially constructed bowling lanes inside Cashman Center in Las Vegas for Women's World Championships 2009. I like Sam's Town bowling in Las Vegas too… I saw the pictures of Hao's Bowling center in Shanghai, China and I'm already sure that it will be one of the most beautiful I've ever visited. Can't wait to play there.
The Bowling Promotion Cup, was it a great chance for you to promote your country and yourself?
I participate just once in the Bowling Promotion Cup – in 2015 in France with my teammate Mariana Meteksinova. Yes it was definitely a chance for us to promote our country and us… all the TV finals we made. It was really a great experience and a great adventure – we visited 4 towns for a week and made many new friends. If I find sponsors for 2017 I'll participate again… I have an invitation for this. It's great honour for me. Bruno and Odile Bidone do incredible great work to promote our sport.
How popular is bowling in your country?
Bowling is a much more popular sport in Bulgaria now if we compare with 15 years ago. And I'm really happy that I worked a lot for this. I've been PR of the Bulgarian Bowling Federation more than 10 years and I embraced electronic and TV media. I often write articles for media because I really believe that Bowling deserves to be an Olympic sport and I'm sure that the media could help us with this. I hope that this popularity helps our bowlers find it easier to find sponsors.
If you could bowl with anyone in a doubles match, who would it be?
I have many favourite female bowlers but from my friends: it could be Lucy Sandelin – Senior Queen, Shayna Ng from Singapore - we bowled the whole tournament on same lanes in Wroclaw when she became the champion and I really like her as a person. Diana Zavjalova, Maria Bulanova, Danielle McEwan – great young bowlers, great talents and really hard workers and fighters. It's a pity that I started bowling so late, but this is the beauty of our sport … I hope to be good enough for the Seniors Championship. I still dream that I could become better bowler.
But truth is that I'm much better in mixed doubles. In Balkans Euro Challenge this year I played double with the best Croatian player Zoran Banjac and we lead all week long… in the end we finished in 6th position, but he won the title in individual. Funny thing was that I'd come directly from EWC Vienna and he joked with me: "Don't worry, partner… you just need to do 223 average in 6 games!"….  and you know what… I made 222,5 and we lead after my first squad… it was my best average in an international open tournament and I made it just because of my partner. I'll play doubles in the Dimitris Karetsos Tournament in Thessaloniki, Greece with one of the best Romanian bowlers – Lucian Paraschive. Wish us luck.
Finally Marina, we wish you luck in China, have you or will you be learning some Chinese words?
Thank you so much. I speak 5 languages, but I really don't know even a single word in Chinese yet. I hope to have a chance to learn at least 10 during my stay in Shanghai.
Interview by Dom Gall
2016/09/23
ABOUT QUBICAAMF WORLDWIDE
QubicaAMF is the largest and most innovative bowling equipment provider in the world with 600 employees worldwide. We build and modernize more bowling entertainment centers than any other company in the industry and have an installed base of more than 10,000 centers in 90 countries. The company has a sales and distribution network with worldwide reach and maintains the largest R&D team for electro-mechanical products, software, electronics, and entertainment systems in the industry.
QubicaAMF has over 100 years of experience and can provide the perfect combination of bowling equipment, products, and services for new or existing bowling entertainment centers, FECs, Cinemas, or any other facility in the hospitality, retail, or restaurant industry. Our ongoing mission is Making Bowling Amazing. We are convinced that bowling has so much more potential to attract and entertain even more people. With our products, we will help our customers fully unleash that potential.
The company has U.S. headquarters in Richmond, Virginia and European headquarters in Bologna, Italy.