News
Saudi bowlers off to a new singles challenge QubicaAMF World Cup
Saudi Arabia is ready to send two of its top bowlers Abdulrahman Alkheliwi and for the first time a woman bowler Mashael Alabdulwahid under the supervision of Coach Mario Joseph.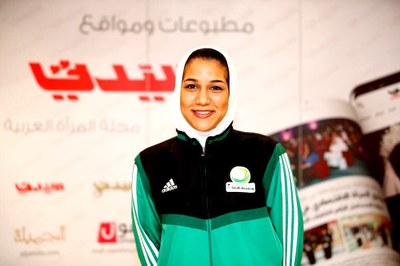 Abdulrahman is looking forward to the QubicaAMF World Cup in Indonesia. He said, "I've been training and will continue to do because every country is sending their best and top bowlers and I want to be ready to compete and win. My competition is however with the lane because if I understood the lane this victory means winning the competition." He continued, that this year there is a new advantage and that is having his teammate Mashael joining him for the first time. "I'm proud of her! It's a big thing for Saudi women and for us in the team because this world exposure will help them learn. I wish her all the best."  
The twenty years old finance undergraduate Abdulrahman had been playing bowling for the past ten years of his life. There were ups and downs but he was a motivated bowler all the way, and he gives credit for his parents for creating that suitable environment for him to study and compete. Through this period he managed to win many victories but the most distinguished we're the ones he delivered in 2018. He delivered the bronze medal at the World Cup in Detroit, and two bronze in the Asian Bowling Championship in the Philippines in the same year, and the gold medal for the trio event at the Arab Bowling Championship in Oman.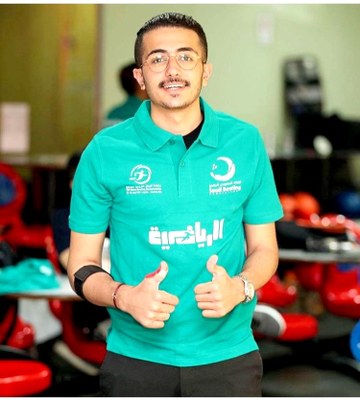 Year 2018 was also a turning point for Mashael who comes with a different story, as she was only able to play officially last year in February 2018 when the SBF received the decree to allow women to play in sports like the many other Saudi sports federations. However, she was playing for fun since her early childhood when she used to travel to Egypt with her family and where she managed to learn from the professionals and get hooked on the game.
It was the year her dream came true as she joined the SBF team and started learning bowling under their supervision. Her level of performance was improving gradually, and the SBF brought Sarah Gamal, the Egypt top female player to coach her and the team under the supervision of Coach Mario to ensure the women team get equal treatment and get their chance to train professionally.
Mashael is a 32 years old secretary at the Arab Bureau of Education for the Gulf States and creates time willingly to practice and play after work and have shown great dedication and improvement since she joined, according to SBF officials.
She participated in all eight local women championships held in Saudi, in addition to Egypt Arab Championship in 2018, and World Bowling Women's Championship in Las Vegas in August 2018. Her best achievement was placing second and third in the local championships.  She also placed 16 out of 28 in the Arab championship, and 26 out of 37 in the team all event ranking.
I was always very fond of bowling I used to save money to buy my bowling equipment. I'm very happy about where we stand now and the unlimited opportunities the SBF is offering us to become better and to honor our country and I'll do my best to meet their highest expectations of us." she added, " playing for fun is definitely enjoyable but when you wear your country's flag that's a huge responsibility put on your shoulder, you become an ambassador and a role model and when I'm put in that situation I definitely want to give my 100% to be fit for that honor."
She continued that paving the way for women bowlers in Saudi is not an easy task, especially because many believe it's a very easy game but apparently the more you learn the more you understand how challenging it gets. We had a lot of misconceptions and lack awareness among beginners, she added. " But I'm really glad the federation managed to spread awareness among different cities in such a short time and now we have women representing the national team in all the three main cities; Riyadh, Khobar, and Jeddah this makes our championships more exciting and help in promoting the game."
Speaking about international participation, Mashael added, "We got back from Vegas championship extremely overwhelmed and motivated to learn more. The exposure had a great impact on us and made us more determined to race time and achieve our goals."
She continued that although she sees herself as a bowler now, she sees herself as a coach and referee in the future too because at that time she believes it's going to be the stage of her life where she gives back and inspire her peers in the country.
Both bowlers are undergoing a training camp in Riyadh and it will include participating at the Asian Championship in Kuwait for Abdulrahman, and participating at the GCC 6th women bowling tournament for Mashael.
Finally the bowlers expressed their gratitude to their family support, the Saudi Bowling Federation and the president of the SBF Bader bin Abdullah Al Alshaikh for believing in them and creating such opportunities for them so the bowlers can progress and enrich their experiences.
**************
Short bio:
Abdulrahman Alkheliwi:
He is a twenty years old Saudi bowler from Riyadh. His best records were placing third and winning bronze medal at the World Youth Championship in Detroit, in addition to and two bronze medals in the Asian Bowling Championship in the Philippines in the same year, and the gold medal for the trio event at the Arab Bowling Championship in Oman.
Mashael Alabdulwahid:
She is a 32 years old Saudi bowler from Riyadh. She joined the Saudi Bowling Federation in February 2018 when they allowed women to play for the first-time in history. This is considered her fourth international participation after Egypt's Arab Bowling Championship in 20189, Las Vegas World Bowling Women's Championship in 2019, and GCC 6th Women Tournament in Kuwait in October this year.
On the courtesy of DR. Razan Baker
Dr. Razan Baker is a member of the board of directors at the Saudi Bowling Federation, a specialist in corporate social responsibility in sports, and a sports columnist/journalist.
2019/10/11
ABOUT QUBICAAMF WORLDWIDE
QubicaAMF is the largest and most innovative bowling equipment provider in the world with 600 employees worldwide. We build and modernize more bowling entertainment centers than any other company in the industry and have an installed base of more than 10,000 centers in 90 countries. The company has a sales and distribution network with worldwide reach and maintains the largest R&D team for electro-mechanical products, software, electronics, and entertainment systems in the industry.
QubicaAMF has over 100 years of experience and can provide the perfect combination of bowling equipment, products, and services for new or existing bowling entertainment centers, FECs, Cinemas, or any other facility in the hospitality, retail, or restaurant industry. Our ongoing mission is Making Bowling Amazing. We are convinced that bowling has so much more potential to attract and entertain even more people. With our products, we will help our customers fully unleash that potential.
The company has U.S. headquarters in Richmond, Virginia and European headquarters in Bologna, Italy.