News
Gibraltar's Michael Wood Interview
Shanghai will not be his first World Cup, Gibraltar's Michael Wood will once again pull on the country colours and represent probably one of the smallest nations in the event.
Do not let this fool you though, this guy can bowl and hopes to put Gibraltar on the map one day in bowling.  We caught up with Michael ahead of Shanghai to find out more.
This is not your first World Cup I believe, What is it about the event that seems to make it so special to bowlers Worldwide?
In my opinion something that makes this event feel special is the way the tournament is structured due to only one male and one female bowler being permitted to enter it gives you a sense of pride to be competing against the best from around the world.
I think another factor and possibly the most important is the way organizing committee and host nation treat you, they always ensure everyone is ok and if any problems to occur they strive to solve it as soon as they can.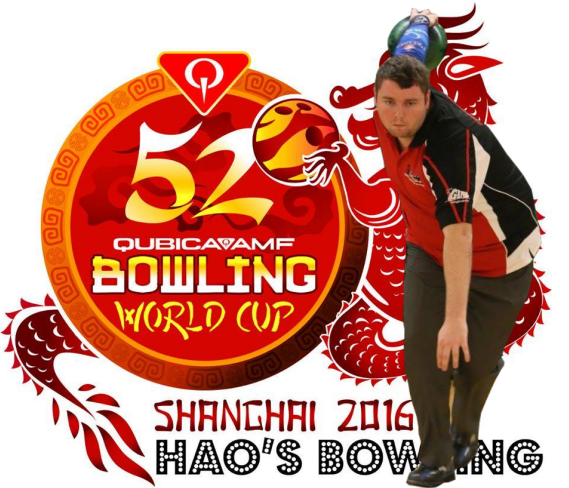 I guess it is fair to say bowling is small in Gibraltar yet here you are competing on the World scene, What would it mean for you and your nation to place in the top three in Shanghai?
For me personally it would be a fantastic result and one of my life time goals to make the final of such a prestigious tournament. I think for Gibraltar and the Association it would be an incredible result which hopefully will provide much needed publicity to Gibraltar and the Gibraltar Tenpin Bowling Association both locally and worldwide. 
What are the highlights of your bowling career so far?
I have quite a few highlights but mainly my first QubicaAMF Tournament in Malaysia is one I won't forget. Another highlight would be my first time representing Gibraltar at the Inter Island Games in Guernsey in 2002 at the age of 14. My highlight performance on the lanes would have to be my Singles Competition in the Mediterranean Bowling Championships in Barcelona 2011 where I finished 12 pins of a medal and I was leading up until the last game.
You mention the World Cup in Malaysia, what made this event so memorable?
There are quite a few reasons why I will always remember the qubicaamf World Cup in Malaysia, one of them is the country itself, as I have always wanted to travel there as my mum lived in Malaysia when she was younger so it has always interested me.
Another is feeling of nerves and pride you have throwing your first shot at event along side the likes of Walter Ray Williams Jr., Martin Larsen, Remy Ong which you normally watch on tv and now your bowling against them.
I think the most important thing I will always remember will be the lessons I learnt from bowling in such I high standard of competition and everything I learnt from watching and talking to players and coaches.
When did you start bowling and what was it about the sport that got you hooked?
I have always been around a bowling alley watching my mum bowl and occasionally being the pin boy. Despite this I didn't start bowling until I was about 13 when my parents went up to a tournament in Spain and they had a friendly tournament I averaged 135 and beat quite a few adult bowlers.
I think what got me hooked was having a natural ability and the fact that in bowling you never stop learning and have to adapt to conditions that can change frequently.
I can imagine Gibraltar is not full of bowling coaches, who helped you improve over the years, are you a little self taught also?
Although we have some coaches who can assist beginners and help get started, once you step up past beginner stage. You have to self teach yourself new things or pick up things when you go away to competitions by talking to bowlers and coaches and try and correct yourself once you get back to training. Luckily many people I have met are always willing to assist and make suggestions.
What goals do you have in the sport?
I have quite a few goals some short term some long term, one of my short term goals is for the QubicaAMF World Cup which is to improve on my previous average and try to place as high as possible.
One of my longer term goals is help Gibraltar win a medal in the 2019 Island Games both by participating and assisting in developing both male and female squads.
With a population of just 32,000 is it a little easier to get coverage for bowling in your home nation?
Unfortunately Gibraltar is a very sport oriented nation and competes in many other sports like football, tennis, athletics, hockey, cricket and gymnastics to name just a few, and with only one main newspaper we are all fighting for the spot on the sport section.
Having travelled you have seen a lot of good bowlers, who has impressed you and which players do you admire?
Whilst I have been away I have been impressed by quite a few bowlers and their performances, but some of the most notable ones are Choi Yong-Kyu averaging 235 over 24 games in Malaysia 2009 he was about 300 pins ahead of 2nd place, Matt Miller averaging 230+ in round of 24 to take the lead.
Leading on to someone I have always admired is Chris Barnes I have always liked his style and I was lucky enough to be bowling next to him at the world men's championship in Munich, But during this event not only did I get to see his style I began to admire him more for his attitude towards bowling as during the first game of the singles squad he bowled 170 game which had several splits which were unlucky to leave but instead of blaming everyone else and kicking and throwing stuff like many I saw that tournament, he calmly walked away from the lanes and slapped his thigh and gave himself a talking too.
He then went back to the lanes and bowled 300 the following game and finished with a 229 average and win a medal
What things do you do when you are not bowling, work and fun?
I am an IT Support Technician at and Insurance Management Company in Gibraltar called Quest Insurance Management (Gibraltar) Limited. Whilst not bowling or working I participate in the Gibraltar Cricket league and play friendly 5-a-side with my friends, but when I am not doing sports I usually spend time out with friends.
These longer format tournaments like the World Cup mean fitness can be key, do you do any training off the lanes?
I generally concentrate on practice on the lanes as I get quite a bit of fitness training from the cricket training the 5-a-side.
What is currently in your bag and do you have any favourite brands or balls?
Recent years I have always liked the reaction I get off Storm and Roto Grip balls but I have brought a few Brunswick balls into my arsenal to cover different reactions and cores.
It is quite a long flight to Shanghai, plenty time to watch films and listen to music on the flight, What movies and music are you in to?
I am actually not a great fan of movies but when I fly I select the latests ones or top rated ones and watch them to pass the time if I had to choose it would be a comedy film. I listen to quite a bit of music but I generally don't have a specific genre that I stick to.
Dream question now Michael, You wake up in the final of the World Cup on the specially built arena lanes, Who from the competitors would you want to face for the title?
I wouldn't mind playing anyone just being in the final would be a dream come true but if I had to choose someone it would have to be Martin from Scotland as I got to know him a bit in World Cup 2010 in France as we shared a house in the complex.
Finally a question I now ask all bowlers, Why should people bowl?
I think the main reason people should bowl is that it is a sport you can enjoy casually and also competitively. It is surprisingly technical and takes a lot of accuracy and skill to repeat shots. I think for those who enjoy challenging themselves constantly it is and ideal sport for them as bowling has an invisible opponent which is changing every shot.
Interview by Dom Gall.
2016/08/18
ABOUT QUBICAAMF WORLDWIDE
QubicaAMF is the largest and most innovative bowling equipment provider in the world with 600 employees worldwide. We build and modernize more bowling entertainment centers than any other company in the industry and have an installed base of more than 10,000 centers in 90 countries. The company has a sales and distribution network with worldwide reach and maintains the largest R&D team for electro-mechanical products, software, electronics, and entertainment systems in the industry.
QubicaAMF has over 100 years of experience and can provide the perfect combination of bowling equipment, products, and services for new or existing bowling entertainment centers, FECs, Cinemas, or any other facility in the hospitality, retail, or restaurant industry. Our ongoing mission is Making Bowling Amazing. We are convinced that bowling has so much more potential to attract and entertain even more people. With our products, we will help our customers fully unleash that potential.
The company has U.S. headquarters in Richmond, Virginia and European headquarters in Bologna, Italy.