News
53rd QubicaAMF Bowling World Cup Opening Ceremony
Players and officials were thrilled to take part in an impressive ceremony to mark the opening of the 53rd QubicaAMF Bowling World Cup in Hermosillo, Sonora, Mexico.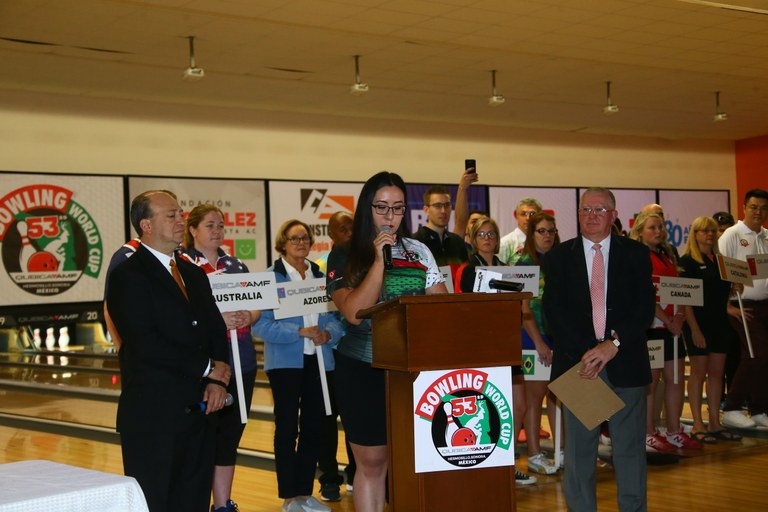 Seventy countries are represented here and they all paraded into the Bol 300 centre to greet the dignitaries. They were preceded by the delightful grandchildren of Bol 300 business partners Fernando Gutierrez and Jose Maria Gallegos Heguertty. The children carried in the perpetual trophies and the flags of Mexico, World Bowling and QubicaAMF.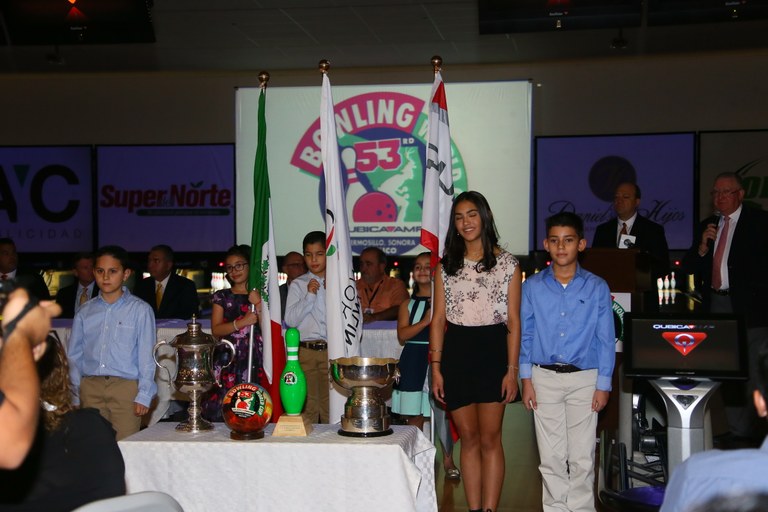 A military marching band played while they unfurled the national flag before a beautiful acapella version of the national anthem. Maribel Orozco, the female player for Mexico, then took the oath of fair play on behalf of the competitors and Dr Jose Luis Marinez Duran, President of the Bowling Association of the state of Sonora, took the oath on behalf of the officials.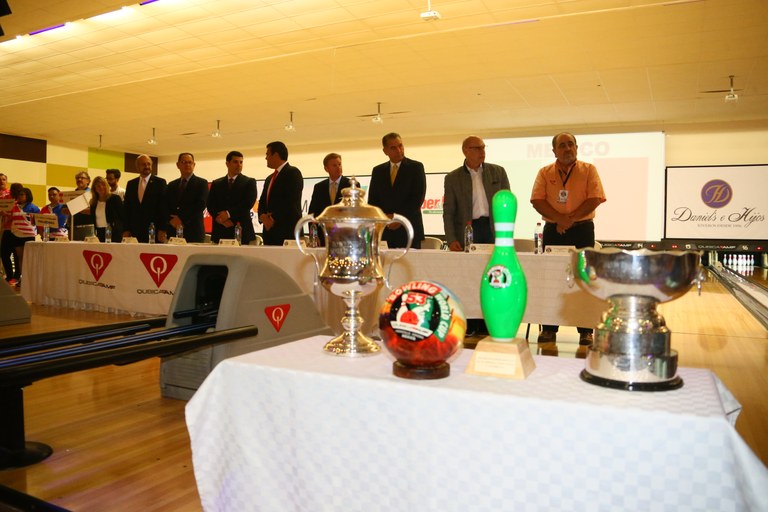 There were five speakers to welcome the players: Eduardo Lemmen Meyer Gonzalez, Municipal coordinator for tourism who represented the Municipal President of Hermosillo; Daniel Gutierrez, the Director General of Bol 300; Jay Buhl, Vice President of QubicaAMF Worldwide; Martin Faba Castro, President of the Panamerican Bowling Confederation; and Rogelio Diaz Brown Ramsburgh, Secretary of Social Development and personal representative of the Governor of the State of Sonora.
Soon it was all over and the players left to go outside into the fine Hermosillo evening to watch a display of dancing and to enjoy the welcome party.
Photo credit: Hiroshi Noda
Story by Judy Howlett
---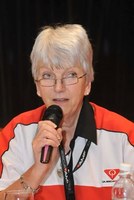 Judy Howlett has represented England and Great Britain several times in her bowling career. She played in the Bowling World Cup twice, coming second in 1985 (Seoul, South Korea). She has been in part of the organising team since 2001.
"I can't believe I am lucky enough still to be involved in the best tournament in the world - the QubicaAMF Bowling World Cup."
2017/11/05
ABOUT QUBICAAMF WORLDWIDE
QubicaAMF is the largest and most innovative bowling equipment provider in the world with 600 employees worldwide. We build and modernize more bowling entertainment centers than any other company in the industry and have an installed base of more than 10,000 centers in 90 countries. The company has a sales and distribution network with worldwide reach and maintains the largest R&D team for electro-mechanical products, software, electronics, and entertainment systems in the industry.
QubicaAMF has over 100 years of experience and can provide the perfect combination of bowling equipment, products, and services for new or existing bowling entertainment centers, FECs, Cinemas, or any other facility in the hospitality, retail, or restaurant industry. Our ongoing mission is Making Bowling Amazing. We are convinced that bowling has so much more potential to attract and entertain even more people. With our products, we will help our customers fully unleash that potential.
The company has U.S. headquarters in Richmond, Virginia and European headquarters in Bologna, Italy.