News
Memories from Twenty Six years ago - Tom Hahl 1990 Champion
"I think two handed technique is way to go. I remember practicing release without thumb from the foul line hours and hours in early 80s not realizing that this way to bowl in 2010." Tom Hahl
1) Thailand 1990 you became the AMF World Cup Champion, twenty six years on, what things do you most remember of this achievement?
First day, oiling machine was not working properly, high game of day was 233 including ladies! Second day they got assistance from Canadian coach Sid Allen and of tournament scores improved day after day.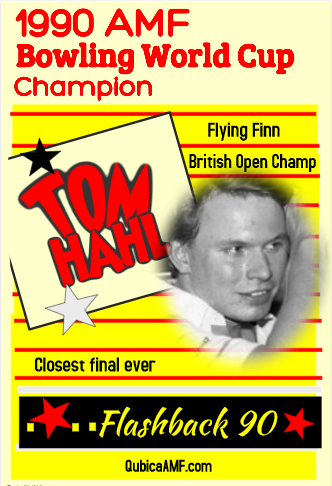 2) You lead qualifying after 48 games by almost 250 pins and was beginning to look unstoppable. Did you worry going into a one game final all that hard work could be lost so quickly?
I was bowling well obviously but I had almost 5 hours break after qualifying round was completed. Center was much more hotter and humid during TV matches. Yes 1 game after 5 days and 48 games to decide  champion is not much.
3) The match with American Adam Apo was the closest final ever, a tie in fact 190-190. What were your thoughts going into the roll off?
I remember I needed to strike fill ball to tie Adam 190-190. That  fill ball strike somehow relaxed me and I was able to double to win. I guess I wanted to win more that day.

4) That final also had three former British Open champions in Adam Apo, Phillip Dunne and yourself, Do you think winning something like the British Open got you ready for this World win?
I enjoyed great success in UK mid 80's , which were kind a first overseas tournaments for me that time and did definitely helped launch international career for me.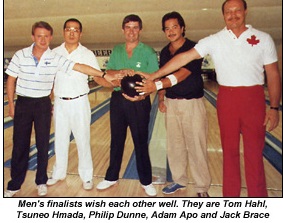 5) So you win a roll off and become champion of the World. Can you describe that feeling, even after all the years past?
I had my prime years 1985 till 1991 and winning in roll of win in 1990 World Cup was validation for me. I guess older you get more you appreciate what you have done!
6) Did life change much after this massive win?
Yes i did get invitations to bowl overseas tournaments  Also i got some sponsorship opportunities. Especially in Asia , Bowling World Cup is more recognized than in US or Europe. I have been living is Singapore since 1994.
7) What do you think makes the World Cup so special to so many?
Every year World Cup is hosted different sometimes exotic locations with second to none hospitality. You are only one representing your country. Team competitions are important but individual wins are ones you are remembered!
8) When looking back at the career you had, as you say prime years from 85-91 do you wish there had been a European Bowling tour or was it just you and others actually started the thought of a Euro tour?
Yes that would have been great! We had basically British Open, Golden Bowling ball in Germany , Super Six in Sweden and Qatar Open. Now we have countries like Italy, Spain, Poland, Russia etc... but seems like after couple of years many of they are  facing  financial difficulties and current economic situation doesn't help.
9) Do you still bowl Tom and is there any plans to play at international level again?
I stopped playing 6 years ago because of simply lack of desire and business commitments. I had 35 wonderful and successful years and I had my time but doubt I will return to  lanes.
10) How much of the current sport do you follow ?
I do, especially our Finns Osku and Mika in US tour. It is good to see more and more international players to succeed in US. Belmonte, Osku, UK players and Martin and Jesper from Sweden injects much needed oxygen to PBA tour.
11) Of all the fine players you faced in your career, which ones really impressed you?
I never idolized anybody but Mark Roth and Pete Weber were bowlers who impressed me most. Also, first Scandinavian to succeed in PBA, Sweden's Mats Karlsson was high in my list.
12) What made you get into bowling in the first place?
Classic case, followed my dad to bowling center, although I was avid ice hockey player as many Finns are in that age.
13) When you look at your bowling balls of the day to what we have today, Do you think your career would have been much different?
Really hard to say, technology has gone forward and there is nothing we can do. Example in golf, players drive 350 yards, hit 9 iron from the rough to green and ball stops....top ten scores in the tournament are 15-20 under.  We have had almost 30 900 series  in bowling past couple of years which we thought its impossible to achieve. Balls are main culprits. Different era's. We talk about this topic forever...
14) Finland just seems to be a conveyor belt of bowling talent of the ages, I know a lot of Finns bowl but why do they get so good?
Yes because we tournaments every week in every alley. You need to learn to play board two to fifth arrow and anything between (at least that was a case 20 years ago) and competition was tough. We are always ready to learn, humble and fairly strong mental game game! Fortunately, we could choose three equally good national teams for major competitions that time.
15) At the height of your career, how many games practice were you bowling in a week between tournaments, did you do any additional fitness training?
I did some jogging and little bit weights. Because of heavy tournament schedule, I practiced 2-3 times a week at my height. When I was starting I could spend 5-6 hours a day to practise every day! I probably bowled 1500-2000 tournament games a year.
16) Back in your day if was left or right handed bowlers, we were just starting to see a two finger or palm shot that seems to have later become two handed bowling. What do you make of this technique and would you have tried it as a youngster if it was proven to work?
It is proven to work! I think two handed technique is way to go. I remember practicing release without thumb from the foul line hours and hours in early 80s not realizing that this way to bowl in 2010...I have  a feeling more and more youngsters will follow the style.
17) A chance for you to thank people who helped you over the years Tom, Who get's a mention?
I have had many good mentors and coaches over the years but mention have to go to my dad. He was the one who encourage me go and aim international tournaments over national ones. Eventually that made me move permanently to Singapore, meet my wife and establish business career. Can't be happier today.
18) Finally, You gave the sport your everything over many years, why should people go bowling?
Bowling gave me everything. People who loves competition and you don't have to be world champion to participate tournaments or leagues. And of course there's is no age limits plus you get to travel too if you choose to!
Interview by Dom Gall.
2017/01/25
ABOUT QUBICAAMF WORLDWIDE
QubicaAMF is the largest and most innovative bowling equipment provider in the world with 600 employees worldwide. We build and modernize more bowling entertainment centers than any other company in the industry and have an installed base of more than 10,000 centers in 90 countries. The company has a sales and distribution network with worldwide reach and maintains the largest R&D team for electro-mechanical products, software, electronics, and entertainment systems in the industry.
QubicaAMF has over 100 years of experience and can provide the perfect combination of bowling equipment, products, and services for new or existing bowling entertainment centers, FECs, Cinemas, or any other facility in the hospitality, retail, or restaurant industry. Our ongoing mission is Making Bowling Amazing. We are convinced that bowling has so much more potential to attract and entertain even more people. With our products, we will help our customers fully unleash that potential.
The company has U.S. headquarters in Richmond, Virginia and European headquarters in Bologna, Italy.