News
Memories from Forty years ago
BWC Hall of Fame - Lucy Sandelin
"Winning the event with Paeng was very cool. We were both 19, youngest Champions in the history of the World Cup, both in college, both of us were first time participants, both of us brought our parents with us to the event and it was a great story for the press. Many of the other participants said they were going to bring their parents next year since we were the only bowlers that had both mom and dad there with us."
Please accept youtube cookies to view this content.Click here to enable youtube or click here to manage your preferences
Lucy Giovinco was just 19 years old when a moment in time changed her life forever. She found herself in a tournament she had no idea would lead to a memorable career in the sport of bowling. Travelling to a country she had never heard of at the time and suffering from flu, she somehow found the strength to win the greatest prize in bowling.
The year is 1976, Steaming bazaars, screaming traffic, wondrous woven rugs, and the beginning of a bowling legend marked the 11th Bowling World Cup, held at the Persopelis Bowling Center in Teheran, Iran. That legend was Paeng Nepomucino from The Philippines who won his first of a record four titles also as a 19 year old. The winning pair made history becoming the youngest joint winners ever.
Fast forward four decades and a chance to ask Lucy, now Sandelin about what happened all those years ago.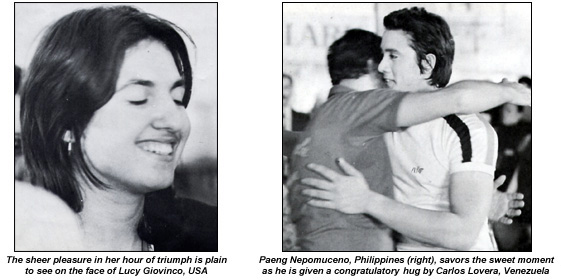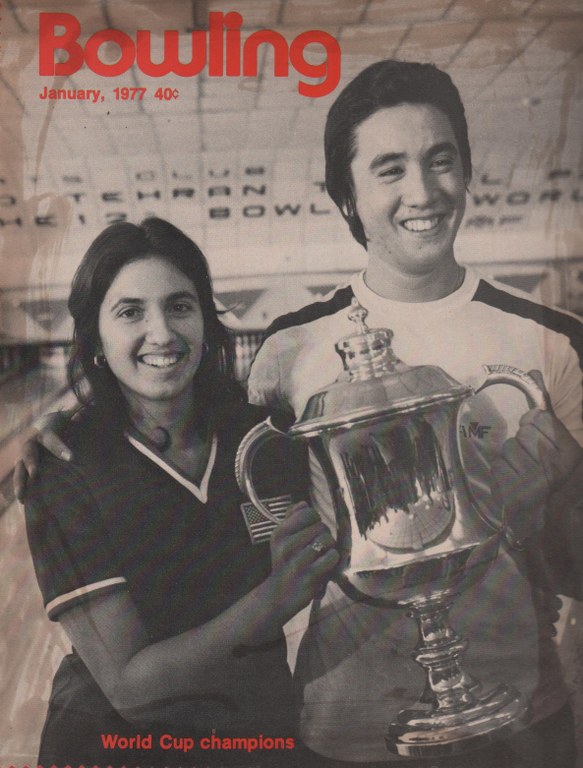 Leading up to the 1976 event, how were you selected to represent your country?
When I won the World Cup, I was a freshman in college and on the Hillsborough Community College bowling team.  I wasn't even the best bowler on the team…probably somewhere in the 175 average range.   In February of 1976, I went with my teammates to the ACU-I (Associated of College Unions-International) Regional championships in Tuscaloosa, Alabama and bowled in this Sectional tournament.  Apparently, within this team event, there was an individual component where the man and the woman who bowls the highest total get to represent the Southeast Region in the Collegiate Nationals in April of 1976.  After our team won the Team event, I was told that I won the Individual event by ONE PIN...not really sure what that all meant at the time since I was there bowling with my teammates.   Our Coach, Delores Alvarez, explained that I would be going to Denver, Colorado to bowl against other college champions from around the US.  So, my coach and I went to Denver and I remember seeing many prominent names such as Donna Adamek, Cindy Coburn, Lori Gensch and was a bit overwhelmed and trying to figure out what was I doing here….with all these more experienced bowlers.  But, I had been practicing, so I just bowled…no expecations…just doing what I love to do.  I remember it coming down to the 10th frame between myself and Lori Gensch a senior from University of Wisconsin-Milwaukee.  I had to mark in the 10th in order to win….I remember shaking and barely getting the ball off my hand and left a 4-7 and again shakily picked up the spare.  I win…by 10 pins.   So, I know that the winner is declared the top Collegiate bowler in the US….but I didn't know that they also get the represent the USA in the AMF Bowling World Cup.  So, it may have been Mort Luby who asked me about the honor of representing my country in Iran in November.  I said…I Where?   I had never heard of Iran and had to look it up in a Globe.  You got to remember its 1976, I'm a 19 year old freshman learning to be a secretary and had rarely even left the Southern part of the US…much less out of the country.
How did you prepare for the World Cup since you had a few months to get in shape?
My coach, Delores Alvarez, called Jack Graziano from AMF to find out the format of the tournament and get his opinion on what it would take to win.  He told her that the tournament was a long format and since the US sends their collegiate champions, they sometimes would not have the endurance to handle the number of games.  He also said many of the countries bring the same competitors each year and they are older and have more tournament experience.  So, with that information, she decided to put me on a "running regimen", in addition to an increased practice regimen on the lanes.  Well I absolutely hated to run 3 times a week at the local track.  One time I even faked that I fainted on the track so I could stop…well that didn't work.  She just made me run more.  So, I can truly say that running was instrumental in my win because I caught a head cold while at the tournament and could barely breathe, but my legs never let me down…they just kept going.
40 Years Lucy since you won the World Cup.  You have state it changed your life, in what ways?
Well, winning the World Cup at such a young age was both a blessing and a curse.  I really thought I would win everything I bowled in after that.  And, as we both know, that certainly was probably not going to happen.  So, I had to learn how to lose gracefully in order to become a more experienced player and win again.  When I came home from the World Cup as a Champion, I put our little college on the map and the school started offering scholarships for the whole team for the next few years.  I also, had an opportunity to make the 1977 US National Team (pre curser to TEAM USA) and travelled with the team to the FIQ American Zone in Panama and won 3 Gold Medals (Doubles with Lauren LaCost, 5-Person Team Event and 6-person Team Event).  Also, because my win was the first American woman to win the World Cup, I became very well-known locally and received telegrams from many prominent people with one of them being the outgoing US President, Gerald Ford. 
Winning the same year as Paeng Nepomucino from the Phillipines and at just 19 years old made you the first American winner of the tournament and with a tournament record of 266 and an easy win 620-504.  What was it like going through the motions knowing what you had just achieved yet still having to finish the 3rd game?
Winning the event with Paeng was very cool.  We were both 19, youngest Champions in the history of the World Cup, both in college, both of us were first time participants, both of us brought our parents with us to the event and it was a great story for the press.   Many of the other participants said they were going to bring their parents next year since we were the only bowlers that had both mom and dad there with us.  The 266 game in game 2 of the 3 game finals was very cool and yes it was hard to get through the last game knowing that I would be holding up that beautiful Cup as soon as I can get these 10 frames in…it seemed like the game lasted forever. 
The trip to Iran was to prove memorable on the lanes for sure, what are your best memories of the country and tournament?
A couple of things I remembered were that I caught a cold around the 2nd day of the event.  It was wintertime in Tehran and as a Floridian, I really wasn't' prepared for the cold weather. So, I didn't get out much after I was done bowling.  They even asked one of the doctors who was a competitor in the event to take a look at me and give me a diagnosis so I could possibly get some medicine.  That doctor/competitor was none other than Dr. P.S. Nathan from Malaysia.  He and his wife were there representing their beautiful country.  Another tournament memory involved the local newspaper and local Americans.  Every day in the Sports section of the Tehran Newspaper there were results of the tournament.  So, more and more Americans that were stationed in Tehran would come to cheer me on.  After I won the tournament, my coach, my family and I were invited to the US Embassy in Tehran for a celebratory dinner and after party. 
Looking back after so many years now and what you achieved in a stellar bowling career, where does this win rank?
After 40 years, and a boat-load of other championship wins, gold medals, Halls of Fame, I can honestly say that becoming the first American woman and at the time the youngest to win the AMF Bowling World Cup still ranks as my #1 achievement.   I've been blessed to get the opportunity to go back to the World Cup 2 other times in 1994 in Hermosillo and 1997 and Cairo coming in 2nd and 4th respectively.    I may be the only person to have won the right to represent the USA at the World Cup in 3 different manners – Collegiate Champion, AMF World Cup National Champion and US National Amateur Champion.  The World Cup is so dear to me that I named my coaching business World Cup Bowling Academy. 
You mentioned earlier naming your coaching business after the World Cup.  Can you tell us more about World Cup Bowling Academy?
In 2007 I was working a regular Accounting job and doing lessons in the evenings and on weekends.  I was getting so busy that I had a long talk with my husband, Steve Sandelin, to get his blessing to forego the 9 to 5 job and take on my passion of coaching this great sport of bowling.  I also spoke to a good friend, Beth Owen –Cipielewski, who was a professional bowling coach in the Dallas area to get her advice on the coaching business.  She encouraged me that I would be great at sharing my knowledge with others who want to improve their game.  So, I started doing one-on-one lessons at 9 different bowling centers in the Tampa Bay area, but now have narrowed down my travel to only 4 different area centers.  I also assist with the instruction of 3 area High School bowling teams and coach a Junior Gold League every Wednesday night. 
My students range from 8 year olds all the way up to 70 year old bowlers.  I strongly believe that sharing "real world" bowling info that I have used and still use in competition is priceless in the game today.  I'm teaching skills and techniques that were shared with me from the best TEAM USA Coaches in the world such as Fred Borden, Jeri Edwards, Mike Lastowski, Gordon Vadakin, Susie Reichley, Pat Costello, Sean Klug and Michelle Mullen.  My students are learning tricks that I didn't know about till I was in my 30's and 40's and they are grasping them as pre-teen and teenagers.  How cool is that?  The future for the sport continues.
Going back to 1994 now and "down Mexico way", you came so close to becoming a double champion spanning 18 years.  How did it feel to lose out this time?
I do remember that final match very well against Anne Jacobs.  I was confident going in and even though the match was close, I was calm and staying in the moment.  I believe it was the 10th frame where Anne left a washout and my heart skipped a beat and I said this was it….I have a good chance of winning the World Cup again.  But to her credit, she converted the washout which forced me to strike on the first shot in the 10th frame.  I could honestly say I didn't make the best of shots and came in a bit high and left a 4 pin, so a second place finish was the best I could do.  That one hurt for a while, but I was happy for Anne.  I had a chance to see her in 1997 while TEAM USA was in South Africa and I snagged the Africa Cup Championships shooting a 298 on the final game televised on their TV network. 
Having been to a few World Cups winning and losing, what is it about the tournament that makes it so special to many people around the globe?
I think it's the only tournament of its kind where only 1 man and 1 woman are there representing their respective countries in a grind-out endurance event that always seems to take place in really cool and unique locations around the globe.  At the time I played in the World Cup, if you won the tournament you could say you were the best amateur bowler in the world for that year.  It looked awesome on your bowling resume and it helped you get points to get the bowler closer to earning a spot in the World Bowling Writers International Hall of Fame. 
Speaking of the World Bowling Writers International Hall of Fame, how many points have you accrued?
As you may or may not know, points are accrued in the following events only:  World Cup, Zone Championships (Masters Event only), World Championships (any event) and the Olympics. 
I have accrued the following points:
World Cup 1st place – 1976 – 5  points
World Cup 2nd  place – 1994 – 3 points
American Zone Masters – 2nd   place – 2001 – 3 points
World Zone Doubles Event 2nd  place– 2003 – 3  points
World Zone Trios Event 3rd  place– 2003 – 1 point
When I got that last point in 2003, I finally reached the 15 point total which was the minimum requirement at the time.  But unfortunately, I got passed over by Shalin Zulkifli and then the following year the point total was increased.  Since 2003 was my last year on TEAM USA, I knew I no longer had a chance to qualify for the Hall.  It was a disappointment that still hurts today because it took me 3 different decades to earn the points required on the very limited events available and I felt that should have easily earned me a spot in that prestigious group.. 
If there was ever a Senior Bowling World Cup and a chance for past champions to battle it out, how excited would you be?
I really thought the 50th Anniversary would have been a great opportunity to have a Pre-Event called the World Cup Tournament of Champions and invite all past champions to a 1 or 2 day format tournament and then introduce them all at the Welcome Dinner of the main event.   So the short and long answer is YES, I would be very excited to participate in a Senior World Cup or World Cup Tournament of Champions style event. 
Through heartache and joy over many years, what is it about the sport of bowling that has kept you hooked and involved?
Well, I certainly have had my share of heartaches and joy, but that's what happens in sport and life.  We brush ourselves off, get up and give it another go.  I still love this sport of bowling and enjoy the opportunity to test myself against my previous best every time I step onto the lanes.  Yes, there are opponents involved, but as I've learned through Dr. Dean Hinitz, you can only control your shot at that one moment in time, so put your signature on it, observe it, learn from it and do it again. 
As a past champion, for young bowlers who dream of winning the World Cup, what advice do you have for them?
The advice I would give any bowler striving to become a World Cup Champion or the local Match Game Champion is….become a great spare shooter.  We're talking 90 to 100% on those spares.  Walter Ray Williams had a saying that breaks this game down into simple terms, "Hit the headpin, make the spare, and do it again".  Focus on the process, not the result and take it one shot at a time.  All the great bowlers and athletes basically say the same thing.  I like to add, "Enjoy the journey".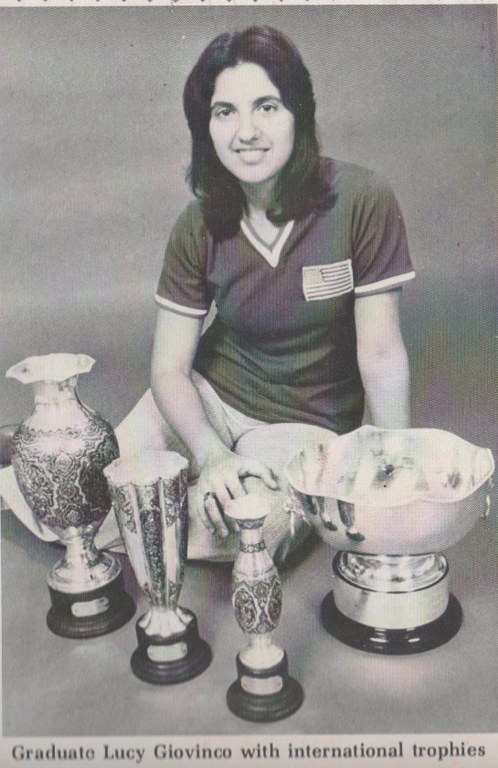 Finally, why should people try bowling?
Bowling is a wonderful sport of grace, balance, rhythm, speed, accuracy and athleticism.  It is an absolutely beautiful sport.  We have the heaviest ball of all the other sports on the planet, we have to move this ball forward, back and then forward again all the while moving our feet forward with some tempo and then must gracefully slide/stop and then release this heavy ball on a target the size of a dime in order to hit a target 60 feet away.   Another great reason to get kids started in bowling is that in the USA we have a mechanism through the SMART  (Scholarship Management and Accounting Reports for Tenpins) Program where kids can start earning scholarship money as soon as they join an organized league.  What sport does that?  NONE!
Interview by Dom Gall!
2016/12/23
ABOUT QUBICAAMF WORLDWIDE
QubicaAMF is the largest and most innovative bowling equipment provider in the world with 600 employees worldwide. We build and modernize more bowling entertainment centers than any other company in the industry and have an installed base of more than 10,000 centers in 90 countries. The company has a sales and distribution network with worldwide reach and maintains the largest R&D team for electro-mechanical products, software, electronics, and entertainment systems in the industry.
QubicaAMF has over 100 years of experience and can provide the perfect combination of bowling equipment, products, and services for new or existing bowling entertainment centers, FECs, Cinemas, or any other facility in the hospitality, retail, or restaurant industry. Our ongoing mission is Making Bowling Amazing. We are convinced that bowling has so much more potential to attract and entertain even more people. With our products, we will help our customers fully unleash that potential.
The company has U.S. headquarters in Richmond, Virginia and European headquarters in Bologna, Italy.