News
Kiwis on Tour
One of the great appeals of the QubicaAMF Bowling World Cup is that our bowlers get to visit a new international destination each year. We take a look at the unique experience of Sarah Young from New Zealand, and her Chinese travels before the tournament.
New Zealander, Sarah Young and her partner Ange Kearney, have been in China for a week already. They came in early, did some of the Shanghai tourist spots, dropped off their equipment and headed off to Beijing.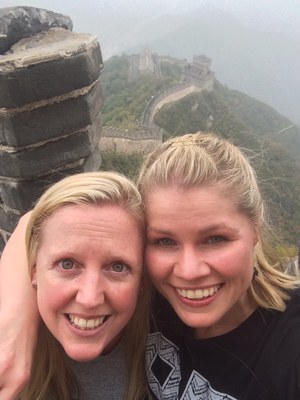 "We reckoned we were only going to be here once in our lives, so we better make the most of it", they both said.
"First, in Shanghai we went down the main shopping street and to the Bund. It's one of the high spots and from there you can go in an amazing capsule, underneath the walkway with a light show, to the tower. We went up the tower and Sarah dared me to go onto the glass look out floor, 265 m high. It was Scary! It's all brilliant and well worth doing. And to top it all off we had a buffet dinner in the revolving restaurant at the top of the tower."
And what did they get up to in Beijing?
They got there by using the fast train which was an experience in itself and enabled them to see more of China. "Then we had one full day in Beijing," they said, "so we took the special nine hour tour."
 First stop was Tiananman Square but the queue to go in to Mao's Mausoleum would have taken two hours so they decided to miss that one, and go straight on to the Forbidden City."We went to every section, all 9000 odd bedrooms and learned all about the emperor and his concubines and about life in the imperial court."
"Then we went out to wall, calling in at the jade museum on the way. Once at the wall, our guide said it would be 20-30 minutes to get to the top tower, so we said – Let's give it a go. But she only meant to tower 8 and we thought she meant tower 12. It was over 350 steps and took us 45 minutes and we were knackered!" said Ange. "My legs were shaking so much on the way down that we just fell about laughing. Coming down was much harder than going up."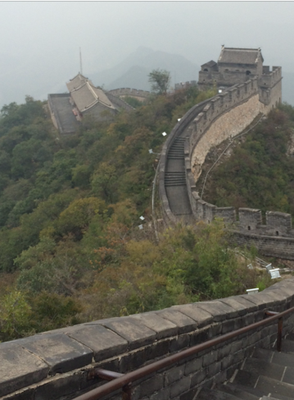 What's more, the guide was shocked that they had gone so far and admitted that she had never been to tower 12 herself. "And to finish the trip we went to the acrobatic show at night. They are so flexible, amazing. Well worth going to see."
Now they are back in Shanghai and bowling is taking center stage.
2016/10/18
ABOUT QUBICAAMF WORLDWIDE
QubicaAMF is the largest and most innovative bowling equipment provider in the world with 600 employees worldwide. We build and modernize more bowling entertainment centers than any other company in the industry and have an installed base of more than 10,000 centers in 90 countries. The company has a sales and distribution network with worldwide reach and maintains the largest R&D team for electro-mechanical products, software, electronics, and entertainment systems in the industry.
QubicaAMF has over 100 years of experience and can provide the perfect combination of bowling equipment, products, and services for new or existing bowling entertainment centers, FECs, Cinemas, or any other facility in the hospitality, retail, or restaurant industry. Our ongoing mission is Making Bowling Amazing. We are convinced that bowling has so much more potential to attract and entertain even more people. With our products, we will help our customers fully unleash that potential.
The company has U.S. headquarters in Richmond, Virginia and European headquarters in Bologna, Italy.