News
Russia Holds Men's Lead After Round 1
Following the first two blocks of the Men's Round 1, Yan Korshak of Russia leads the way in the men's section of the 52nd QubicaAMF Bowling World Cup in Shanghai.
Yan shot 1151 over his five games to lead the field by 50 pins.  Sam Cooley of Australia barely sit in second place with a score of 1101.  And after leading the first block with a score of 1097, Petteri Salonen of Finland rounds out the leaders in third place.  Petteri was the only man to hit 200+ in every game.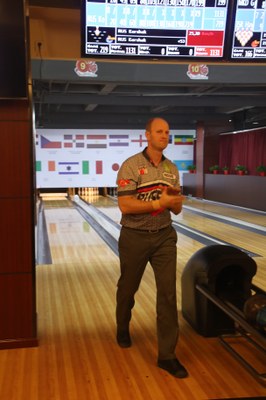 High game so far is 277 by Marshall Kent of the USA.
Local player, Wang Hongbo started well but then fell back slightly and finished in just 5th place, while Tobias Boerding of Germany, our runner up two years ago, is in 7th.
There are a still 15 games to go before the cut to the top 24 but at present Martin Williamson of Scotland would be in and Alexander Tarsoly of Hungary out, by five pins. The average for the top 24 is 193.
The overall average for the men is 183.79 while the women are not far behind on 182.05.
2016/10/17
ABOUT QUBICAAMF WORLDWIDE
QubicaAMF is the largest and most innovative bowling equipment provider in the world with 600 employees worldwide. We build and modernize more bowling entertainment centers than any other company in the industry and have an installed base of more than 10,000 centers in 90 countries. The company has a sales and distribution network with worldwide reach and maintains the largest R&D team for electro-mechanical products, software, electronics, and entertainment systems in the industry.
QubicaAMF has over 100 years of experience and can provide the perfect combination of bowling equipment, products, and services for new or existing bowling entertainment centers, FECs, Cinemas, or any other facility in the hospitality, retail, or restaurant industry. Our ongoing mission is Making Bowling Amazing. We are convinced that bowling has so much more potential to attract and entertain even more people. With our products, we will help our customers fully unleash that potential.
The company has U.S. headquarters in Richmond, Virginia and European headquarters in Bologna, Italy.