News
It's a Family Affair
We often talk about the World Cup family and this year, more perhaps than any other year, shows just how much bowling is a family affair.
We have two mother and son combos, one father and daughter, two married couples, and one mother, a former world cup competitor, here watching her son.
Artemijs Hudjakovs of Latvia is just 16, the youngest player in the men's section. And his mother, Veronika Hudjakova, is competing in the women's section. Veronika started bowling about 15 years ago, but it was just for fun. Then she and her husband, Kyril, got more involved and started bowling local tournaments. Artemijs was more into football, but then he tore his ligaments and couldn't play any more so took his bowling more seriously. He won the national tournament to compete here in Hermosillo, but Veronika only came third. "The two who came ahead of me," Veronika said, "were really kind and both said that I could come. So here we both are and very happy to be here."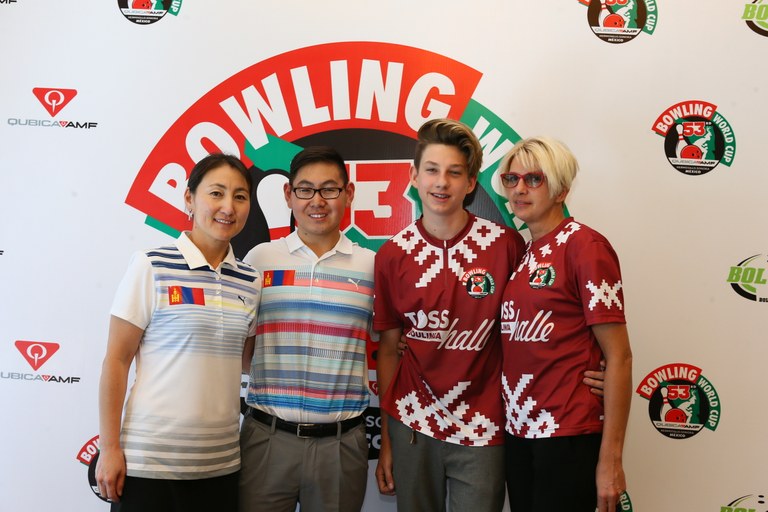 Odkhuu Narantuya of Mongolia has been bowling since he was nine years old. "I was just the taxi driver," said his mother, Shagdar, "but then I gave it a go. We come from Ulan Bator, but Odkhuu is studying at university in Colorado so we live in the USA at the moment. The tournament to determine the Mongolian participants was held, believe it or not, in San Francisco. There are lots of Mongolians in the States and others flew in for the event." Shagdar won while Odkhuu came second but he was selected anyway.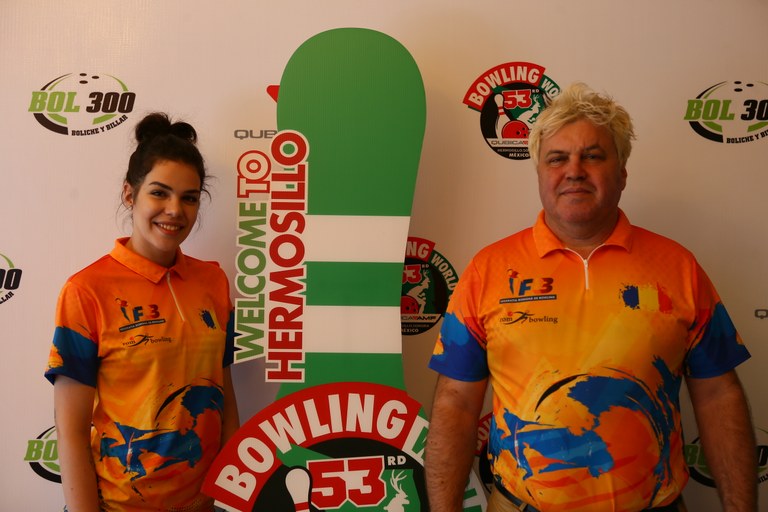 Romania has a father and daughter team - Valentin and Laura Piros. Laura followed her father into bowling but is now studying in Germany and playing Bundesliga division 1. "I'm studying PR and management," she said, "and I swapped over from mechanical engineering."  Valentin – Vali – owns a restaurant and bar in Bucharest but he's also a bowling coach. "And I have my own blog – Just Bowling – which is used by all bowlers in Romania to find out what is going on," he commented.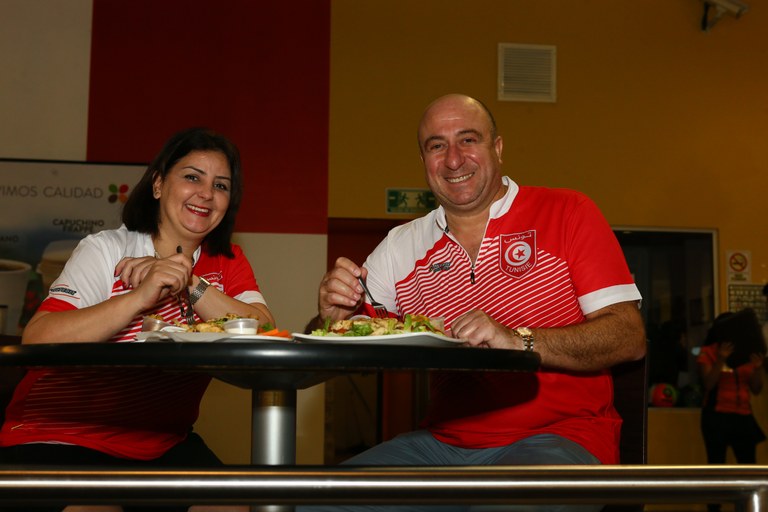 Married couple Khaled and Hela Meziou of Tunisia have been coming to the World Cup since 2009, missing only one event since: "We missed the championship in Toulon," said Hela. "The closest one to us and we had to miss it!" Khaled is President of the Tunisian Bowling Federation and to keep bowling even more in the family, their son plays in Malta and has just won the handicap Malta Open.
Back to Europe, and husband and wife Louise and Gareth Roberts are representing Wales – "But we live in England!" admitted Louise. It's Louise's fourth time at the World Cup but Gareth's first.  They even met through bowling. "To be honest," continued Louise, "I'm disappointed with the way I'm playing here. I keep getting splits so I'm going to have to make a big adjustment. But it won't stop me coming back."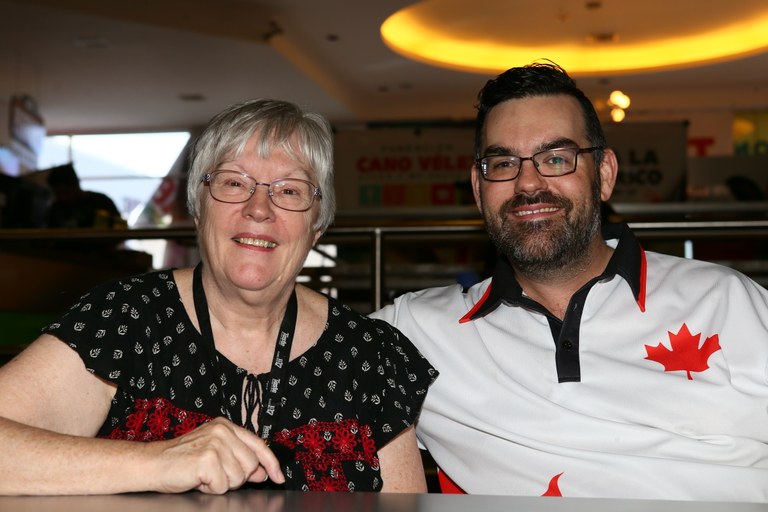 Miriam Reid competed for Canada in the World Cup in 1978 in Bogota where she came 24th. "I really enjoyed it," she commented. "We went to the casino, enjoyed the food and enjoyed the whole experience. Then Ryan came along about a year later and of course he was going to bowl." Ryan went to University in the US and competed for Canada in other events but then this year won the right to take part in the World Cup. Miriam just had to come too!
Photo credit: Hiroshi Noda
By Judy Howlett
---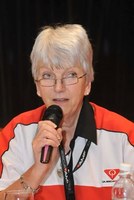 Judy Howlett has represented England and Great Britain several times in her bowling career. She played in the Bowling World Cup twice, coming second in 1985 (Seoul, South Korea). She has been in part of the organising team since 2001.
"I can't believe I am lucky enough still to be involved in the best tournament in the world - the QubicaAMF Bowling World Cup."
2017/11/08
ABOUT QUBICAAMF WORLDWIDE
QubicaAMF is the largest and most innovative bowling equipment provider in the world with 600 employees worldwide. We build and modernize more bowling entertainment centers than any other company in the industry and have an installed base of more than 10,000 centers in 90 countries. The company has a sales and distribution network with worldwide reach and maintains the largest R&D team for electro-mechanical products, software, electronics, and entertainment systems in the industry.
QubicaAMF has over 100 years of experience and can provide the perfect combination of bowling equipment, products, and services for new or existing bowling entertainment centers, FECs, Cinemas, or any other facility in the hospitality, retail, or restaurant industry. Our ongoing mission is Making Bowling Amazing. We are convinced that bowling has so much more potential to attract and entertain even more people. With our products, we will help our customers fully unleash that potential.
The company has U.S. headquarters in Richmond, Virginia and European headquarters in Bologna, Italy.