News
Day 3 and Women Were on Dawn Patrol
After 3 days, Bernice Lim of Singapore is in the lead with 3349, and a 223 average. For the men, local China representative, Wang Hongbo, leads the way with 3220.
Scoring was down for the bowlers yesterday, but Bernice Lim (Singapore) carried on where she left off, hitting 1127 over her five games and moving into the lead with 3349, and a 223 average. Bernice last played in the World Cup in Melaka in 2009 and finished 20th.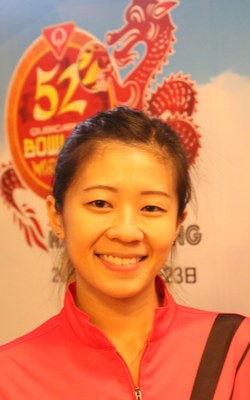 Nadine Geissler of Germany also scored well and moved up into second with 3213, her set including the high game of the day, a 268.
Lisa John found the going difficult and dropped down to 5th but Sweden's Jenny Wegner hit another all-200 set, a total of 1118, and moved into 4th behind Rebecca Whiting of Australia.
There are now just five games to go for the women and the cut for the top 24 is currently a 186.73 average, with Christina Sanz of Catalonia in 24th, just ahead of Sarah Young of New Zealand with 186.53.
Defending champion Clara Guerrero of Colombia is in 15th place, while another former champion, Aumi Guerra of the Dominican Republic is in 17th.
All to play for tomorrow!
The men played in the afternoon. Martin Larsen of Sweden, who came second in Hermosillo in 2008, looked to be having it all his own way, but a couple of poor games left the door open. Wang Hongbo of China hit an excellent 1119 to go into the lead, much to the delight and excitement of the local spectators.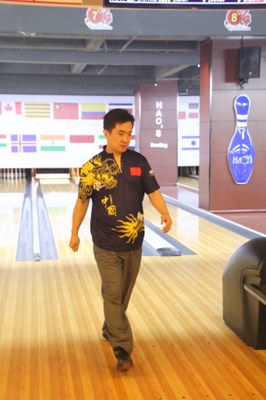 Rafiq Ismail of Malaysia was the only other player to hit over 1100, with 1109 which moved him up into 6th.
Again, 200 games were hard to come by, with no man hitting the mark in every game.
But we do have a new high game in the men's section, a 286, bowled by Arturs Levikins of Latvia who said:  "I hope it holds till the end. It might, you never know. Scoring here has not been that easy."  Arturs' fiancée, Maria Tkachenko, is playing in the women's section.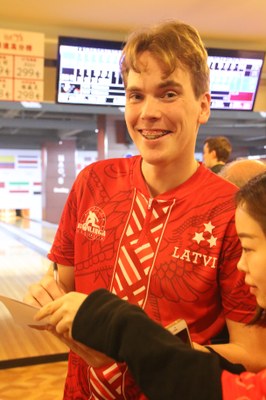 So we now have the host nation on top in the person of Wang Hongbo with 3220, (very) closely followed by Martin Larsen with 3219 and Sam Cooley of Australia with 3190. Early leader Russia's Yan Korshak is now in 4th.
With the cut for the top 24 just five games away, there are six pins in it for 24th place: Chris Sloan, the two handed player from Ireland is above the cut on 2932, while Spain's Melvin Ocando is just out on 2928.
Let's see what tomorrow brings.
2016/10/19
ABOUT QUBICAAMF WORLDWIDE
QubicaAMF is the largest and most innovative bowling equipment provider in the world with 600 employees worldwide. We build and modernize more bowling entertainment centers than any other company in the industry and have an installed base of more than 10,000 centers in 90 countries. The company has a sales and distribution network with worldwide reach and maintains the largest R&D team for electro-mechanical products, software, electronics, and entertainment systems in the industry.
QubicaAMF has over 100 years of experience and can provide the perfect combination of bowling equipment, products, and services for new or existing bowling entertainment centers, FECs, Cinemas, or any other facility in the hospitality, retail, or restaurant industry. Our ongoing mission is Making Bowling Amazing. We are convinced that bowling has so much more potential to attract and entertain even more people. With our products, we will help our customers fully unleash that potential.
The company has U.S. headquarters in Richmond, Virginia and European headquarters in Bologna, Italy.