News
A Game for All Seasons
Bowling is certainly a game which can be played throughout a lifetime. Here in Shanghai the youngest male player is Mykola Sielin of the Ukraine who is just 14 and believed to be the youngest male player ever to take part in the Bowling World Cup.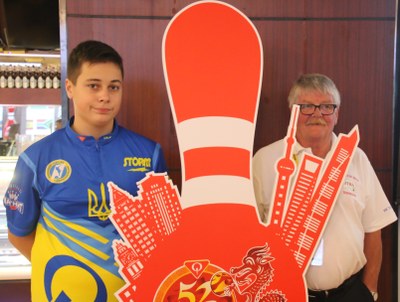 And at the other end of the spectrum, we have Paul Wright of Jersey who is 69. He's been bowling for 51 years, having started in Manchester in England before moving to Jersey 21 years ago. At that time, the island had no bowling centre: that arrived five years after Paul. He's played in six World Cups now, the first being in 1995 in Sao Paolo, Brazil.
He was emphatic in his admiration for the tournament. "I've loved every minute of it. I've really enjoyed meeting so many people from all over the world. You have to mix with everyone as there's just you and the female player from your country.
"I've shared a room with amazing players who have become good friends. I remember sharing with the Japanese player and he taught me how to tape my ball properly and that improved my scores immensely. And I have got to know the players from Ethiopia over the years and am hoping to go over there soon."
Mykola, from the city of Kharkov, is here with his father Yuri, who told us that he regards this as a great opportunity for his son, both to see what international bowling is about and to learn from better players. Mykola started bowling five years ago and averaged 221 to win the Ukrainian qualification tournament.
There must be something about the sea air on Jersey as the oldest woman competitor, at 63, is Glenda Burrows. Glenda is originally from Curacao, but married a Jersey man and moved there 22 years ago.
"This is my first time at the Bowling World Cup," she said. "I did qualify before but I thought it was just for the top bowlers, the professionals, and I bowl as a hobby. I now know it is a tournament for everyone and I am having such a good time.
"I've travelled to some amazing places with bowling, including going to Australia for the Commonwealth Championships and to Israel for the Europeans. And now I'm in Shanghai and I want to come back to the World Cup!"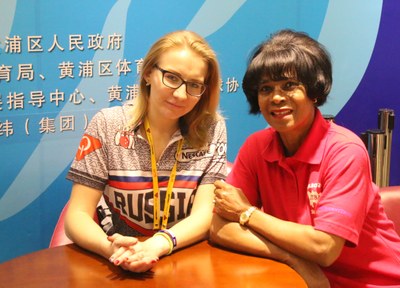 The youngest woman player is 18-year-old student Ksenia Apanyakina from Russia. Ksenia has been bowling since she was eight and has won silver and gold medals in the European youth championships. Ksenia is from Moscow and she is delighted to meet so many people from all over the world.
"I had never heard of some of the countries and being here is wonderful chance to widen my horizons", she said. "I am just trying to do as well as I can this time, but I shall go back home determined to qualify again."
2016/10/19
ABOUT QUBICAAMF WORLDWIDE
QubicaAMF is the largest and most innovative bowling equipment provider in the world with 600 employees worldwide. We build and modernize more bowling entertainment centers than any other company in the industry and have an installed base of more than 10,000 centers in 90 countries. The company has a sales and distribution network with worldwide reach and maintains the largest R&D team for electro-mechanical products, software, electronics, and entertainment systems in the industry.
QubicaAMF has over 100 years of experience and can provide the perfect combination of bowling equipment, products, and services for new or existing bowling entertainment centers, FECs, Cinemas, or any other facility in the hospitality, retail, or restaurant industry. Our ongoing mission is Making Bowling Amazing. We are convinced that bowling has so much more potential to attract and entertain even more people. With our products, we will help our customers fully unleash that potential.
The company has U.S. headquarters in Richmond, Virginia and European headquarters in Bologna, Italy.