News
And then there were four!
What an exciting round robin we were to witness!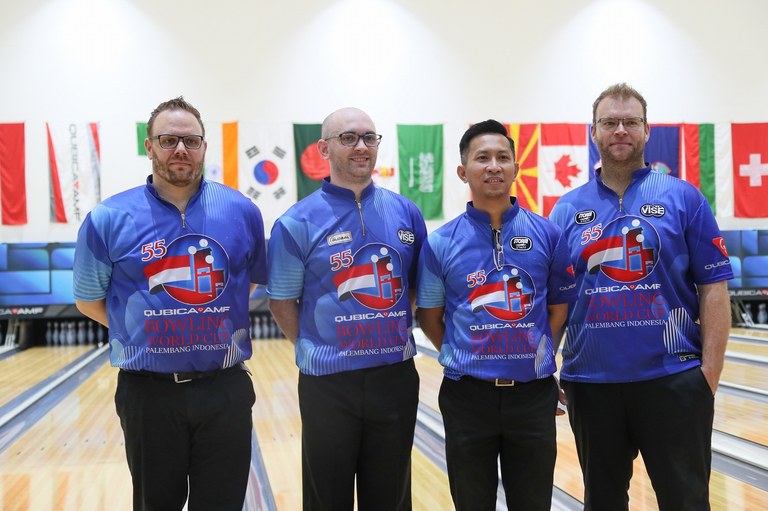 From the word go there were some very tight matches:  in just game two, Sam Cooley of Australia (our defending champ) shot 238 narrowly beating Jaroslav Lorenc of the Czech Republic who shot 236 while Kelly Kulick of the USA beat Aumi Guerra (two times a BWC champion) of the Dominican Republic 214-211.
More close games followed. Game three and Kelly lost with a 232, Karen Marcano of Venezuela shooting 255, while over with the men Ryan Lalisang of Indonesia recorded a super win, beating Oliver Morig of Germany 248 to 234. Game four: Rebecca Whiting (Australia) 224, Karen 221. Game five, Sam Cooley of Australia needed the first two strikes in the 10th frame to beat Ireland's Chris Sloan but got 9. Game six: Ryan 243, Jaroslav 232. Some terrific bowling!
All the time there was some jostling to get fourth spot and a place in the finals. By the end of game seven, it was nip and tuck in both sections. Ryan was six pins off the cut – just six! - behind Chris, while for the women Aumi was ahead of Karen by just 10.
So the position round was all important. Chris started well, playing Sam, but then had a split and Ryan capitalised on it. The noise level grew and grew as he strung the strikes together finishing with a 254 and the win, pulling up into third.  But there was a surprise at the top: Francois played Oliver, lost with a 155, dropping to fourth! So our top four, in order, are Oliver Morig, Sam Cooley, Ryan Lalisang and Francois Louw.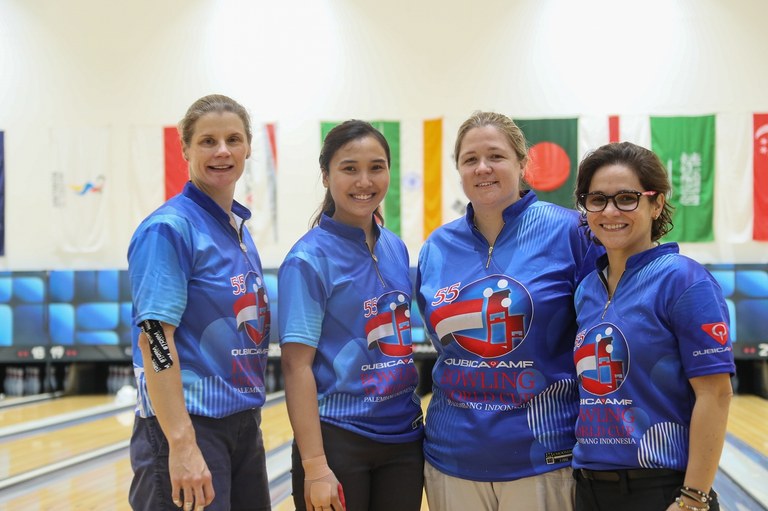 Ryan was over the moon: "I'm amazed. I never thought I'd make it. That eighth game was really hard mentally. And I am so proud to make the finals in my own country."
Aumi was playing Rebecca, Karen was playing Eunhee Jeon of Korea who had been quietly working her way up the leaderboard. It looked as if Aumi would lose, but Rebecca split in the 10th, Aumi closed the frame and won 212-210. Karen bowled well and finished on a 209 but Eunhee bowled better and won with a 237. So our women finalists are Kelly, Natasha, Rebecca and Aumi.
Rebecca commented afterwards: "I'm pleased with the way I've bowled here, really steady. I've left 105 single pins and I've only missed one! And here I am in the finals."
But now, one plays four, two plays three, one game, sudden death to determine the finalists. And with the noise levels rising as Ryan takes to the lanes...who knows?
The results of the round robin mean that Australia with both players in the top four, will win the prize for top country for the third time.
Follow the LIVE STREAM of the Semi Finals and Finals
By Judy Howlett
---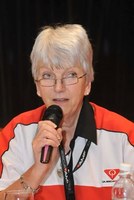 Judy Howlett has represented England and Great Britain several times in her bowling career. She played in the Bowling World Cup twice, coming second in 1985 (Seoul, South Korea). She has been in part of the organising team since 2001.
"I can't believe I am lucky enough still to be involved in the best tournament in the world - the QubicaAMF Bowling World Cup."
2019/11/23
ABOUT QUBICAAMF WORLDWIDE
QubicaAMF is the largest and most innovative bowling equipment provider in the world with 600 employees worldwide. We build and modernize more bowling entertainment centers than any other company in the industry and have an installed base of more than 10,000 centers in 90 countries. The company has a sales and distribution network with worldwide reach and maintains the largest R&D team for electro-mechanical products, software, electronics, and entertainment systems in the industry.
QubicaAMF has over 100 years of experience and can provide the perfect combination of bowling equipment, products, and services for new or existing bowling entertainment centers, FECs, Cinemas, or any other facility in the hospitality, retail, or restaurant industry. Our ongoing mission is Making Bowling Amazing. We are convinced that bowling has so much more potential to attract and entertain even more people. With our products, we will help our customers fully unleash that potential.
The company has U.S. headquarters in Richmond, Virginia and European headquarters in Bologna, Italy.