News
We have our champions!
Francois Louw from South Africa and Rebecca Whiting from Australia are the Champions of the 55th QubicaAMF Bowling World Cup.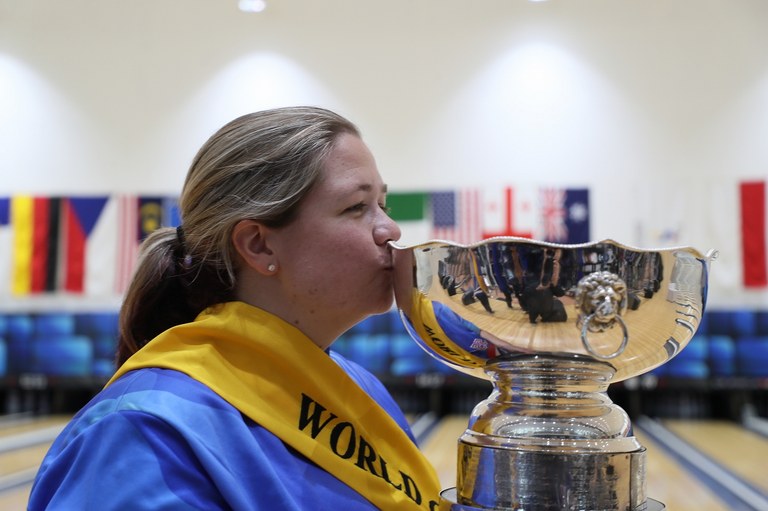 The semi finals pitched Germany against South Africa and Indonesia against Australia in the men's section while the USA played the Dominican Republic and Malaysia played Australia in the women's.
Yet again Francois Louw of South Africa, our leader for so long, showed his power, hitting the first six strikes and finishing with a 262 game while Oliver Morig (Germany) could only manage a 196. Over with the other match Sam Cooley of Australia never really got going. Ryan Lalisang, from the home country, also struggled to start with but then hit seven in a row and won 239 to 158.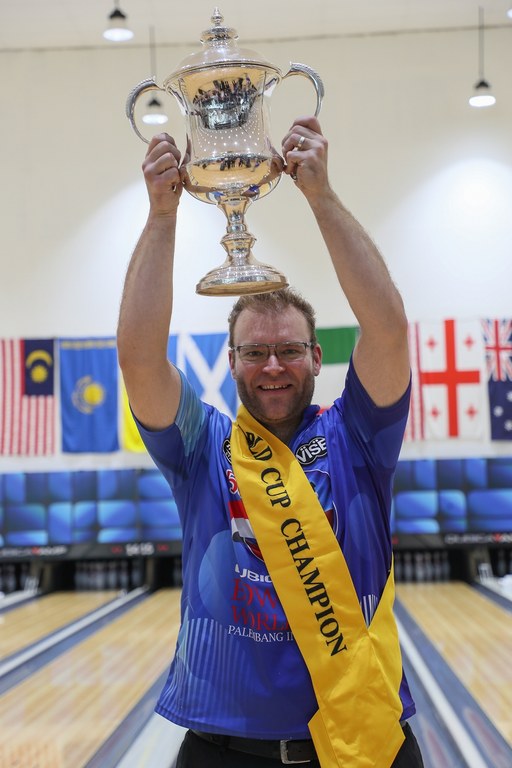 The game between Aumi Guerra of the Dominican Republic and Kelly Kulick of the USA went to the final frame. Kelly left a big split and finished on 179: Aumi (who had had a foul on her first ball in frame seven) struck from the eighth and ran out the winner with 194.
Natasha Roslan of Malaysia played well, but never got the strikes and her 176 was not enough to beat Rebecca Whiting's 199, even though Rebecca opened the tenth frame
So on to the finals.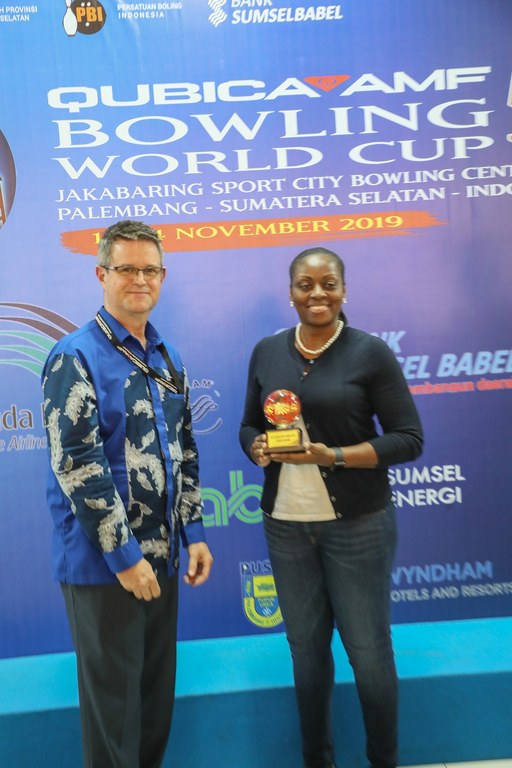 The women's was a battle of nerves. It was very low scoring but nonetheless exciting. Aumi, despite two single pin misses, could still have won if she had doubled in the 10th frame. She didn't so Rebecca wins and Australia has another champion. The scores were 172 to 162.
Rebecca said afterwards: "My parents are here and my best friends Shane and Alicia as well. So I've had a lot of support here and also lots of people following it on web and social media back home".
Her mother, Val, was in tears afterwards but did manage to say: "Words cannot describe how proud we are of her. We have been with her to all four Bowling World Cups she has played in and this is just wonderful!"
On to the men. A terrific match. Ryan bowled really well and the support was immense. But Francois simply would not be denied, despite a foul in the fourth frame (when he actually struck). Having come second in Las Vegas four years ago he was really determined. He is the first South African man to win the title.
He commented afterwards: "I haven't fouled in about 11 years and what is worse, it was a great shot! I just tried to put it out of my mind and carry on. Wow! It's coming home! It's been great. Thanks for everything!"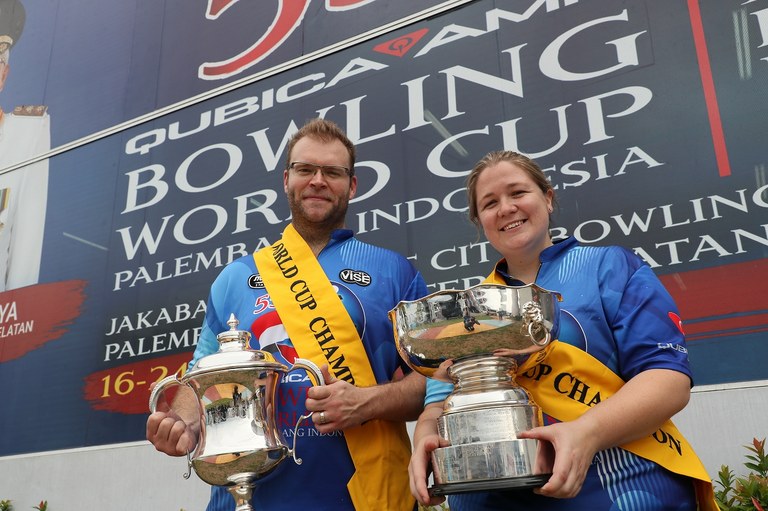 So it was one country, one month, two World Cups for South Africa after the Rugby in Japan. And for Australia a seventh woman's title. And another superb tournament.
The high games went to Driskell Rolle of Bahamas with 288 for the women and  Frankie Catanzariti of Canada for the men with 297.
On to next year – and the venue will be announced at the victory party tonight.
2019/11/23
ABOUT QUBICAAMF WORLDWIDE
QubicaAMF is the largest and most innovative bowling equipment provider in the world with 600 employees worldwide. We build and modernize more bowling entertainment centers than any other company in the industry and have an installed base of more than 10,000 centers in 90 countries. The company has a sales and distribution network with worldwide reach and maintains the largest R&D team for electro-mechanical products, software, electronics, and entertainment systems in the industry.
QubicaAMF has over 100 years of experience and can provide the perfect combination of bowling equipment, products, and services for new or existing bowling entertainment centers, FECs, Cinemas, or any other facility in the hospitality, retail, or restaurant industry. Our ongoing mission is Making Bowling Amazing. We are convinced that bowling has so much more potential to attract and entertain even more people. With our products, we will help our customers fully unleash that potential.
The company has U.S. headquarters in Richmond, Virginia and European headquarters in Bologna, Italy.