News
QubicaAMF Products Carry Rancho Bowl into the 21st Century and Spark Unprecedented Growth
The center has seen a 60% increase in gross revenue the first year after its modernization
With only a few updates at Rancho Bowl prior to 2011, Ashlee Carranza and her husband Luke decided it was time for a change.  In their view, Rancho Bowl was seriously behind the times, particularly when it came to furniture and the scoring system.  They made the decision to modernize and to create a place the Santa Maria community would want to come to for great entertainment, and they chose QubicaAMF as their equipment provider.  Ashlee and Luke recognized that the products themselves could deliver a huge competitive advantage. In 2014, they upgraded their scoring system to BES X and modernized the interior of the center with Harmony Infinity Furniture and Harmony Ball Returns. 
"QubicaAMF is definitely on top of their game.  They have the best scoring and furniture I have seen," says Ashlee Carranza, Co-Owner of Rancho Bowl. "Without QubicaAMF we would not be making the money we are today or be able to feel so successful with our business.  I'd definitely say QubicaAMF has changed our lives."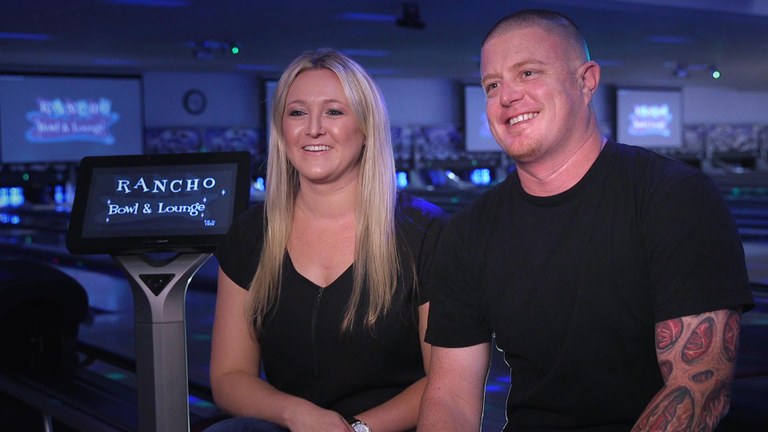 Once Ashlee and Luke had their QubicaAMF products in place they immediately knew they had made the right decision.  BES X offered cutting edge technology to help them attract bowlers and all types of customer segments with features like MAD Games, personalized YouToons, and customized events, along with a variety of on-demand games and environments.  Likewise, QubicaAMF's Harmony Infinity Furniture Collection and Ball Returns dazzled local bowlers who, in Ashlee's words, "had never seen nice stuff like this in a bowling center."  Propelling their center into the 21stcentury, Friday and Saturday nights at Rancho Bowl now often bring two-hour waiting lists.  Reviewing their return on their investment, the Carranza's saw a 60% increase the first year and 25% increase the second year for gross bowling revenue.  Additionally, the have seen a 25% increase in bar sales, and a 40% increase in restaurant sales at their center which has far exceeded their expectations.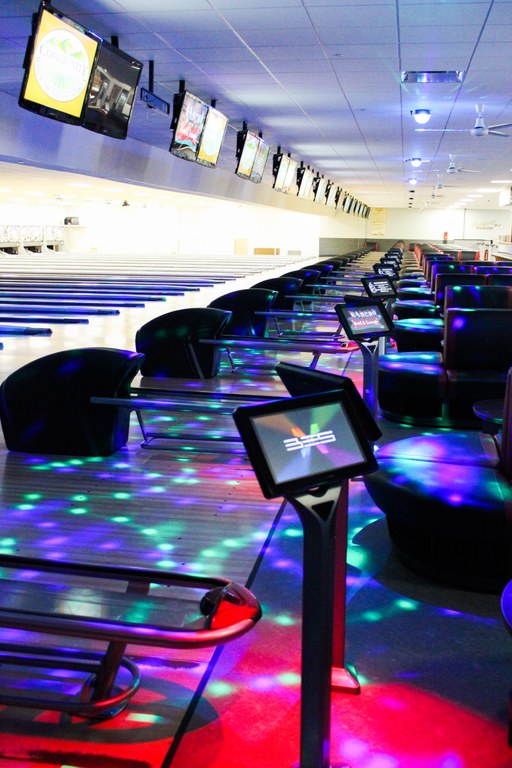 "It is examples like Rancho Bowl that allow us to feel confident that QubicaAMF products can provide a significant return on investment and help centers drive growth," says Jay Buhl, Senior Vice President & General Manager, The Americas for QubicaAMF.  "With the industry's most innovative products, like the BES X scoring system and reconfigurable Harmony Infinity furniture, QubicaAMF is able to offer a comprehensive turnkey solution for centers looking to modernize and change their customers bowling experience."
"Our goal for the Harmony Line was to deliver a product that matches the style the customer is looking for while accommodating their diverse needs.  The Harmony Infinity furniture has allowed Rancho Bowl to offer a high-end experience and a comfortable atmosphere that has increased their customer's length of stay," says Neil Pennington, Product Manager, Performance Equipment.
BES X is the result of extensive market research, a proven process for product innovation and over three years of investments in research and development. It is the only system in the world designed to take every aspect of what makes bowling appealing to people to the next level, aimed to grow bowling businesses and drive the industry forward. Today, over 600 centers representing more than 10,000 lanes in 65 countries around the world are successfully using BES X, and over 100 million games have been bowled on BES X. In addition, centers are consistently reporting typical increases in total revenue upwards of 20%, expanded repeat business, and longer customer visits—all within the first year of installing the system. 
The Harmony furniture line is the most innovative furniture line on the market.  It is also the world's only total front end turnkey solution designed to accommodate diverse customers' needs while maximizing their comfort and experience.  QubicaAMF designed the Harmony Line to deliver the style, flexibility, and functionality centers envision to take their business to the next level–delivering an experience far beyond customers' expectations.
For more information on how BES X and Harmony can redefine the bowling experience and grow center revenue, please visit www.qubicaamf.com/experiencebesx and www.qubicaamf.com/experienceharmony
###
About QubicaAMF Worldwide
QubicaAMF Worldwide is the world's leading manufacturer and marketer of bowling and mini bowling products. With worldwide headquarters near Richmond, Virginia and European headquarters in Bologna, Italy, the company offers a complete line of high-quality, innovative solutions for new and existing bowling and entertainment centers.
QubicaAMF has over 75 years of experience, an installed base of more than 10,000 centers worldwide and can provide the perfect combination of bowling equipment, products and services to build a traditional bowling center, an FEC or entertainment facility to suit any budget. The company has sales offices in 10 countries, a distributor network with worldwide reach and maintains the largest R&D team for software, electronics and entertainment systems in the industry.
QubicaAMF is the organizer of the QubicaAMF Bowling World Cup, the largest annual sporting event in terms of the number of participating countries, which promotes bowling on a global level. The company celebrated the historical 50th anniversary of the tournament in 2014.
Additional information about QubicaAMF is available at www.qubicaamf.com.
About Rancho Bowl
Luke Carranza's grandfather, Mili Acquistapace, built Rancho Bowl in Santa Maria in 1959, when it was a sleepy Central California farming town.  Run by the family, the center proceeded fairly well with only a few updates, until Luke and Ashlee Carranza decided to take over the family business.  Hoping to add to their local community, the Carranza's saw an opportunity to upgrade their scoring system in 2014 from Twelve Strike to BES X, the World's Only Bowling Entertainment System.   Immediately following they renovated the hard plastic industrial grey bowling chairs for the Harmony Infinity furniture, as well as Harmony Ball Returns.  Today, Rancho Bowl is a bowling center of the 21st century, offering a wealth of great entertainment to the area of Santa Maria, California.  Additional information about Rancho Bowl is available atwww.ranchobowl.com. 
ABOUT QUBICAAMF WORLDWIDE
QubicaAMF is the largest and most innovative bowling equipment provider in the world with 600 employees worldwide. We build and modernize more bowling entertainment centers than any other company in the industry and have an installed base of more than 10,000 centers in 90 countries. The company has a sales and distribution network with worldwide reach and maintains the largest R&D team for electro-mechanical products, software, electronics, and entertainment systems in the industry.
QubicaAMF has over 100 years of experience and can provide the perfect combination of bowling equipment, products, and services for new or existing bowling entertainment centers, FECs, Cinemas, or any other facility in the hospitality, retail, or restaurant industry. Our ongoing mission is Making Bowling Amazing. We are convinced that bowling has so much more potential to attract and entertain even more people. With our products, we will help our customers fully unleash that potential.
The company has U.S. headquarters in Richmond, Virginia and European headquarters in Bologna, Italy.