News
The Final Four
And now it is time for the grand finale. The final four for for each division of #52BWC has determined and we are ready to see who will become our World Champions!
It's the final day and in the round of eight.  With a 30 pins bonus for winning each head-to-head match, anything can happen – and often does.
Chris Sloan (Ireland) continued his remarkable advance and was in third place after five games. The leading players were still there: Martin Larsen (Sweden) and Wang Hongbo (China). With the women, Syaidatul Afifiah of Malaysia was advancing on the top four and with just the position round to go, she did indeed make the four.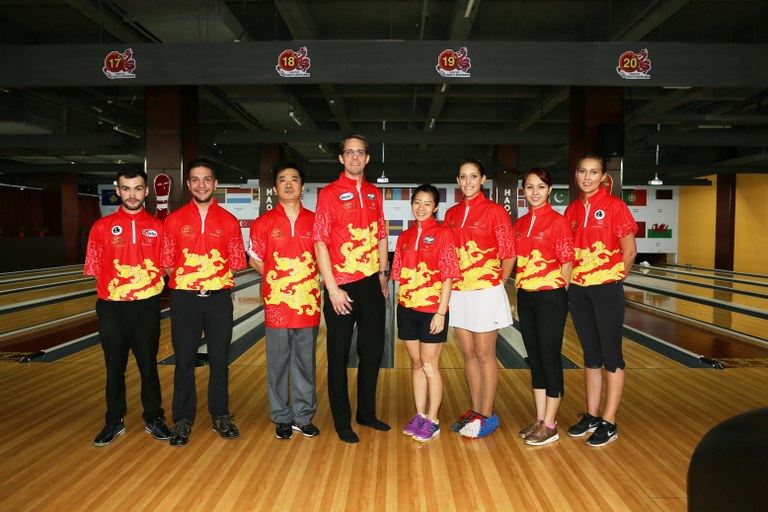 In the seventh game, Chris played Wang. It looked like it might be a draw but a big split for Wang in the 10th frame gave the game to Chris who consolidated his third spot.
By the position round, the top two in each section were assured of their places: Bernice Lim of Singapore and Danielle McEwan from the USA, and Martin and Wang. It was the battle for the fourth place which looked exciting in both sections.
Jenny Wegner (Sweden) would play Syaidatul but Lisa John of England was not too far behind fourth and a good game with a win could put her up there. For the men, Chris had an advantage of 80 pins over Anze Grabrijan of Slovenia who had worked his way up into fourth spot. But Petteri Salonen of Finland was a mere five pins behind with David Simard of Canada just 21 pins further back.
Anze bowled brilliantly and ran out the winner by 267 to 195, but neither Petteri nor David could beat Chris's score by enough. So our men finalists are Martin, Wang, Anze and Chris.
For the women, Syaidatul beat Jenny 213 – 200. Lisa won her match but her score was not high enough and she finished just outside the finals, in fifth. Our women finalists are Bernice, Danielle, Syaidatul and Jenny.
These results mean that Sweden wins the top country award, for the fourth time since the award was introduced.
2016/10/22
ABOUT QUBICAAMF WORLDWIDE
QubicaAMF is the largest and most innovative bowling equipment provider in the world with 600 employees worldwide. We build and modernize more bowling entertainment centers than any other company in the industry and have an installed base of more than 10,000 centers in 90 countries. The company has a sales and distribution network with worldwide reach and maintains the largest R&D team for electro-mechanical products, software, electronics, and entertainment systems in the industry.
QubicaAMF has over 100 years of experience and can provide the perfect combination of bowling equipment, products, and services for new or existing bowling entertainment centers, FECs, Cinemas, or any other facility in the hospitality, retail, or restaurant industry. Our ongoing mission is Making Bowling Amazing. We are convinced that bowling has so much more potential to attract and entertain even more people. With our products, we will help our customers fully unleash that potential.
The company has U.S. headquarters in Richmond, Virginia and European headquarters in Bologna, Italy.