News
The Elite 8
We share the top 8 of the tournament as we finish day 5 of the 52nd QubicaAMF Bowling World Cup. The real focus was on the last spot of the final 8, with Chris Sloan of Ireland making a 22nd to 5th place leap. Perhaps the greatest move upward in the history of the World Cup.
The women were first up, all 24 aiming to make it through to the top eight and the round robin tomorrow.
The top four or five were pretty safe, so the interest was in who was going to be in and who would finish just outside in 9th? After four games, it seemed like it was between just three players. Sharon Limansantoso of Indonesia was in 8th, but 124 pins behind Jenny Wegner of Sweden. However, she was just 36 ahead of Lara Posadas of the Philippines and 53 up on Malaysian player Syaidatul Afifahm who was bowling really well.
And indeed, after the next game, Syaidatul was in and Sharon was out, by just one pin. Syaidatul simply extended her advantage and with one game to go it was pretty much all over.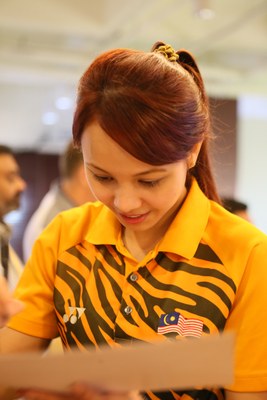 Syaidatul shot the highest set with 1826 over the eight games, every single one of them a 200+, including the highest game of the day, 256.
So our top eight ladies are:
| | | |
| --- | --- | --- |
| Bernice Lim | Singapore | 5985 |
| Danielle McEwan | USA | 5939 |
| Lisa John | England | 5885 |
| Jenny Wegner  | Sweden | 5854 |
| Rebecca Whiting | Australia | 5814 |
| Nadine Geissler | Germany | 5789 |
| Iliana Lomeli  | Mexico | 5781 |
| Syaidatul Afifah | Malaysia | 5776 |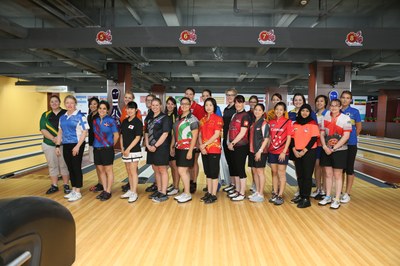 The men's section was by no means as clear cut as the women's. It was nip and tuck all the way for the eighth place. With one game to go, four players could be in or out.
Chris Sloan, the two-handed player from Ireland started the day in 22nd place but bowled superbly all day. By the 24th game he was in ninth and as it happened was playing on the same pair of lanes as Marshall Kent of the USA who was in eighth, just two pins in front. So it was really winner take all. Chris won, even pulling himself up into fifth place with a 237 game. It is believed to be the greatest move upwards in the history of the World Cup.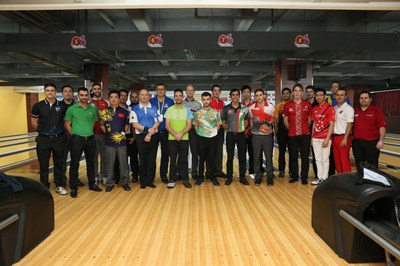 In eighth finished our early leader, Russia's Yan Korshak just, and only just, ahead of Rafiq Ismail of Malaysia who missed out by just one pin.
Results for the top eight are:
| | | |
| --- | --- | --- |
| Wang Hongbo | China | 6018 |
| Martin Larsen | Sweden | 5929 |
| Petteri Salonen | Finland | 5872 |
| Sam Cooley | Australia | 5811 |
| Chris Sloan | Ireland | 5711 |
| David Simard  | Canada | 5710 |
| Anze Grabian | Slovenia  | 5705 |
| Yan Korshak | Russia | 5681 |
Anze, finishing ninth is the best ever finish for Slovenia. And it will be the best ever finish for China, no matter where Wang comes tomorrow.
As well as vying for a place in the round robin as individuals, the players are also competing to be top country. With the top eight in each section now known, there are two countries in with a realistic chance, Sweden and Australia.
Tomorrow sees the round robin with a position round and 30 pins bonus for a win.  Follow all the action live starting tomorrow at 9:00
2016/10/21
ABOUT QUBICAAMF WORLDWIDE
QubicaAMF is the largest and most innovative bowling equipment provider in the world with 600 employees worldwide. We build and modernize more bowling entertainment centers than any other company in the industry and have an installed base of more than 10,000 centers in 90 countries. The company has a sales and distribution network with worldwide reach and maintains the largest R&D team for electro-mechanical products, software, electronics, and entertainment systems in the industry.
QubicaAMF has over 100 years of experience and can provide the perfect combination of bowling equipment, products, and services for new or existing bowling entertainment centers, FECs, Cinemas, or any other facility in the hospitality, retail, or restaurant industry. Our ongoing mission is Making Bowling Amazing. We are convinced that bowling has so much more potential to attract and entertain even more people. With our products, we will help our customers fully unleash that potential.
The company has U.S. headquarters in Richmond, Virginia and European headquarters in Bologna, Italy.