News
The Best of the Best
After an amazing week, we have our champions for the 54th QubicaAMF Bowling World Cup! It's Sam's title in Sam's Town taking home the crown for the men and Australia. For the women, Shannon O'Keefe of USA comes away as top bowler.
Saturday morning dawned and both the women and the men took to the lanes for the round robin to determine the top four to go through to the knock-out finals.
It soon became clear that in both sections the fight was to be over that elusive fourth place. Nadia Pramanik Nuramalina of Indonesia continued her fine form and remained in top spot. Maria Rodriguez of Colombia moved up and up the leader board and claimed second spot. Karen Marcano of Venezuela did not bowl well and dropped down the rankings.
Daphne Tan of Singapore started off badly and was only eighth after four games but then started hitting some good scores, including a 279 in game seven. She was also winning her matches with the extra 30 bonus pins that come with a win.  With one game to go, three players were still in the hunt for two places: Daphne, Shannon O'Keefe of the USA and Li Jane Sin of Malaysia. And with it being a position round, Daphne was playing Li Jane. It was Li Jane who triumphed in that match 239 to 150 and Shannon won her match with a 247. Daphne missed out. On to the final for Nadia, Maria, Li Jane and Shannon.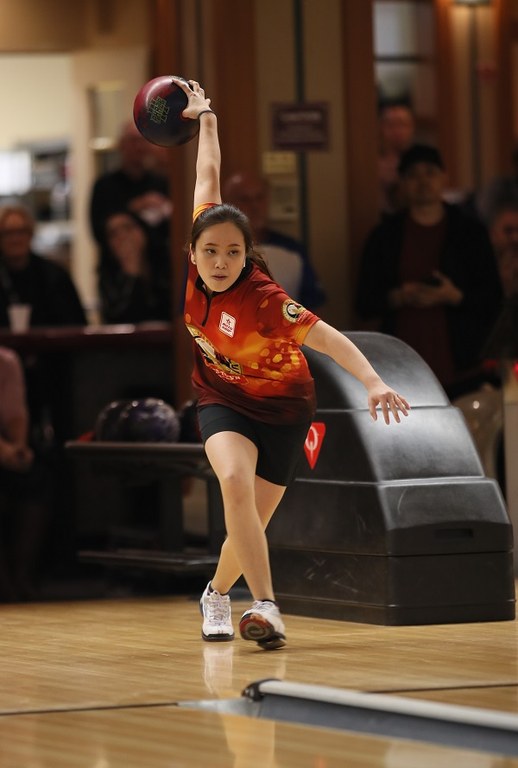 For the men, Kyle Troup of the USA and Osku Palermaa of Finland were always likely to qualify for the finals, but the other two spots were up for grabs. Sam Cooley of Australia hit big scores and won seven out of eight, managing to overtake Osku and bag second spot, although Osku was certain of third. As with the ladies, with one game to go, three players could have got the coveted fourth spot: Yannaphon Larpapharat of Thailand, Ryan Reid of Canada and Andres Gomez of Colombia. Yannaphon was playing Sam, Andres and Ryan were playing each other. Sam won, Andres won, and the scores were such that Andres went through.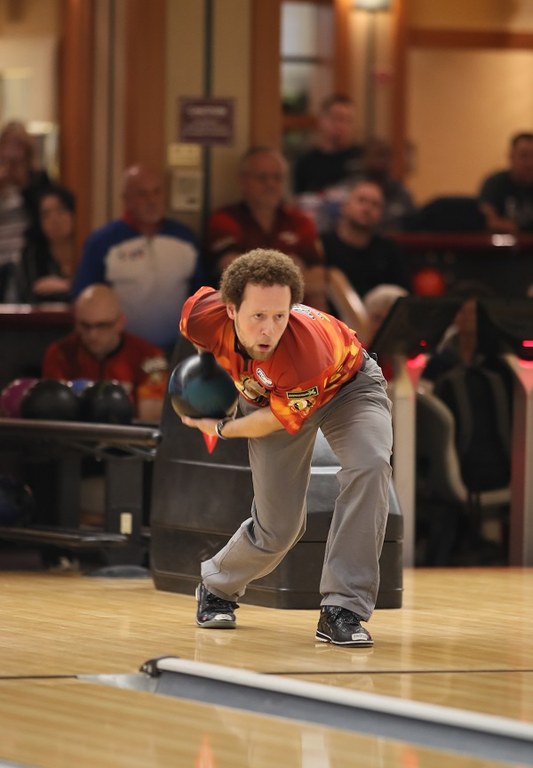 What a women's final!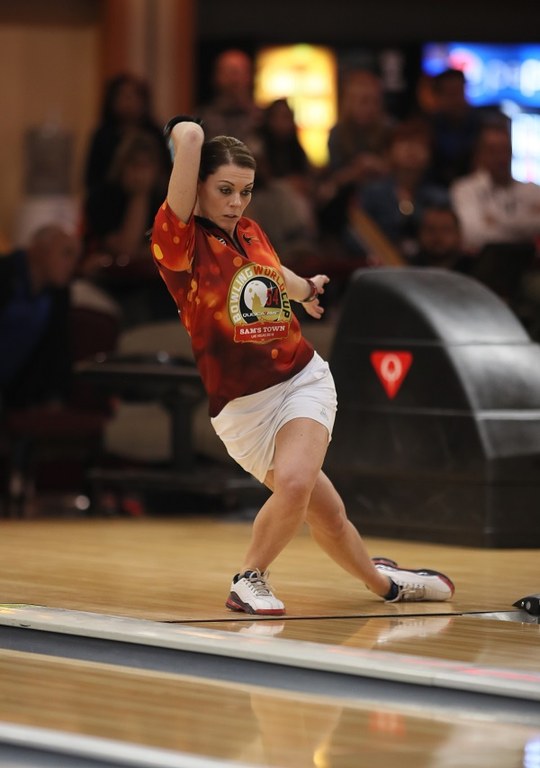 The women were first up for the semi-final and final. The semis were disappointing with easy wins for Li Jane against Maria (207 to 166) and Shannon over Nadia (247 to 202) so Li Jane and Shannon then went on to the final. It was high scoring and nip and tuck all the way. Shannon hit strikes into the tenth frame but Li Jane was still ahead with a strike in the ninth. She needed a spare, strike to win, spare 9 to draw. She got the spare but then could only manage seven, so Shannon ran out the winner, 238 to 236. A magnificent final!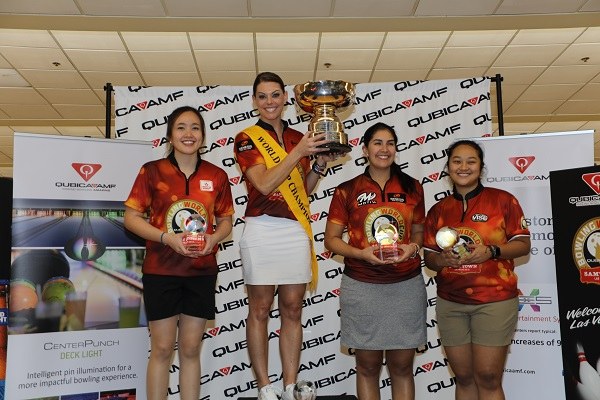 Now for the men
The men arrived. Kyle played Andres – and the prize for top country depended on the result as well as a place in the final. A great game – and Kyle won by 236 to 216. On the adjacent pair of lanes, Sam Cooley blitzed the pins against Osku and won by 240 to 203.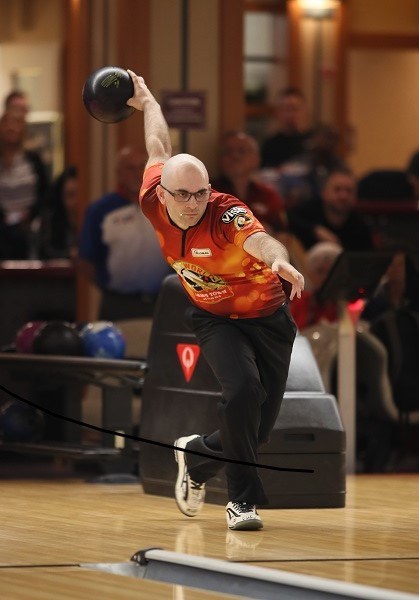 We expected a terrific final but sadly Kyle never found form while Sam just banged in the strikes. It was all over by the eighth frame. Sam hit 244 to Kyle's 163 and fittingly the title in Sam's Town went to Sam.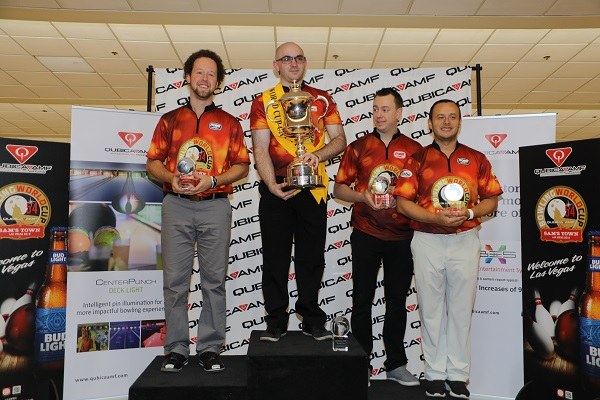 Shannon is the first US woman to win since 2008 while Sam is only the second Australian man ever to win, the first being in 2011 in the person of Jason Belmonte, himself now a star on the American pro circuit.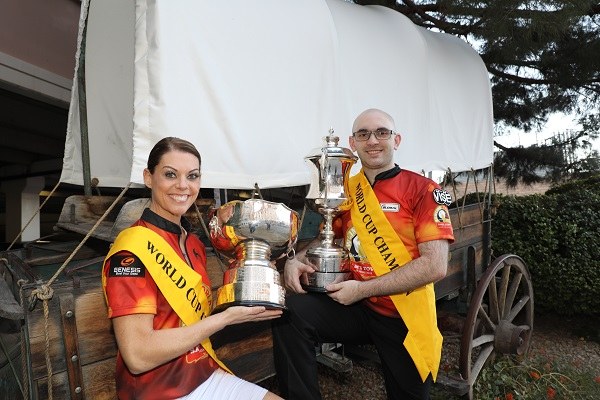 Shannon said afterwards: "The Bowling World Cup is the tournament I have always wanted to play in. I won the US trials in 2008 but they sent someone else so I have been trying for a further ten years to get here. And now to win it is beyond my wildest dreams."
Sam was more reticent: "I have no words!" was his first comment, before going on to say: "Aussie women have won it several times and I'm proud to follow in Jason's footsteps."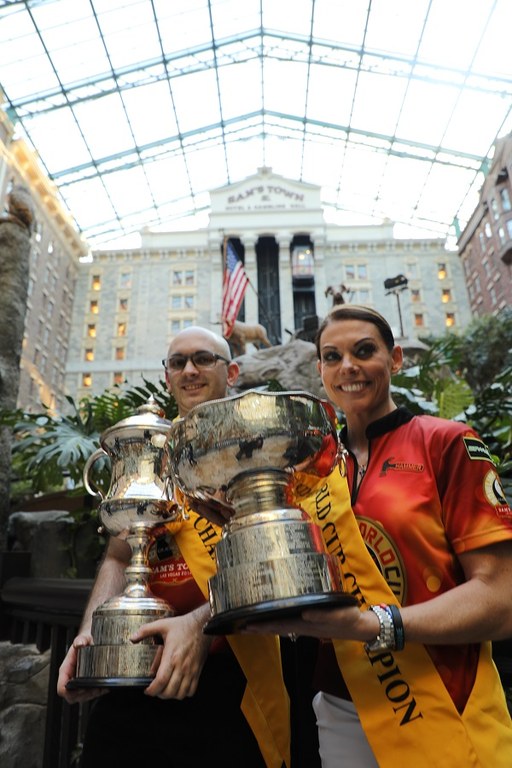 The award for top country went to the USA .
The award for sportsman and sportswoman of the tournament will be made at the victory banquet this evening.
Photo credit: Hiroshi Noda
Story by Judy Howlett
---
---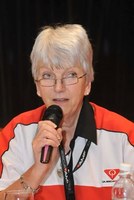 Judy Howlett has represented England and Great Britain several times in her bowling career. She played in the Bowling World Cup twice, coming second in 1985 (Seoul, South Korea). She has been in part of the organising team since 2001.
"I can't believe I am lucky enough still to be involved in the best tournament in the world - the QubicaAMF Bowling World Cup."
2018/11/11
ABOUT QUBICAAMF WORLDWIDE
QubicaAMF is the largest and most innovative bowling equipment provider in the world with 600 employees worldwide. We build and modernize more bowling entertainment centers than any other company in the industry and have an installed base of more than 10,000 centers in 90 countries. The company has a sales and distribution network with worldwide reach and maintains the largest R&D team for electro-mechanical products, software, electronics, and entertainment systems in the industry.
QubicaAMF has over 100 years of experience and can provide the perfect combination of bowling equipment, products, and services for new or existing bowling entertainment centers, FECs, Cinemas, or any other facility in the hospitality, retail, or restaurant industry. Our ongoing mission is Making Bowling Amazing. We are convinced that bowling has so much more potential to attract and entertain even more people. With our products, we will help our customers fully unleash that potential.
The company has U.S. headquarters in Richmond, Virginia and European headquarters in Bologna, Italy.