News
Sportsman and Sportswoman of the Year
The last act of the 52nd QubicaAMF Bowling World Cup was to honor the Sportsman and Sportswoman of the tournament. Selected among their own competitors, Lauriane Celie of France and Mohammad al-Masri of Jordan were recognized.
The last act of the 52nd QubicaAMF Bowling World Cup was to honor the Sportsman and Sportswoman of the tournament
This is an award which is voted for by the players themselves and those who are chosen are rightly proud.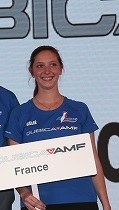 This year the awards went to Mohammad al-Masri of Jordan and Lauriane Célié of France. The awards were presented by the new champions, Wang to Lauriane and Jenny to Mohammad. For Lauriane, it was her first appearance at the World Cup, but Mohammad was with us for the seventh time.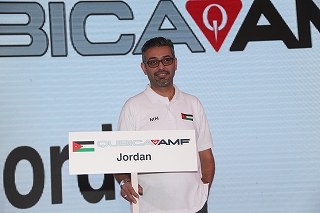 The awards are named in memory of two great supporters of the World Cup. Jacky Felsenstein was a doyenne of the bowling scene in Belgium, and highly regarded by all. Barry James was a British journalist who covered the World Cup for Reuters and produced the World Cup Review for many, many years. The Jacky Felsenstein award goes to the Sportswoman and the Barry James award to the Sportsman.
Congratulations to both recipients! 
2016/10/24
ABOUT QUBICAAMF WORLDWIDE
QubicaAMF is the largest and most innovative bowling equipment provider in the world with 600 employees worldwide. We build and modernize more bowling entertainment centers than any other company in the industry, and have an installed base of more than 10,000 centers in 90 countries. We have a sales and distribution network with worldwide reach and maintains the largest R&D team for electro-mechanical products, software, electronics and entertainment systems in the industry. The company has U.S. headquarters in Richmond, Virginia and European headquarters in Bologna, Italy.
QubicaAMF has over 100 years of experience and can provide the perfect combination of bowling equipment, products and services for new or existing bowling entertainment centers, FECs, Cinemas or any other facility in the hospitality, retail or restaurant industry.
Our ongoing mission is Making Bowling Amazing. We are convinced that bowling has so much more potential to attract and entertain even more people. With our products, we will help our customers fully unleash that potential.
QubicaAMF is the organizer of the QubicaAMF Bowling World Cup, the largest annual sporting event in terms of the number of participating countries, which promotes bowling on a global level. The company celebrated the historical 50th anniversary of the tournament in 2014.