News
How young? How old?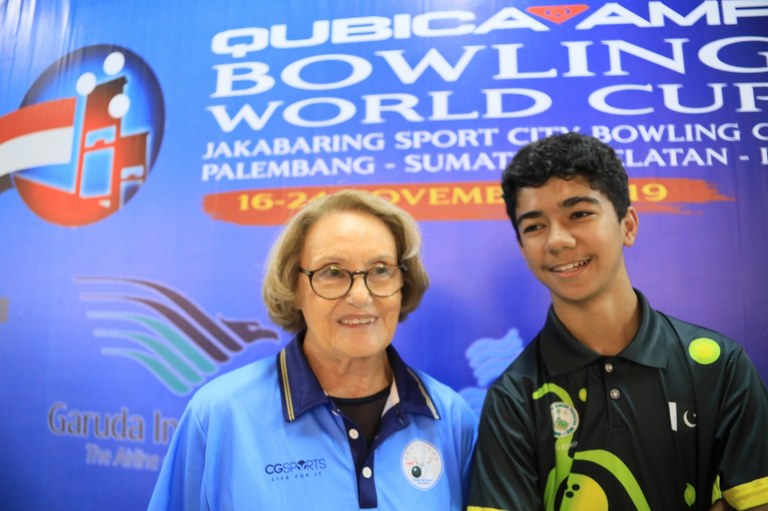 Antonieta Costa is an example for us all as we get older. Not content with undertaking research in her chosen subject of anthropology, she continues to bowl and indeed continues to represent her country.
"I believe in staying involved and keeping fit as far as I can – and why should I let age stop me?" Antonieta is 82 – yes, that's right, 82. She is making her seventh appearance at the Bowling World Cup, and still enjoying it as much as ever.
At the other end of the age scale is Amir Mehmood of Pakistan who is just 15, and indeed just 15 as his birthday is in October. "I'm here with my mother," he told us. "I am so young still that I can only bowl if someone comes with me." Amir is coached by his father and shows talent for the sport. He was not overawed in the first block of six, finishing on a 173 average.
By Judy Howlett
---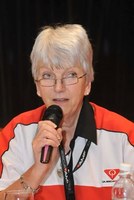 Judy Howlett has represented England and Great Britain several times in her bowling career. She played in the Bowling World Cup twice, coming second in 1985 (Seoul, South Korea). She has been in part of the organising team since 2001.
"I can't believe I am lucky enough still to be involved in the best tournament in the world - the QubicaAMF Bowling World Cup."
2019/11/19
ABOUT QUBICAAMF WORLDWIDE
QubicaAMF is the largest and most innovative bowling equipment provider in the world with 600 employees worldwide. We build and modernize more bowling entertainment centers than any other company in the industry and have an installed base of more than 10,000 centers in 90 countries. The company has a sales and distribution network with worldwide reach and maintains the largest R&D team for electro-mechanical products, software, electronics, and entertainment systems in the industry.
QubicaAMF has over 100 years of experience and can provide the perfect combination of bowling equipment, products, and services for new or existing bowling entertainment centers, FECs, Cinemas, or any other facility in the hospitality, retail, or restaurant industry. Our ongoing mission is Making Bowling Amazing. We are convinced that bowling has so much more potential to attract and entertain even more people. With our products, we will help our customers fully unleash that potential.
The company has U.S. headquarters in Richmond, Virginia and European headquarters in Bologna, Italy.