News
Hao's Bowling Centre owner, Shunwei Zhu, interview
Much hard work and focus on the sport Bowling made Mr Zhu realize his dream to set up the lanes in the arena for the first time in China.
First of all,Thank you and congratulations on hosting an amazing World Cup. Was it nice to have a little rest after so much hard work?
It's really nice to have a rest to recover a little bit.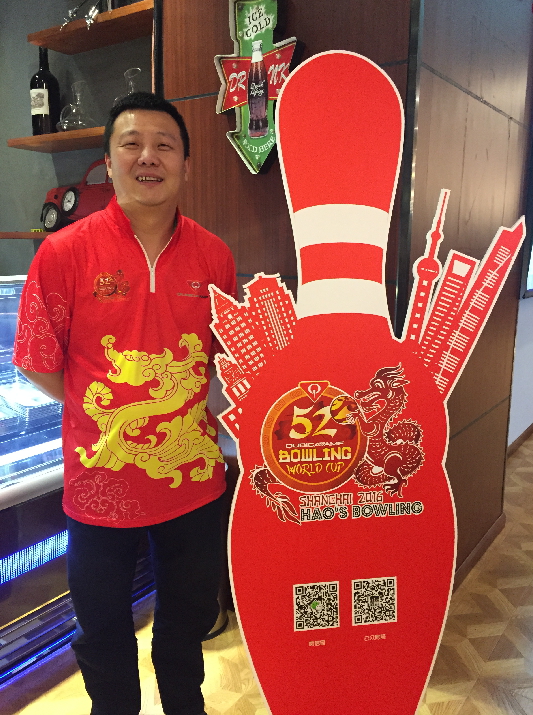 An event this big requires a lot of work, How many hours were you doing during the planning?
I worked 12 hours each day in that period.
How important was this for bowling in China to host such a prestigious tournament?
In 2014, I had this intention to introduce BWC to China. We negotiated several times about all the details in 2015 and then in 2016 we host the Bowling World Cup in Shanghai. 
You did not just host the World Cup, you also hosted the China Open and ABF Tour stop, one after the other. How did you manage to produce three great events?
We discussed with CBA, Alisports and Asian Bowling Association to host these tournaments in the best season of Shanghai to provide a bowling carnival for Chinese.  
To also have a Chinese male winner must have been special for you and your country?
Yes, it's quite special.To have a Chinese male winner can promote the bowling sports to Chinese people,so that more people will know bowling and may like bowling. 
The finals were seen on Chinese TV and you have helped promote bowling to a massive amount of people in your country, What plans do you have next in your bowling center and in Chinese bowling?
The finals were seen on Chinese TV and more than 70,000 people were watching the finals on TV. It's a large TV exposure. And our next step is to cooperate with Storm and CBA to establish a Chinese youth bowling training base for China Bowling Coach, driller and player training program. 
The finals were very impressive. Going back to the planning, Was it always your intention to have lanes set up in your arena?
Yes, I always dream to set up the lanes in the arena that's actually the first time in China to achieve this. 
What made you originally decide to invest in bowling?
I contacted bowling when I was 15. To invest in bowling was always my dream since I was quite young. And then in recent years, I got the opportunities to establish a bowling center in Luwan Sports Complex 
You are the boss and a busy businessman, do you find time to bowl yourself?
Yes, I play about 30 games each week. 
How popular is bowling becoming in Shanghai and in China?
In 1995, bowling sports was quite popular and there used to be more than 2000 lanes in Shanghai. After BWC this year, more and more people are coming back to this sports again. 
When not organizing World events and running your businesses, what things do you enjoy doing outside of bowling?
Actually I don't have too much leisure time, I'm always quite busy. When I have extra time,I always play bowling. 
Finally, What is your favorite or best memory of the 52nd QubicaAMF Bowling World Cup.
I saw my idol, Mika who is the coach of UAE team now. And of course, Chinese player got the Champion this year.
Interview by Dom Gall.
2016/11/15
ABOUT QUBICAAMF WORLDWIDE
QubicaAMF is the largest and most innovative bowling equipment provider in the world with 600 employees worldwide. We build and modernize more bowling entertainment centers than any other company in the industry and have an installed base of more than 10,000 centers in 90 countries. The company has a sales and distribution network with worldwide reach and maintains the largest R&D team for electro-mechanical products, software, electronics, and entertainment systems in the industry.
QubicaAMF has over 100 years of experience and can provide the perfect combination of bowling equipment, products, and services for new or existing bowling entertainment centers, FECs, Cinemas, or any other facility in the hospitality, retail, or restaurant industry. Our ongoing mission is Making Bowling Amazing. We are convinced that bowling has so much more potential to attract and entertain even more people. With our products, we will help our customers fully unleash that potential.
The company has U.S. headquarters in Richmond, Virginia and European headquarters in Bologna, Italy.