News
Colombia's Andres Gomez - interview
The Coolest Cat in Colombia is back. El mejor gato de Colombia está de vuelta.
Andres Gomez has a solid record in the championships having only been outside the top 13 once. A three time PBA champion and owner of a host of World medals Andres will be a player the field will need to watch out for.
Andrés Gómez tiene un record sólido en los campeonatos habiendo estado fuera del top 13 solo una vez. Campeón de PBA 3 veces y dueño de varias medallas mundiales, Andrés es un jugador que quien tendremos que estar muy atentos en el mundo del bowling.
Sam's Town will be your 9th visit to the World Cup, What makes this event different to the others your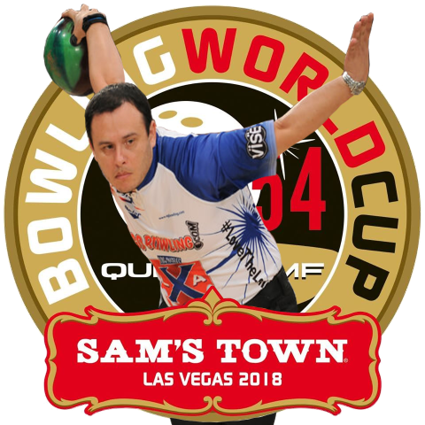 have participated in?
Vegas is always special, and Bowling the World Cup again is a great feel. Colombia has many good players and is tougher and tougher to win team trials.
Sam's Town representa tu 9na visita a la Copa Mundial. ¿Qué tiene de significativo este evento comparado a aquellos en los cuales has participado?
Las Vegas es siempre especial y jugar en la Copa Mundial es grandioso. Colombia tiene jugadores muy buenos y cada vez se hace mas difícil ganar las pruebas de equipo.
Two 3rd placings in 2007 and 2012 and a solid overall record, only once outside the top 13. Will this experience help you in Vegas?
I hope it does. I feel very comfortable at Sam's Town and if I have a good week I should be in contention for the cup
Has logrado el tercer lugar en 2007 y 2012 y tienes un record muy bueno. Solo una vez has estado fuera del top 13. ¿Piensas que tu experiencia te ayudará en Las Vegas?
Espero que sí. Siento mucha confianza en Sam's Towm y si tengo una buena semana, tendré muchas posibilidades para la Copa Mundial.
I guess it is fair to say you are one of your countries best bowling exports ever, where did the sport all start for you and why did bowling become your choice in life?
I started because of my parents. For them it was a hobby. As soon as I had my 1st ball when I was 8 I felt in love with the game and knew I would never stop Bowling. When I became National Champion at age 17 all I wanted to be was a PBA champion and a World Champion.
Supongo que es cierto decir que eres uno de los mejores jugadores de tu país. ¿Cuándo empezaste a jugar y por qué  escogiste el bowling como deporte?
Lo empecé por mis padres. Para ellos era un pasatiempos. Cuando tuve mi primera bola de bowling a los 8 años, me enamoré del juego y supe que nunca dejaría de jugarlo. Cuando me convertí en campeón nacional a los 17 años, todo lo que quería ser era campeón del PBA y campeón mundial.
Who helped you in those early years to improve and what advice has helped you throughout your bowling carrier?
My Dad has been pretty much my only coach. He was coach for team Colombia for a long time.
¿Quién te ayudó a mejorar en tus comienzos y qué consejos te han ayudado a lo largo de tu carrera de bowling?
Mi padre ha sido practicamente mi único entrenador.  Él fue entrenador para el equipo de Colombia por mucho tiempo.
You mention as a kid only wanting to win a PBA title. That came in 2012 in the Carmen Salvino Classic. What did that first win mean to you?
It meant that all the hard work and sacrifices through the years were worth it.  That moment was exactly the way I dreamt about it for so many years!
Dices que de niño solo querías ganar un título de PBA. Lo conseguiste en 2012 en Carmen Salvino Classic. ¿Qué significó ese primer título para tí?
Significó que todo el trabajo duro y los sacrificios sí valieron la pena. Ese momento fue justamente como lo había soñado por tantos años.
For people out there who do not know your achievements, what would you say are your highlights?
3 titles in the PBA National Tour, 7 medals in WTBA World Championships, 86 Perfect Games.
Para aquellas personas que no conocen tus logros en el deporte, ¿cuales dirías que son tus logros más importantes?
3 títulos en el tour nacional del PBA, 7 medallas en los campeonatos mundiales de la WTBA y 86 juegos perfectos.
Having won so much in you career, what drives you to keep going?
Like people say "winning never gets old" I like winning, and every time I shoe up I will try to win.
It meant that all the hard work and sacrifices through the years were worth it. That moment was exactly the way I dreamt about it for so many years!
Después de haber ganado tanto durante tu carrera, ¿Qué te motiva a seguir adelante?
Me gusta ganar. Como dicen "Uno nunca se cansa de ganar." Y cada vez que juego siempre trato de ganar.
Significó que todo el trabajo duro y los sacrificios sí valieron la pena. Ese momento fue justamente como lo había soñado por tantos años.
2018 is looking like a strong mens field with quite a few PBA pros, how will you prepare for this event?
I haven't looked at this year roaster but I look forward to the challenge. I will be bowling few events before the World Cup, so I'll have plenty of competition and practice to be ready for such a prestigious event.
El 2018 se ve que tiene muchos contendientes masculinos profesionales. ¿Cómo te preparas para este evento?
Aún no he visto la lista de este año, pero disfruto el reto. Tendré algunos eventos antes de la Copa Mundial, así  que tendré bastante competencia y práctica para estar listo para un evento tan prestigioso.
What is currently in your bag and what will be going with you to Sam's Town in November?
I haven't decided which balls to take, but I would think that my bag is going to look like this: Halo..
¿Qué vas a llevar contigo a Sam's Town en noviembre?
No he decidido que bolas llevar, pero me imagino que mi bolso se vera así: "Halo"
Having played so many World Cups, which did you enjoy the most and what is it about the event that makes it special to many?
The one that I enjoyed the most was the one in St Petersburg where I finish 3rd. A friend from Russia who's married to a Colombian brought her whole class room to the finals to cheer me on with the Colombian flag. I had to idea, it was  such a great moment. 
I think this event is special because, first, it's only 1 player per country, only the best get to bowl, and second there are over 80 countries participating, we get to compete and to meet all these wonderful people
Después de haber jugado en tantas Copas Mundiales, ¿Qué has disfrutado más y por qué piensas que es tan especial para muchos?
El que más me ha gustado fue el de St. Petersburg, donde terminé de tercero. Una amiga de Rusia que está casada con alguien de Colombia llevó toda su clase a la final para vitorearme con la bandera colombiana. Fue una sorpresa maravillosa.
Pienso que este evento es espeacial para muchos porque, primero, hay solo un jugador por cada país, así que solo el mejor puede jugar. Y segundo, porque hay más de í80 paíiíses participando. Tenemos la oportunidad de conocer a tantas personas maravillosas.
A life in bowling, does that leave time for other things? When not surrounded by the sport, what do you like to do?
It barely leaves any time. If I'm not practicing or competing somewhere, I'm working for Storm as Sales Rep for Latin America, or taking care of a customer on any of the 3 Proshops I have in South Florida.  Outside the Bowing world, I try to spend as much time with my family. I have 2 beautiful kids 2.5 and 1.5 years old, Isabella and Chris which are so much fun
Toda una vida en el bowling! ¿El deporte te deja tiempo para otras cosas? ¿Qué te gusta hacer?
Casi no me deja tiempo. Si no estoy participando o compitiendo en algún lado, trabajo para Storm como representante de venta para Latinoaméerica o me ocupo de los clientes en cualquiera de mis 3 Proshops que tengo en el sur de Florida. Fuera del mundo del bowling trato de pasar tiempo con mi familia. Tengo dos hermosos hijos, Isabella de dos años y medio y Chris de un año y medio que son un encanto de graciosos.
Yes having been a staff member with Storm Bowling for many years, which balls over the years have been your most successful?
Yes, many years on Storm's staff, 17 to be exact. Top 3 have to be Hy Road, IQ Tour and Alphacrux
Siendo un miebro en el equipo de trabajo de Storm por tantos años, ¿Qué   á¿Qué   ácuales bolas consideras las mejores?
Si, muchos años trabajando para Storm, 17 años, para ser exacto. Las tres mejores tienen que ser Hy Road, IQ Tour y Alphacrux.
As you mature as a bowler, do you do much fitness training or do you get that from being on the lanes?
I have tried all my career to be in good shape. I wish I had more time to work out, but I do run 3 times a week and I watch what I eat most of the time, of course, on the road is tougher always.
¿Cómo te mantienes en forma?
Siempre he tratado de estar en buena forma a lo largo de mi carrera. Quisiera tener mas tiempo para ejercitar pero si corro 3 veces a la semana y me cuido mucho de lo que como. Aunque se hace dificil cuando estas de viaje.
Finally Andres, what has been the best advice you have been given that you still follow today?
Best advise was, "be kind, stay humble and enjoy life to the fullest" I try to do that every day.
Finalmente, Andrés, ¿Cuál ha sido el mejor consejo que has recibido y que aún sigues?
El mejor consejo fue "Sé amable, humilde y disfruta de la vida al máximo." Trato de hacerlo siempre.
Interview by Dom Gall
---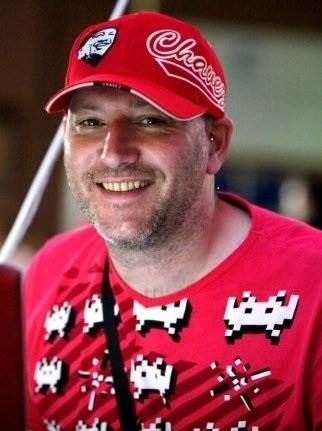 Dominic Gall is a former bowler and founder and content manager for Talktenpin.net since its birth in 2006.
He has reported, Interviewed and Live Streamed many tournaments Worldwide and in 2013 formed the UK
Tenpin Hall of Fame. Collaborating with QubicaAMF on the World Cup since 2015.
"To be a part of the history in a small way is something special."
2018/09/10
ABOUT QUBICAAMF WORLDWIDE
QubicaAMF is the largest and most innovative bowling equipment provider in the world with 600 employees worldwide. We build and modernize more bowling entertainment centers than any other company in the industry and have an installed base of more than 10,000 centers in 90 countries. The company has a sales and distribution network with worldwide reach and maintains the largest R&D team for electro-mechanical products, software, electronics, and entertainment systems in the industry.
QubicaAMF has over 100 years of experience and can provide the perfect combination of bowling equipment, products, and services for new or existing bowling entertainment centers, FECs, Cinemas, or any other facility in the hospitality, retail, or restaurant industry. Our ongoing mission is Making Bowling Amazing. We are convinced that bowling has so much more potential to attract and entertain even more people. With our products, we will help our customers fully unleash that potential.
The company has U.S. headquarters in Richmond, Virginia and European headquarters in Bologna, Italy.