News
52nd QubicaAMF World Cup Officially Opened
Saturday marked the official start of the 52nd QubicaAMF World Cup. With the banging of the ceremonial drum and parade of 83 competing countries the tournament is under way!
The ballroom in the Huating Hotel in Shanghai was the venue for the official opening ceremony for the 52nd QubicaAMF Bowling World Cup. And what a show it was.
The bowlers from the 83 competing countries marched in, each to a backdrop of their own flag and to applause from the packed ballroom.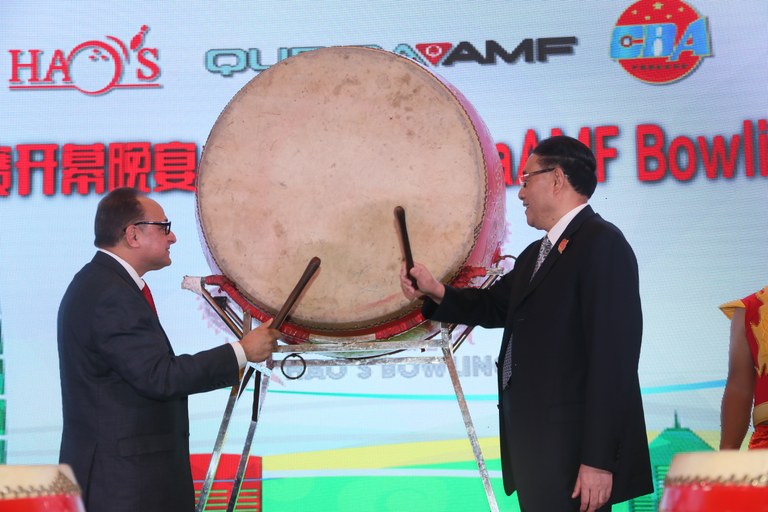 Special mentions went to the two returning champions: Clara Guerrero of Colombia is the defending champion having won in 2014 and 2015, while Aumi Guerra from the Dominican Republic has also won the title twice (2010 and 2011); and to Georgia competing for the very first time being represented by Merab Akoubardia.
Official speeches followed, before Juan Cabezas, President and Chief Growth Officer of QubicaAMF, invited Mr, Wu Qi, President of the Chinese Bowling Association, to join him in banging the ceremonial drum to officially start the tournament.
Then followed a tremendous floorshow, featuring a display of Chinese drumming and agile Kung Fu dancers.
Official practice will take place on Sunday with the tournament itself starting on Monday with the first set of qualifying games.
2016/10/16
ABOUT QUBICAAMF WORLDWIDE
QubicaAMF is the largest and most innovative bowling equipment provider in the world with 600 employees worldwide. We build and modernize more bowling entertainment centers than any other company in the industry and have an installed base of more than 10,000 centers in 90 countries. The company has a sales and distribution network with worldwide reach and maintains the largest R&D team for electro-mechanical products, software, electronics, and entertainment systems in the industry.
QubicaAMF has over 100 years of experience and can provide the perfect combination of bowling equipment, products, and services for new or existing bowling entertainment centers, FECs, Cinemas, or any other facility in the hospitality, retail, or restaurant industry. Our ongoing mission is Making Bowling Amazing. We are convinced that bowling has so much more potential to attract and entertain even more people. With our products, we will help our customers fully unleash that potential.
The company has U.S. headquarters in Richmond, Virginia and European headquarters in Bologna, Italy.