News
1979 Champion Bong Coo - a female legend of the Philippines
"Representing the Philippines in the World Championships is a very rare privilege. One must be very prepared physically and mentally when competing with the champions of other countries. Do not leave anything to chance."
If having a male legend was not enough, the Philippines have a female legend also. That woman is Bong Coo and she is pretty amazing. The 1979 World Cup winner in Bangkok went on to win loads more and inspire and teach generations of bowlers.
With a Rubber ball in 1979 you win the World Cup with a record breaking 649 and book a place in bowling history. Same year you collect doubles Gold in the World Championships. Almost 40 years later. What has it been like living with these honors?
I feel very accomplished having won such a prestigious tournament. Topping the 24 games All Events of the 1979 World Championships was listed in the Guinness Book as a world record. I cannot really explain my feelings, all the rigid training and hours spent preparing paid off. I was more than happy, I felt so blessed.
Here in the Philippines with all the medals I have won internationally for my country, I am considered as a National Sports hero, a bowling legend. OMG!!!
By law, any Philippines athlete who wins a recognized world championship receives 2.5 million pesos and you invested your funds into a business you still run today. How did it actually feel at the time to win so much money?
During the time I won the world championships,  the Philippine Law was not yet enacted.  However, after Republic Act 9064 was passed into law, I was able to get 50% of the incentive due for the medals I won in retro.
When I won the World up in 1979, I was given a Toyota car by our team manager Mr. Pablo Carlos, the president of Toyota. At that time having my own car was simply awesome. I also got a few cash incentives from some sponsors.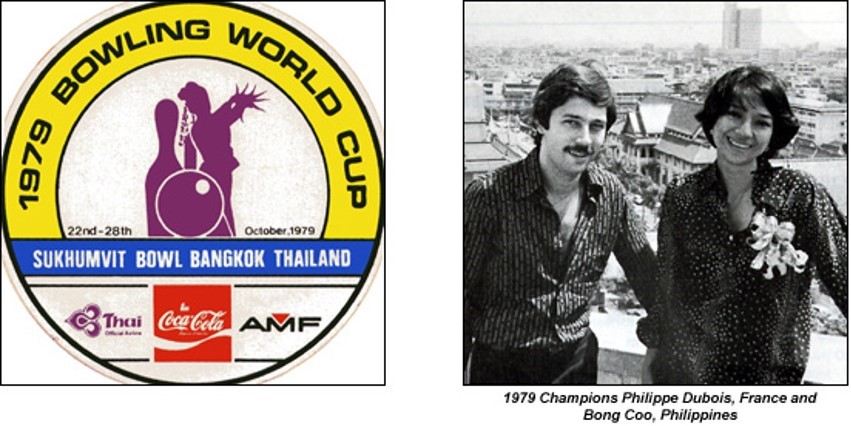 What was you experience of that World Cup in Bangkok other than the win? Were you confident going into the championships and did qualifying go as you planned?
I trained hard for the World Cup because I wanted a back- to – back win for the Philippines since my doubles partner Lita de la Rosa won the World Cup  in Bogota the previous year. It was not an easy win, but with God's grace I won the World Cup with a 649 series and breaking the 3 game finals series of 621 established by USA's  Lucy Giovinco when she won the World Cup in 1976.
Although in concentration on the lanes, were you able to make friends with other bowlers off the lanes? 
Yes off the lanes I was a normal friendly bowler. I made friends with bowlers of other nations. Thanks  to social media, I am still in contact with some of them through Facebook.
Stating in a Bowlers Journal interview with Gianmarc Manzione you said "I married when I was 17, and got divorced when I was 21," "Bowling was therapy after my divorce." where did bowling actually start for you and what was it about the sport you found appealing?
Bowling started as a family affair, my siblings saw that I was very depressed because of my separation, they dragged me to the bowling lanes because they wanted me to just get out of the house and have fun. Before I knew it I was already bowling everyday with the coaching of my brothers I joined the leagues. The asked myself how can my children be proud of me? And it dawned on me that the chance to be in the Philippine Team and do service for my country through Sports would be a good idea. I was determined to turn an adversity into an opportunity. I practiced every day coached by my brother. I qualified for the Philippine Team in 1970.
In 1971 I won my first international major title, the 1st Asian FIQ Invitational Ladies Masters held in Manila. In 1972 I was dubbed the Asia's Bowling Queen because I won 3 International Masters Title in a span of a month held in Singapore and Malaysia, which included 5 gold medals in the 1972 Asian Zone FIQ held in Kuala Lumpur…  rest is history.
You won so much in your career, from Guinness book of Records entry to the World and Asian honors, where does the Bowling World Cup rank in these achievements?
The World Cup will always be special to me.  It was my first World title, I took me 5 tries to make it as the Philippine representative to the World Cup. I was always second in the National eliminations for 4 years. When I finally made it, I said to myself I have to win this. I practiced with my Japanese coach Madoka Amano daily and  went for  fitness training and mental conditioning as part of my preparation…
I prayed a lot too. It was a dream come true.
You have given back to a sport that has given you so much, some of this in the 80+ medals you have helped win for your country including having your syllabus approved at University of the Philippines by the Philippine Department of Education in 2001. What do you enjoy most about teaching bowling?
Bowling is my Life. Seeing young bowlers taking up the sport close to my heart is so fulfilling. I owe so much of what I am now to Bowling. I never remarried, I married the sport. My eldest son is a champion bowler, a USBC Certified coach and opened a bowling pro shop. I am currently put up  BC BEST  ( Bong Coo Bowling Education and Skills Training ) and, together with some USBC certified coaches, we are  mentoring some young bowlers honing their skills to be future National players.
I am still teaching sport bowling in he University of the Philippines, College of human Kinetics ( a State University ) as part of their Physical Education class,  with my coaching staff Orlean Batistil, Reynaldo Reyes, my son Edward Coo all of them Silver certified Coaches.
2017 in Hermosillo saw your country gain another champion with Krizziah Lyn Tabora claiming the ladies title against some very tough finalists. The sport has changed so much from the time you won with just one ball. What advice do you give to young Filipinos participating in a Bowling World Cup?
Representing the Philippines in the World Championships is a very rare privilege. One must be very prepared physically and mentally when competing with the champions of other countries. Do not leave anything to chance. Make sure you bring the bowling balls that are drilled for any lane condition you may encounter. Having the right equipment is very critical at these times in competition. First to adjust to lane condition wins so stay focus on the task at hand. Have a positive attitude.
Pray without ceasing. For situations you have no control, ask God to help you through.
Romans 8:28 says --- We know that in everything God works for the good of those who love him.
The Bowling World Cup has now been running this year for fifty four years. Why do you think the event is still held in such high esteem after so many years?
The World Cup is a very prestigious tournament. I think it is because it is a singles event and one has to go through so many elimination process to make it to the top.  The tournament is very well managed and has a very good media exposure.
It is hard to imagine someone who has achieved so much and gives out words of advice to many others originally had advice given to her but what has been the best advice you have ever been given? 
I learned this formula from Vesma Grinfelds when she coached the Philippine Team in 1981 Southeast Asian Games held here in Manila. I won 4 golds and 2 silvers in this tournament.
D + D = R + R  translated it means Discipline and Dedication Equals reward and Recognition
Fitness is now playing a massive part in todays bowling, what sort of fitness training did lady bowlers do back in your early career?
This is weird but – as part of my preparation for the World Cup I spent my physical training for muscle strengthening and conditioning at the hospital rehabilitation center because my sports medicine doctor – Dr Tyrone Reyes wanted to closely monitor my fitness program to prevent any injury.
However in other cases I spent my regular progressive performance training in the gym at the Philippine Sports Commission Training Center.
I also spent regular sessions with a sports psychologist for mental conditioning which consist of mostly visualization, hypnosis and meditation.
You have now had a lifetime inside a sport and dedicated so much time to, have you found time to have a life out of the sport and what things have they been?
To say that bowling has taught me a lot in life is an understatement, as I've spent most of my years in bowling lanes. At first, I was just a student, who was hungry to learn; next, I became an athlete, who wanted nothing more than to win gold medals for my country. And, when that long and fruitful career of mine was over, I got into teaching the sport I love so much in UP, coaching younger bowlers, and presently, I'm the Secretary General of the Philippine Bowling Federation, the National Sports Association for bowling in our country. It is one great full circle, I tell you –
I still have time to party with my family and friends. I now have 6 grandchildren most of them are already adults.
I serve in Catholic Charismatic Community spreading the Word of God through Bible Study weekly.  
I am a partner in an sports apparel business – The Bowler International so I spend most of my time now supervising the shop.
Finally, for people who have never tried bowling, what would you tell them?
Bowling is fun and competitive. Involvement in sports is a means to help teach the youth some great skills so they can become successful contributors to society. Bring your kids to the bowling center and start them young. D and D = R and R …….
Interview by Dom Gall
---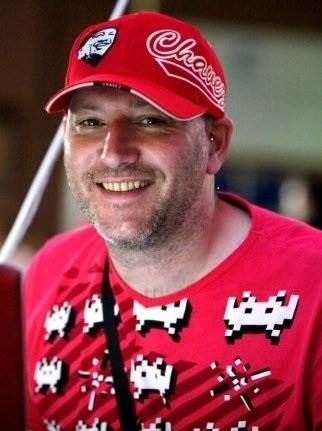 Dominic Gall is a former bowler and founder and content manager for Talktenpin.net since its birth in 2006.
He has reported, Interviewed and Live Streamed many tournaments Worldwide and in 2013 formed the UK
Tenpin Hall of Fame. Collaborating with QubicaAMF on the World Cup since 2015.
"To be a part of the history in a small way is something special."
2018/07/09
ABOUT QUBICAAMF WORLDWIDE
QubicaAMF is the largest and most innovative bowling equipment provider in the world with 600 employees worldwide. We build and modernize more bowling entertainment centers than any other company in the industry and have an installed base of more than 10,000 centers in 90 countries. The company has a sales and distribution network with worldwide reach and maintains the largest R&D team for electro-mechanical products, software, electronics, and entertainment systems in the industry.
QubicaAMF has over 100 years of experience and can provide the perfect combination of bowling equipment, products, and services for new or existing bowling entertainment centers, FECs, Cinemas, or any other facility in the hospitality, retail, or restaurant industry. Our ongoing mission is Making Bowling Amazing. We are convinced that bowling has so much more potential to attract and entertain even more people. With our products, we will help our customers fully unleash that potential.
The company has U.S. headquarters in Richmond, Virginia and European headquarters in Bologna, Italy.