News
Mel Isaac - Memories from Sixteen years ago
"Winning felt amazing; - as it always does whenever you win at anything! I also couldn't wait to tell my parents who have always supported me 110%. Someone lent me their mobile to make the call as mobiles weren't as widespread as today. How old does that make me sound!? But thank you to that person and telling my dad 'I had done it.' It was very emotional."
The beauty of the Bowling World Cup is a young person from a small town in a small nation can conquer the globe. Mel Isaac from Wales did something only an illustrious few can claim, to be a World Champion. Back in the Millennium year of 2000, Mel beat a future two time champion and booked her place in history.
Two years later and a car accident changes everything.
Sixteen years ago, you won the biggest event in the World. What do you remember of that day all those years ago?
I remember feeling very proud to represent Wales and trying to do my best and enjoy the competition. For the finals I remember thinking very positively and I tried to stay in the moment. I'd won European medals before at youth level so I was used to playing under a bit of pressure.
I qualified in 6th place. I started bowling well when it got to top 24 and I was feeling increasingly positive.

Leading up to the 2000 event, what training had you done and who was coaching you at the time, was there a game plan?
I didn't have a coach at the time. Other than coaching with a national team I've never had a personal coach. I was playing in a singles scratch league in Tonyrefail which I really enjoyed and I tried to practice 2-3 times a week. In my teenage years I played pretty much every day and much of my practice was with Gemma Harding (nee Burden) as we lived in the same town. She also won the World cup as you know. My game plan as always was to average over 200. I think if you do that you'll always be close.
As you say you qualified in 6th and took out Australian former champion Anne Marie Putney in the quarter finals 2-0 you went on to face a friend in England's Kirsten Penny. Was it tough facing Kirsten with a place in the final up for grabs?
At the time I knew Kirsten quite well. I respected her as a person and bowler. I tried not to think about who I was playing all I could affect was my own game and I tried to concentrate on that. I simply tried my best and did that regardless of the opponent. I also hate losing!
So onto the final against Colombian Clara Guererro. At what point in that close final game did you see the chance to grab the title?
I lost the first game to Clara and only shot a 150 something. I remember saying to Terry Richards who was on the lane with me that it wasn't a bad game and I wasn't far off. I really tried to concentrate on game 2 and not panic! I knew I had to win game 2 so in that sense I had nothing to lose. Game 3 was more of the same though I remember my hand shaking. I had got back in the match and was trying to take it one ball at the time. I felt positive and believed I could do it.
A simple question now, How did it feel to win the AMF World Cup?
Winning felt amazing; - as it always does whenever you win at anything! I also couldn't wait to tell my parents who have always supported me 110%. Someone lent me their mobile to make the call as mobiles weren't as widespread as today. How old does that make me sound!? But thank you to that person and telling my dad 'I had done it.' It was very emotional.
Did you get much time in Portugal to enjoy the country and people or were you focussed on the tournament?
I didn't get that much time to enjoy Lisbon. I guess you never do, you see small parts very briefly but it's not a holiday. We went to Portugal for a holiday in 2015 and we visited Lisbon. I think I will always have fond memories of the city and country.
Did the win change anything for you afterwards in terms of media coverage and sponsors
I was invited to play at the Malaysian Open which I did and I was interviewed for an article in the Guardian about unknown sporting champions. I also played twice on the Sky Sports World masters. However I wasn't a full time bowler and I didn't really chase media coverage or sponsors. Bowling has always been a hobby that I enjoyed. I also got invited to welsh sports personality of the year and took my dad which was pretty cool.
What does it mean to have your name on a piece of bowling history?
I'm proud of the achievement. It happened in a part of my life I refer to as B.C (before children). I spent so much of my child and young adulthood bowling it's nice to think I succeeded on some level.
Succeed you did and a candidate for a UK Tenpin Hall of Fame place one day. When you look back at B.C and your bowling career, what events did you win that made a cake to put this World Cup cherry on?
I have a silver medal from the team youth championships in 1992. (Belgium) I won the individual youth triple crown in 1993. (Ireland) I have a bronze from the 1994 European youth championships doubles and a gold in the team. (Finland) I won the adult individual event triple crown in Wales in 2002 and various university medals. The World cup 2000 was my first adult solo competition and it has certainly been the one I reflect on most.
Besides the bowling success on the lanes in Portugal, what is it about the World Cup that makes it a special event for so many?
The World cup is the only event over so many games for an individual and I think that makes it special. As of course do the people and the sense of history that the World cup has.
A couple of years after the win you retire and in time start a family, after fourteen years retired you came back in 2016 for a summer league. Did you ever miss the sport and how has the comeback been?
In the spring of 2001 I was in a high speed car accident. I was in the back of the car and my neck and back were injured. I tried to play after that but I was in a lot of pain and unable to do what I felt was my best. At the end of 2002 I felt I needed to let it go. (No frozen pun intended).
Of course I missed the sport it had been so intrinsic to my life for so many years. I had been very lucky to travel and meet amazing people, all whilst doing something I passionately enjoyed.
My life of late has and will continue to be focused on family. I didn't have my first child until 2007 and have two now. I am incredibly proud of them and alongside my other half we strive to provide a consistent and loving childhood so they can grow. Hopefully enabling them to follow their dreams, whatever they may be and become decent human beings.
I have really loved playing again. I was so nervous the first time but equally had a huge smile on my face, like a kid in a sweet shop! So thank you to the boys (now men) that remembered me and enabled me to be a sub in their doubles league. Who knows I'll be eligible for the seniors in around 9 years and the kids will be 19 and 17 so maybe my silver years will be the time for a comeback!
Do the kids know you are a World Champion?
The kids know although I think they only recently believed me! The replica World cup I was given is at my parents. It felt right to give something back to them. My daughter has picked it up on a few occasions. My mum still avidly cleans it. My boy is truly competitive and people comment upon it. I haven't the heart to tell them it's probably in the genes. Not many of the people who see me day to day know about that part of my life.
When you look back now at that life if bowling, do you get kind of proud of what a girl from Wales achieved in a short space if time?
I suppose I did achieve a lot in a short space. Of course I'm proud but I played for England from the age of 13. Wales didn't have a team. I also won national tournaments at youth and adult level so I had success before; granted it was not as big as the World cup but I was extremely consistent. I remain proud of all Welsh (and the home countries) achievements in whatever sport. Having played to a high level you appreciate the hours of training and the level of commitment needed.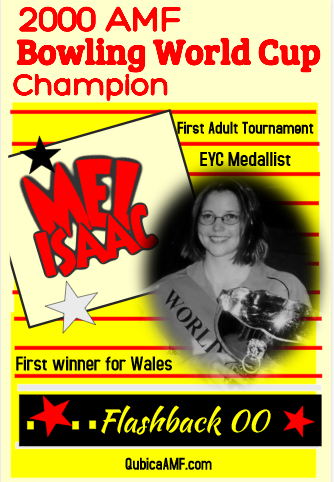 Finally Mel, It can be hard for champions and bowlers to "let it go" as you said earlier, You and many others are proof there is life outside of competitive play. What advice can you give to bowlers who for whatever reason are at a crossroads in their careers?
That's a tough one. I guess it's about perspective and shifting focus. I truly believe if we can make a positive difference to one person's life then we have achieved something. Sometimes we get caught up in the bigger picture and it becomes unobtainable. It's great to have dreams and follow them but little steps and appreciating what you do have, can be key.
Interview by Dom Gall
2017/03/15
ABOUT QUBICAAMF WORLDWIDE
QubicaAMF is the largest and most innovative bowling equipment provider in the world with 600 employees worldwide. We build and modernize more bowling entertainment centers than any other company in the industry and have an installed base of more than 10,000 centers in 90 countries. The company has a sales and distribution network with worldwide reach and maintains the largest R&D team for electro-mechanical products, software, electronics, and entertainment systems in the industry.
QubicaAMF has over 100 years of experience and can provide the perfect combination of bowling equipment, products, and services for new or existing bowling entertainment centers, FECs, Cinemas, or any other facility in the hospitality, retail, or restaurant industry. Our ongoing mission is Making Bowling Amazing. We are convinced that bowling has so much more potential to attract and entertain even more people. With our products, we will help our customers fully unleash that potential.
The company has U.S. headquarters in Richmond, Virginia and European headquarters in Bologna, Italy.