News
2016 USBC Queens champion Bernice Lim from Singapore - interview
"Everyone should try bowling at least once in their life because it is not as easy as it seems! A lot of my friends have the misconception that it is so simple to roll a ball down the lane and hit some pins but when they actually do it, they finally understand the physical and mental challenge behind the game. And also because it is a fun activity to do with a group of friends ."
With just a few days to go we got a chance to speak with another favourite in the woman's event in Shanghai. Singapore's Bernice Lim is a Queen now having won the USBC Queens title in the USA earlier in 2016. She is now looking to adding the World Cup to a great year and maybe even Female World Bowler of the year. One thing is for certain, with Bernice in the field Singapore have a great chance of a win.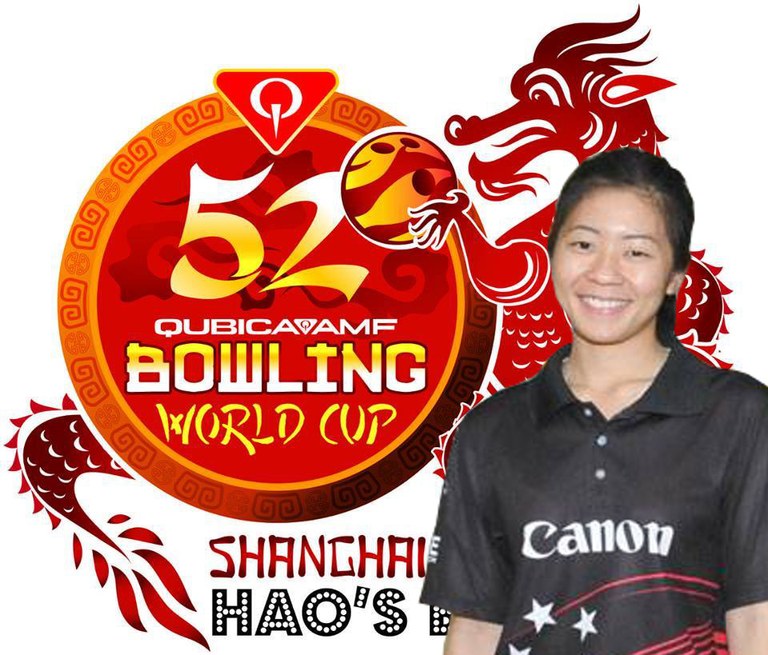 Congratulations on your participation in Shanghai, the tournament is in Asia this year and a shorter trip for you will this help you in anyway?
It would definitely help a lot as we wouldn't need to deal with the jet lag!
A fantastic year it has been for you already. Winning USBC Queens, is that win still sinking in?
Yes for sure. At the recent Asian Bowling Championships in Hong Kong, a few local league bowlers/bowling fans actually recognised me and congratulated me on the win. I still get chills when that happens, it's so surreal. It was such a huge tournament especially in women's bowling and I'm definitely honoured to hold the title.
What was the reaction to this amazing win back in your home country of Singapore?
My friends and family were really happy for me. I think my parents were more excited for me than I was! When we're at training, little school girls would come up to me and ask for my autograph or to take a picture with me. It really is such a great experience and honour to be recognised and looked up to.
To relax you used a Rubik's cube, where did the idea come from?
I was actually trying to master it quicker, having learnt it only beginning of this year at the Emir Cup. I was just practicing it during the Queens qualifying, and I found that it helped me to refocus and keep my mind sharp. It became part of my routine and I would solve it in between shots. I think the main reason it worked for me because solving it requires looking at the cube from different perspectives, and that definitely translated into my mindset for bowling.
For some who may not know your achievements so far. What are your career highlights?
I would say that winning the Queens has been the biggest achievement in my career so far. Other than that, I won a Gold medal for Singapore at the Southeast Asian Games; I won 3 Gold medals at the Asian Youth Championships; I won Indonesia Open twice; I won the Singapore National Championships twice; and have brought home medals for Singapore at the World Championships and World Youth Championships.
What preparations have you made for Shanghai, did you change your training in anyway? Indeed, what is that training?.
We just got back from the Asian Bowling Championships a week ago, so these 2 weeks leading up to the World Cup is just for me to recalibrate my timing, and get back into a good flow to compete again.
I was actually in Indonesia when you won your first open there, How different are you a bowler from those early days?
I would say that I've become more consistent at shot making, I've learnt to be more versatile in adapting to different lane conditions, and I have a much better understanding of my equipment. I've also experienced a lot of success and failures (as most athletes do) since that first win, and there were always lessons to learn from each and every one.
Where did bowling start for you and what made you go back for more?
I started bowling with my family recreationally over the weekends and eventually joined a bowling academy. A little less than a year after that, the Singapore Sports School had just started and were enrolling their first batch of students. You could call it good timing, I went for the selection trials and got accepted. Since then, it's been bowling all the way for me.
Who has helped you improve up to today, here is a chance for you to thank some people?
I was stagnant for a really long while since transitioning from a youth to the adult stage. During those few years, Remy came on board as a coach and helped me in build up my game, pushing me out of my comfort zone to step up and be confident enough to compete at the higher stage. I started to win quite a number of competitions and that added to my self-confidence, which was what I needed. We've also had a lot of support from SportSingapore in terms of strength training, psychology sessions, and recovery sessions. I felt that this holistic support helped groom our team into one of the world's best. Bowling now has become so much more than just being able to throw the shot on target. Being able to have the strength and stamina to last throughout the day is important, keeping your mind sharp and knowing how to recover mentally after a bad game is what keeps you on top. The last 2 years or so when we started to compete in the US, Storm was a major contribution in me growing to be the bowler that I am today. The support we had from Steve and Jimmy really helped me expand my knowledge on equipment. Aside from the bowling circle, my parents have been very supportive throughout the pursuit of my career. Whenever I don't bowl too good, they always only have encouraging words to say.
What equipment do you plan to use in China?
I'm planning to bring a variety of bowling balls. I believe it's important to have balls that give you different shapes on the lanes so that I have versatility. Just to name a few, I have my trusty Lock (which I won Queens with), Alpha Crux, Rocket ship, and Hypercell Skid.
When not bowling, what things do you enjoy?
I enjoy reading, yoga, boxing, and trying out other sports.
What is a typical week for you in terms of the percentages of physical training, psychology, Recovery, laneplay and equipment education?
We have on-lanes training from Monday-Friday, and lane play or equipment will depend on the season and our competition schedule. If we're nearing a competition we will do lane play and equipment preparation. Off season we usually work on fine tuning our physical game and expanding our skill set to increase our versatility. Strength and Conditioning sessions are 3 times a week, either before or after bowling practice. I would usually check in with our psychologist before and after each competition, and once a month off season. Recovery sessions like sports massage and injury rehabilitation are at our own pace. Personally, I would schedule a sports massage twice a month or before and after each competition to loosen up my muscles. I'm currently on the road to recovery from a knee injury so I'm seeking physiotherapy and rehabilitation treatment at least 2 times a week.
What goals do you still have in the sport on a personal level and for your country?
For myself and my country, I would like (my team and I) to be the top team in the world. In the recent years, we have had good consistent showings at the World Championships and previous World Cups. As the game is always changing, there is constantly new things to be learnt and new standards to be reached. So the goals I would set for myself and Singapore is to always strive to be at the top of our game.
Back to Shanghai and the womans field this year, we have two players looking for their third World Cup titles and a host of strong World players, During the early blocks, while concentrating on your own game, will you watch how others are attacking the lanes?
Definitely. Watching how others attack the lanes would give me different options on how to play the lanes. I will be looking out for bowlers like Clara Guerrero, and Danielle McEwan (just to name a few) as I feel I'm able to relate to and read off their shots easily. Those are the few players I usually watch whenever I compete on tour and also at the recent Queens.
Finally Bernice, We wish you luck in China, One last question. Why should people try bowling?
Everyone should try bowling at least once in their life because it is not as easy as it seems! A lot of my friends have the misconception that it is so simple to roll a ball down the lane and hit some pins but when they actually do it, they finally understand the physical and mental challenge behind the game. And also because it is a fun activity to do with a group of friends.
Interview by Dom Gall
2016/10/11
ABOUT QUBICAAMF WORLDWIDE
QubicaAMF is the largest and most innovative bowling equipment provider in the world with 600 employees worldwide. We build and modernize more bowling entertainment centers than any other company in the industry and have an installed base of more than 10,000 centers in 90 countries. The company has a sales and distribution network with worldwide reach and maintains the largest R&D team for electro-mechanical products, software, electronics, and entertainment systems in the industry.
QubicaAMF has over 100 years of experience and can provide the perfect combination of bowling equipment, products, and services for new or existing bowling entertainment centers, FECs, Cinemas, or any other facility in the hospitality, retail, or restaurant industry. Our ongoing mission is Making Bowling Amazing. We are convinced that bowling has so much more potential to attract and entertain even more people. With our products, we will help our customers fully unleash that potential.
The company has U.S. headquarters in Richmond, Virginia and European headquarters in Bologna, Italy.