News
Two is Company, Three is a Company on a Roll
Scene75 expands to its third Family Entertainment Center in Cleveland, with another center upgrade on the way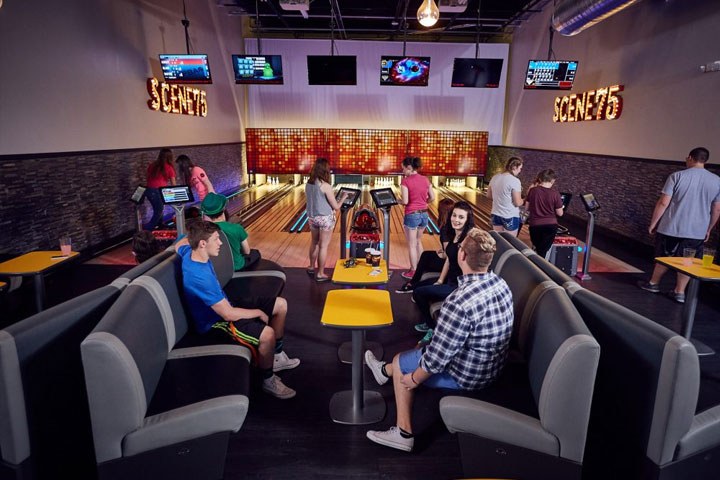 Pairing up once again with QubicaAMF Worldwide (QubicaAMF), the world's leader and largest manufacturer of bowling and mini bowling products, Scene75 opened its third location in Cleveland, Ohio on August 25, 2017. Along with the usual plethora of attractions available to its consumers, the 80,000-square foot entertainment venue features Highway66 mini bowling with the BES X Bowler Entertainment System and Harmony Infinity furniture.  Building off the momentum of the Cleveland grand opening this past August, their Cincinnati location is adding a 12-lane boutique bowling center that will include BES X, Harmony Infinity Furniture and XLi EDGE Pinspotters.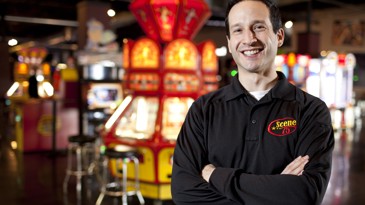 "When selecting vendors we spend an extensive amount of time researching and understanding the product, the on-going support channel and evaluating if it's something that will stand the test of time and provide the best experience for our guests," states Jonah Sandler, Chief Entertainment Officer and Partner, Scene75 Entertainment Center. "Choosing QubicaAMF we identified a partner that has supported us through the installation process and all the way through the bowling experience."

Wendy Smith, Director of New Business Development, QubicaAMF shares, "We foresee tremendous growth opportunities in the amusement industry, and we have been blessed to partner with an important member of this community. Working together with Scene75 through four projects, we have been able to grow together and highlight the benefits of bowling as an attraction within the world of Family Entertainment Centers."
Not only is Scene75 a well-known brand within the Amusement Industry, its Cincinnati location was the recipient of the 2016 IAAPA Brass Ring Award for Top Family Entertainment Center in North America. This prestigious award is a true reflection of the culture of Scene75, and potential growth of bowling within the FEC Industry.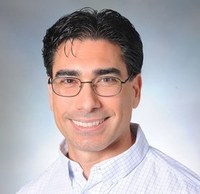 "Scene75 has been a valuable partner with QubicaAMF and has successfully leveraged mini bowling in all three of their locations," shares Tony Tallarico, Business Development Manager, QubicaAMF. "We are excited to see Scene75's continued growth as they add full size bowling lanes to their attraction portfolio and take advantage of QubicaAMF's full range of services."
Scene75 Cleveland is not only their newest endeavor but becomes the largest indoor entertainment center in Cleveland with games, attractions, permanent food trucks and more fun for all ages. 
As a testament to their success with bowling, Jonah explains, "Bowling is one of our attractions that creates a memorable experience for all demographics, and that's not an easy thing to do with most attractions." Later this year, they hope to open their doors to The Pin Deck, the first boutique bowling center in Cincinnati and newest attraction for the Scene75 Cincinnati location. 
For more information on how QubicaAMF can help deliver the ultimate entertainment experience, and bring bowling to your FEC click here .
---
 About Scene75 Entertainment Center
Scene75 Entertainment brands the largest indoor entertainment centers in the country.  The brand features locations in Dayton, Cincinnati and Cleveland, with Pittsburgh presently under development.  In 2016, Scene75 was named the Top Family Entertainment Center in North America.  Jonah Sandler, Scene75 CEO and Founder, served on Facebook's Small and Medium Business Council and was selected from among 15M+ global small business owners to serve as a keynote speaker at Facebook's Annual Global Sales Meeting.
For more information about Scene75 Entertainment please visit https://www.scene75.com/ 
ABOUT QUBICAAMF WORLDWIDE
QubicaAMF is the largest and most innovative bowling equipment provider in the world with 600 employees worldwide. We build and modernize more bowling entertainment centers than any other company in the industry and have an installed base of more than 10,000 centers in 90 countries. The company has a sales and distribution network with worldwide reach and maintains the largest R&D team for electro-mechanical products, software, electronics, and entertainment systems in the industry.
QubicaAMF has over 100 years of experience and can provide the perfect combination of bowling equipment, products, and services for new or existing bowling entertainment centers, FECs, Cinemas, or any other facility in the hospitality, retail, or restaurant industry. Our ongoing mission is Making Bowling Amazing. We are convinced that bowling has so much more potential to attract and entertain even more people. With our products, we will help our customers fully unleash that potential.
The company has U.S. headquarters in Richmond, Virginia and European headquarters in Bologna, Italy.