News
The First Sanctioned 300 Game Is Bowled on QubicaAMF String Pinspotters
Paul Pasion bowled a perfect 300 game on QubicaAMF TMS string pinspotters at Airport Bowl in London, England last week and will be presented a £1,000 prize from QubicaAMF.
January 31, 2019 (Mechanicsville, VA) – QubicaAMF Worldwide (QubicaAMF), the largest bowling products company in the world, is excited to announce that the world's first sanctioned 300 game was achieved by Paul Pasion in his final game in the Horlicks Marshall 4-person league at the Airport Bowl, next to London's Heathrow, on Tuesday 15th January. Already starting well with games of 212 and 258, Paul's final game perfecto earned him £1,000 offered by QubicaAMF for the first 300 game by a man and a woman bowled on the company's TMS String Pinspotter. With over 7,500 machines in operation, QubicaAMF TMS machines are the best-selling string pinspotters in the world.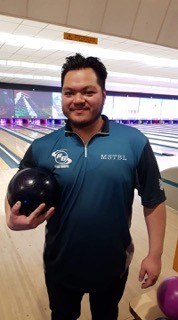 In July 2018, Martin Webster, the Chairman of the British Tenpin Bowling Association (BTBA) announced the BTBA would bring string certification in line with free fall and that bowler averages and 300 games bowled on string machines would be recognized equally with those bowled on free fall pinspotters, providing that all other lane specifications were met. This sanctioning decision was quickly mirrored by the Australian Federation.
In conversation with QubicaAMF's Director, International Relations & Sports Development, Roger Creamer, Paul said that although there were some complaints when the Airport Bowl first changed their free fall pinspotters to string machines those complaints have dwindled away to nothing. Paul says there is little difference in scoring, whilst conceding that sometimes, though rarely, pinfall has been positively affected by the interaction between pins and strings, it is compensated by the fact there is less pinfall resulting from a "messenger" pin.
This seems to be borne out by the BTBA that is currently conducting comparisons of average scores on free fall pinspotters compared with string pinspotters. In the recently staged Middlesex String Pin Doubles, also held at Airport Bowl, a total of 108 entries had a combined entering average bowled on free fall pinspotters of a little less than 166. After bowling a total of 432 games their combined averages were a fraction over 169.  
QubicaAMF's Roger Creamer will present Paul with his £1,000 prize at Airport Bowl in February.
ABOUT QUBICAAMF WORLDWIDE
QubicaAMF is the largest and most innovative bowling equipment provider in the world with 600 employees worldwide. We build and modernize more bowling entertainment centers than any other company in the industry and have an installed base of more than 10,000 centers in 90 countries. The company has a sales and distribution network with worldwide reach and maintains the largest R&D team for electro-mechanical products, software, electronics, and entertainment systems in the industry.
QubicaAMF has over 100 years of experience and can provide the perfect combination of bowling equipment, products, and services for new or existing bowling entertainment centers, FECs, Cinemas, or any other facility in the hospitality, retail, or restaurant industry. Our ongoing mission is Making Bowling Amazing. We are convinced that bowling has so much more potential to attract and entertain even more people. With our products, we will help our customers fully unleash that potential.
The company has U.S. headquarters in Richmond, Virginia and European headquarters in Bologna, Italy.