News
QUBICAAMF PRO-SKILLS CHALLENGE PRESENTED BY BPAA
BPAA and QubicaAMF have partnered to offer the first Pro-Skills Challenge at Bowl Expo 2017. Eight lucky attendees will have the opportunity to be paired with one of four PBA members for a chance to win up to $1,000 each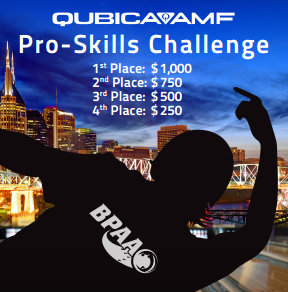 QubicaAMF Worldwide (QubicaAMF), the world's leader and largest manufacturer of bowling and mini bowling products, and the Bowling Proprietors' Association of America (BPAA) have teamed to present the first Pro-Skills Challenge at Bowl Expo 2017 in Nashville, Tennessee.
Eight lucky attendees will have the opportunity to be paired with one of four Professional Bowlers Association (PBA) members – Tommy Jones, Bill O'Neill, Dom Barrett and Josh Blanchard – when the pros compete in two different exciting games in the BES X Bowler Entertainment System. Based on how each bowler finishes, the lucky audience members will win up to $1,000 per game.
The Pro-Skills Challenge will take place on Thursday, June 22, from 3-4 p.m. in QubicaAMF Booth #848.
"The International Bowl Expo is the bowling industry's premier annual convention and tradeshow, and aims to provide new ways to engage attendees each year," BPAA Executive Director Frank DeSocio said. "Thanks to the support of QubicaAMF, we are able to present a great opportunity to bring together the professional bowlers and the attendees of Bowl Expo. The Pro-Skills Challenge will provide an exciting experience right on the trade show floor and we hope everyone is able to enjoy the one-of-a-kind event."
The partnership, new in itself, brings together the BPAA as bowling's largest association and the industry's largest manufacturer of bowling products in QubicaAMF. QubicaAMF has supported Bowl Expo for many years and will be the presenting sponsor of Club Expo on Thursday, June 22, from 6-9 p.m., and a supporting partner of the Sponsorship Pavilion seminars on Monday, June 19, from 3:15-4:45 p.m.
"Our relationship with the BPAA and support of Bowl Expo is just a small part of our commitment to the sport of bowling," said Pat Ciniello, Chairman of the Board of QubicaAMF.  "We are thrilled to be involved in this event, and are happy guests can enjoy all the excitement in the QubicaAMF booth."   
Each bowler will represent an audience member and cash prizes totaling up to $6,000 will be awarded during the event. The four pro bowlers will play two unique Skill Games, Last Pin Standing and Head Hunter, which are exclusive to the BES X Bowler Entertainment System, and bowl on two full-size SPL Select bowling lanes and XLi EDGE pinspotters. The first-place prize to be awarded will be $1,000, second place is $750, third place receives $500 and fourth place will get $250.
Win or lose for each pairing, the QubicaAMF Pro-Skills Challenge Presented by BPAA is sure to be a fun and exciting event for all, so be sure to come on out!
For your chance to be a part of this event, make sure to visit QubicaAMF at Booth #848 at Bowl Expo 2017. 
---
About Bowling Proprietors' Association of America
Founded in 1932, the mission of Bowling Proprietors' Association of America (BPAA) is to enhance the profitability of its members.  Headquartered in Arlington, Texas at the International Bowling Campus, the BPAA provides it's over 3,500 member centers with group purchasing programs, business and educational seminars, legislative representation and proactively promotes the association and bowling industry.  For additional information please visit www.bpaa.com
ABOUT QUBICAAMF WORLDWIDE
QubicaAMF is the largest and most innovative bowling equipment provider in the world with 600 employees worldwide. We build and modernize more bowling entertainment centers than any other company in the industry and have an installed base of more than 10,000 centers in 90 countries. The company has a sales and distribution network with worldwide reach and maintains the largest R&D team for electro-mechanical products, software, electronics, and entertainment systems in the industry.
QubicaAMF has over 100 years of experience and can provide the perfect combination of bowling equipment, products, and services for new or existing bowling entertainment centers, FECs, Cinemas, or any other facility in the hospitality, retail, or restaurant industry. Our ongoing mission is Making Bowling Amazing. We are convinced that bowling has so much more potential to attract and entertain even more people. With our products, we will help our customers fully unleash that potential.
The company has U.S. headquarters in Richmond, Virginia and European headquarters in Bologna, Italy.