News
QubicaAMF Launches Handheld Solution for Full-Service Customer Support
Conqueror QPad is the only handheld solution that extends the power of Conqueror to any service point, anywhere in your facility allowing you to deliver superior service and revenues.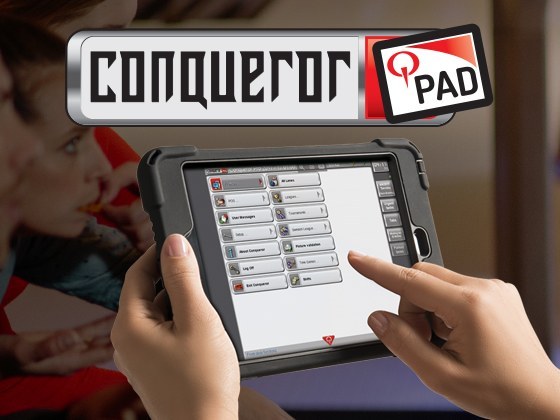 QubicaAMF Worldwide (QubicaAMF), the world's leader and largest manufacturer of bowling and mini bowling products is proud to announce the launch of the Conqueror QPad, designed to complement Conqueror Pro POS and Management System.  Conqueror QPad is the only handheld solution that extends the power of Conqueror to any service point, anywhere in your facility allowing you to deliver a superior guest experience and drive revenues.  As a result, the QPad will help you improve your staff effectiveness and efficiency, and deliver an additional layer of customer support to your center. 
"Unlike the typical POS handheld options that start and end with selling food and beverage, the Conqueror QPad provides a comprehensive set of functions that add value in all areas of your business," states Kelly Wilbar, Director of Scoring and Technology Solutions, QubicaAMF Worldwide. "Centers can now enhance the guest experience from the moment they arrive, assist them right on the lanes and manage the complete order and checkout process all with the power of the Conqueror Pro POS and Management System at their fingertips."
 Like no other system out there, Conqueror Pro provides superior performance for the widest variety of business models, from the small, family-managed center to large chains.  As a fully-integrated extension of Conqueror Pro, the QPad functions identically to your current Conqueror Pro modules, including complete lane management, time games, point of sale, waiting list and more.  With its complete and robust functionality, every staff role in the center can deliver the highest level of service to all types of bowlers and guests. A variety of accessories like wireless credit card terminals and printers, all connected by secure Wi-Fi, complete the turnkey solution. 
Conqueror QPad addresses the changing operational needs of today's bowling and entertainment business by enabling centers to provide improved service levels and a better guest experience. For more information on how Conqueror QPad can deliver a superior guest experience and drive superior revenues for your center visit our Conqueror QPad Product Page
ABOUT QUBICAAMF WORLDWIDE
QubicaAMF is the largest and most innovative bowling equipment provider in the world with 600 employees worldwide. We build and modernize more bowling entertainment centers than any other company in the industry and have an installed base of more than 10,000 centers in 90 countries. The company has a sales and distribution network with worldwide reach and maintains the largest R&D team for electro-mechanical products, software, electronics, and entertainment systems in the industry.
QubicaAMF has over 100 years of experience and can provide the perfect combination of bowling equipment, products, and services for new or existing bowling entertainment centers, FECs, Cinemas, or any other facility in the hospitality, retail, or restaurant industry. Our ongoing mission is Making Bowling Amazing. We are convinced that bowling has so much more potential to attract and entertain even more people. With our products, we will help our customers fully unleash that potential.
The company has U.S. headquarters in Richmond, Virginia and European headquarters in Bologna, Italy.