News
QubicaAMF Introduces the EDGE Free-Fall Pinspotter
QubicaAMF Worldwide, the largest bowling products company in the world, is excited to announce the introduction of EDGE Free-Fall, its next generation free-fall pinspotter and successor to the venerable XLi EDGE.
"QubicaAMF pinspotting machines have long been the industry's preferred choice because of their performance, economics, and longevity," says Jim Krogsund, Performance Equipment product manager. "EDGE Free-Fall takes this legacy to a whole new level through unique design and technological innovations. The result is a pinspotter delivering an unmatched free-fall bowling experience, unrivaled operational efficiency, and peace of mind."
EDGE Free-Fall is designed to make pinspotter operations easier. Technicians, both experienced and new to bowling, can learn to operate and service EDGE Free-Fall – giving proprietors more flexibility when it comes to finding staff. EDGE Free-Fall does this through market-driven features such as:
Tech Wizard, an exclusive expert system application for smartphones that makes operation and servicing easier and more efficient through:

Real-time operational alerts and guidance
Scheduled maintenance notification and guidance
An extensive video library resource for technicians

Cloud-based monitoring that automatically captures performance and intervention data and makes it instantly viewable, so managers have reliable insights on the bowling experience and staff utilization
XLi software driven technology that eliminates mechanical complexity and simplifies machine operation. Through integration with the BES X and Conqueror X scoring and management systems software is always current
Transparent guarding that provides visibility to what is happening inside the machine, and peace of mind
In addition to making operation easier, EDGE Free-Fall utilizes technology that reduces a bowling center's parts and operating expenses over the long-term through:
SmartCycle® which uses state-of-the-art scoring camera technology to eliminate unnecessary cycling and wear and tear
Run-On-Demand Intelligence that ensures motors and mechanical systems operate only when balls are being thrown
The Durabin® Pin Storage System which collects and stores bowling pins until time to be set on the pin deck, reducing pin wear and expense because pins are not continuously cycled through the machine
Energy efficient gearmotor drive systems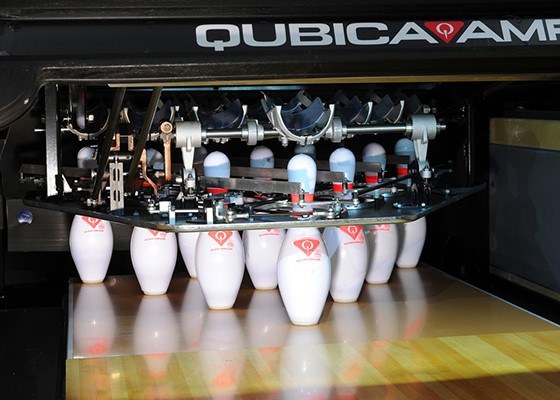 "With the staffing and operational challenges and competitive landscape many centers face today, options for pinspotting equipment that are easier and less costly to operate are desperately needed.  We were inspired to create EDGE Free-Fall to give centers looking to deliver a free-fall bowling experience a better option," says Neil Pennington, Director, Performance Equipment for QubicaAMF.
EDGE Free-Fall is the only pinspotter designed assembled in the USA.
More information can be found on tthe EDGE Free Fall Pinspotter page
ABOUT QUBICAAMF WORLDWIDE
QubicaAMF is the largest and most innovative bowling equipment provider in the world with 600 employees worldwide. We build and modernize more bowling entertainment centers than any other company in the industry and have an installed base of more than 10,000 centers in 90 countries. The company has a sales and distribution network with worldwide reach and maintains the largest R&D team for electro-mechanical products, software, electronics, and entertainment systems in the industry.
QubicaAMF has over 100 years of experience and can provide the perfect combination of bowling equipment, products, and services for new or existing bowling entertainment centers, FECs, Cinemas, or any other facility in the hospitality, retail, or restaurant industry. Our ongoing mission is Making Bowling Amazing. We are convinced that bowling has so much more potential to attract and entertain even more people. With our products, we will help our customers fully unleash that potential.
The company has U.S. headquarters in Richmond, Virginia and European headquarters in Bologna, Italy.