News
One Lucky Bowl Expo Attendee Wins $5,000 in the QubicaAMF Match My Monster Contest on BES X
Utilizing BES X, the world's only Bowler Entertainment System, QubicaAMF allowed attendees to play the exclusive Monster Factory game for a chance to win $5,000.
QubicaAMF Worldwide (QubicaAMF), the leading manufacturer of bowling and mini bowling products, exhibited at Bowl Expo on June 29 – 30, 2016, in Las Vegas. As a platinum sponsor of the event, QubicaAMF had a strong presence with four fully functioning lanes and continued to push the envelope. For the second year, QubicaAMF hosted the Match My Monster contest in its booth. Utilizing BES X, the world's only Bowler Entertainment System, QubicaAMF allowed attendees to play the exclusive Monster Factory game for a chance to win $5,000. Each participant had one chance to play the five frame Mad Game, Monster Factory, in an attempt to match the monster generated from the BES X system. To win this contest, it would take both skill and little bit of luck. Fortunately for Alaina Crabtree, of Murrieta, CA, she had both in Vegas and won $5,000! 
"After I made the 4th shot, I felt a bit anxious and a sense of calmness at the same time," says Alaina Crabtree, winner of the QubicaAMF/BES X Match My Monster contest. "I had never played the Monster Factory game before, but I had so much fun! And winning $5,000 was the best gift QubicaAMF could ever send me home with."
"We are extremely proud that QubicaAMF provides customers the most innovative bowling entertainment in the industry," says Emanuele Govoni, CEO of QubicaAMF. "We chose to host this contest so Bowl Expo attendees could have a hands-on opportunity to use the system and see how BES X is changing the bowler's experience. The fact that the Match My Monster contest changed someone's life is that much better."
"Bowl Expo is a tremendous event, and something QubicaAMF is proud to be a strong supporter of year after year. We are absolutely thrilled to be able to allow people to experience BES X for themselves at this event and to see how much excitement and energy it can bring to their center," says Pat Ciniello, Chairman of the Board of QubicaAMF. "It was amazing to see the excitement and energy it bought to our booth."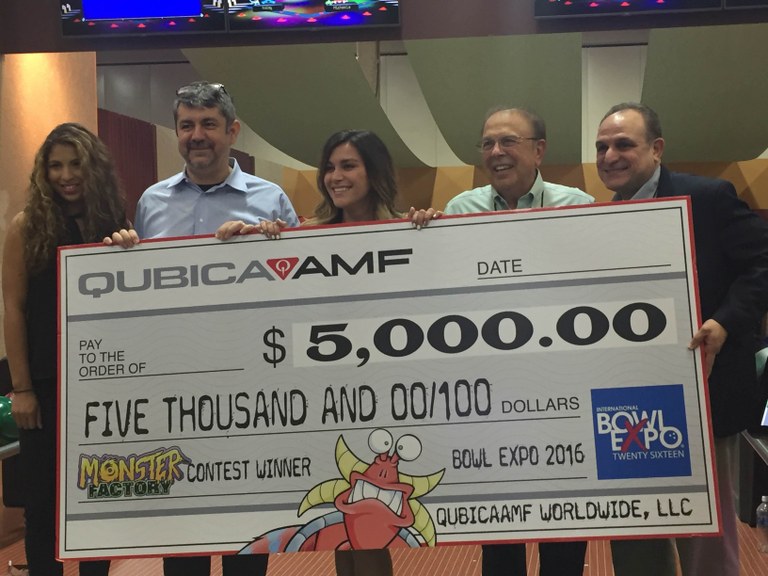 BES X is the result of extensive market research, a proven process for product innovation and over three years of investments in research and development. It is the only system in the world designed to take every aspect of what makes bowling appealing to people to the next level, aimed to grow bowling businesses and drive the industry forward. Today, over 600 centers representing more than 10,000 lanes in 65 countries around the world are successfully using BES X, and over 100 million games have been bowled on BES X. In addition, centers are consistently reporting typical increases in total revenue upwards of 20%, expanded repeat business, and longer customer visits—all within the first year of installing the system. 
Alaina Crabtree is just one example of how BES X is changing the experience for bowlers around the world. For more information on how BES X can redefine the bowling experience and grow center revenue visit "BES X" page
ABOUT QUBICAAMF WORLDWIDE
QubicaAMF is the largest and most innovative bowling equipment provider in the world with 600 employees worldwide. We build and modernize more bowling entertainment centers than any other company in the industry and have an installed base of more than 10,000 centers in 90 countries. The company has a sales and distribution network with worldwide reach and maintains the largest R&D team for electro-mechanical products, software, electronics, and entertainment systems in the industry.
QubicaAMF has over 100 years of experience and can provide the perfect combination of bowling equipment, products, and services for new or existing bowling entertainment centers, FECs, Cinemas, or any other facility in the hospitality, retail, or restaurant industry. Our ongoing mission is Making Bowling Amazing. We are convinced that bowling has so much more potential to attract and entertain even more people. With our products, we will help our customers fully unleash that potential.
The company has U.S. headquarters in Richmond, Virginia and European headquarters in Bologna, Italy.