News
Joe Schumacker, Owner of SpareZ, Reinvents his Center and Reaps the Benefits with BES X
SpareZ has experienced an 18% increase in direct bowing revenue with BES X over the last 18 months
I would recommend BES X to all bowling operators...
Joe Schumacker is no stranger to achievement, both in and outside the bowling industry.  Taking over University Bowl in Davie, Florida in 1999, Joe was able to rejuvenate and rebrand the bowling center into SpareZ—a thriving core bowling business that stands today.  Attempting to push the envelope even further, Joe reinvested into his center again, and upgraded his Bowland X scoring system to BES X, the world's only Bowler Entertainment System.  The center is now recognized as a leading "Core Bowling" business that consistently outperforms the more traditional ones in the areas that truly count: games bowled (volume); total revenue per game; and operating margin. 
"After several years of relatively flat lineage I wanted to increase total lineage at a higher price per game. BES X provided the platform needed to shift to a strong growth trend," says Joe Schumacker, Owner of SpareZ. "I would recommend BES X to all bowling operators who look beyond the barriers established by the traditional league/open play model."
SpareZ has recognized a positive return on their investment in BES X. Bigger crowds, longer wait times, longer stays and more repeat business are now the norm.  After its first full year with the system, SpareZ was able to achieve peak revenue and income.  Joe is able to report that total revenue is up 18% since installing BES X, driven by more games bowled, a better average price per game and larger contributions from food & beverage and other complementary sources; a significant achievement for any center, especially for a 64 lane center.  To date, year two is showing an improvement over the first in volume, revenue and profitability. Additionally, SpareZ is experiencing increased lineage across the board in open play, birthday parties and group events.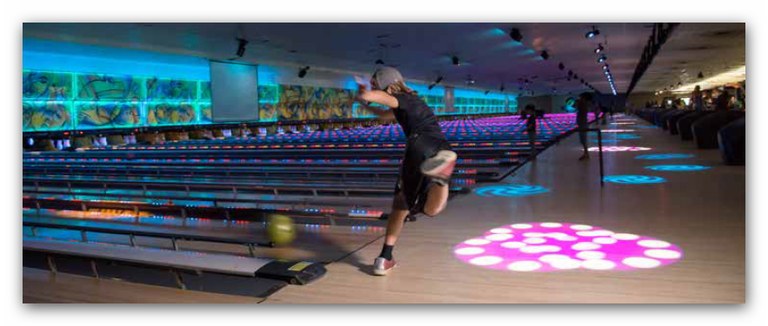 "It gives us great pleasure to see the success SpareZ has had since their transition to BES X.  Joe Schumacker is a respected person in the bowling industry, and has been a valued partner with QubicaAMF for many years," states Pat Ciniello, Chairman of the Board of QubicaAMF.  "As our company continues to innovate for the bowling industry by developing products designed to help proprietors grow their business, we anticipate proprietors like Joe will be in a position to deliver better experiences for their customers and improved results for their businesses."
"The SpareZ team is truly delivering an awesome experience to their bowlers and community with BES X. It's quite impressive to see Joe's lineage and revenue improvements on what was already a very busy and profitable 64 lane center. The BES X pillars of fun, competition, socialization and relaxation have all come together and are on display at SpareZ and have elevated an already successful establishment to new heights," says Kelly Wilbar, Director, Scoring & Technology Solutions.
BES X is the result of extensive market research, a proven process for product innovation and over three years of investments in research and development. It is the only system in the world designed to take every aspect of what makes bowling appealing to people to the next level, aimed to grow bowling businesses and drive the industry forward. Today, over 550 centers representing more than 9,800 lanes in 62 countries around the world are successfully using BES X, and over 50 million games have been bowled on BES X. In addition, centers are consistently reporting typical increases in total revenue upwards of 20%, expanded repeat business, and longer customer visits—all within the first year of installing the system. 
Joe Schumacker will be serving on the panel of the upcoming BES X Seminar, Real People, Real Stories, Real Results, at Bowl Expo on Monday, June 27, 2016, in the BPAA Sponsor Pavilion.  For more information on how BES X can redefine the bowling experience and grow center revenue, please visit www.qubicaamf.com.
###
About QubicaAMF Worldwide
QubicaAMF Worldwide is the world's leading manufacturer and marketer of bowling and mini bowling products. With worldwide headquarters near Richmond, Virginia and European headquarters in Bologna, Italy, the company offers a complete line of high-quality, innovative solutions for new and existing bowling and entertainment centers.
QubicaAMF has over 75 years of experience, an installed base of more than 10,000 centers worldwide and can provide the perfect combination of bowling equipment, products and services to build a traditional bowling center, an FEC or entertainment facility to suit any budget. The company has sales offices in 10 countries, a distributor network with worldwide reach and maintains the largest R&D team for software, electronics and entertainment systems in the industry.
QubicaAMF is the organizer of the QubicaAMF Bowling World Cup, the largest annual sporting event in terms of the number of participating countries, which promotes bowling on a global level. The company celebrated the historical 50th anniversary of the tournament in 2014. Additional information about QubicaAMF is available at www.qubicaamf.com.
About SpareZ
Originally University Bowl opened in 1990, Joe Schumacker acquired the facility in 1999.   In 2006, he decided a major renovation and rebrand were in order, and gave the center a full makeover, and rebranded it into SpareZ.  Hoping to further reinvest in his business, Joe converted the 64 lane bowling center from Bowland X in 2015 to BES X, the Only Bowing Entertainment System.  Between BES X's capabilities and innovations, plus Joe Schumacher's inextinguishable vision, determination, skills and optimism, the future looks pretty amazing for SpareZ.   More information is available at www.SpareZbowling.com
ABOUT QUBICAAMF WORLDWIDE
QubicaAMF is the largest and most innovative bowling equipment provider in the world with 600 employees worldwide. We build and modernize more bowling entertainment centers than any other company in the industry and have an installed base of more than 10,000 centers in 90 countries. The company has a sales and distribution network with worldwide reach and maintains the largest R&D team for electro-mechanical products, software, electronics, and entertainment systems in the industry.
QubicaAMF has over 100 years of experience and can provide the perfect combination of bowling equipment, products, and services for new or existing bowling entertainment centers, FECs, Cinemas, or any other facility in the hospitality, retail, or restaurant industry. Our ongoing mission is Making Bowling Amazing. We are convinced that bowling has so much more potential to attract and entertain even more people. With our products, we will help our customers fully unleash that potential.
The company has U.S. headquarters in Richmond, Virginia and European headquarters in Bologna, Italy.